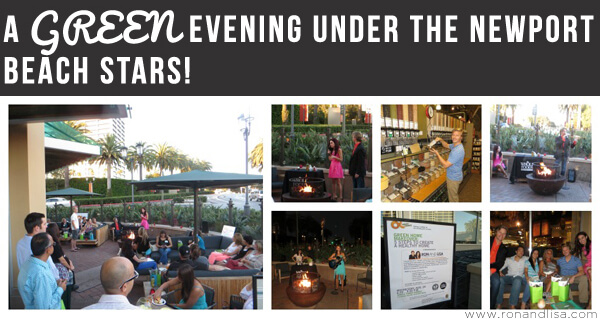 We had such a magical night last night at Whole Foods Fashion Island in Newport Beach, CA in conjunction with our local OC Green Drinks presenting: GREEN HOME MAKEOVER: 5 Steps to Create a Healthy Home!  We loved seeing many of you there and meeting new friends (but, missed those who live afar and could not attend).  Hence, we wanted to bring the event to you and share a few highlights:
In addition to our featured presentation, all guests enjoyed live music by singer/songwriter, Dasha Dorlandt, a complimentary cocktail, a raffle ticket (with over $350.00 in green giveaways), tasty food and vegan Mint Chip Shake samples from Chef Raya Belna!  Also, every guest received a free gift bag upon arrival with a Dishmate sample from Earth Friendly Products and a complimentary copy of E/The Environmental Magazine. Other peeps who helped make the night include:
Our gratitude to the great community from Orange County who donated their time or products including Ruby Blaise Aromatherapy, the Bite Market, BeautyMark Organics, BuyGreen.com, and photography by Hello Misha

.
[easyrotator]erc_21_1378774452[/easyrotator]
WOW! What beautiful pictures. There's really something special about the photos … a California vibe and spirit comes shining through. What an incredible venue, too, for special events at your Whole Foods. I love it! So happy to be a part of your event. ~Karen, E – The Environmental Magazine
Thank you for a great event last night. My wife and I are all about a healthy eating and cleaning lifestyle and try to learn more with every opportunity. Last night was no different.I can't wait to get a new Essentia foam mattress after hearing Lisa explain the differences. Ron, after hearing your talk on electronics, I completely unplugged our bedroom and made my wife place her phone (alarm) on the opposite side of the room! ~Ed, Blended Giving
Related Article:
Lisa Auditions for Oprah's New Network!
How to Protect Yourself Against Possible Radioactivity from the Fukushima Reactors
Soyummi Organic, Dairy and Gluten-Free Pudding Review and Coupon
Your Opinion Matters! Take the Ron & Lisa Survey
We Wanna Hear From You: Take Our Survey & Enter to WIN a $100 Gift Card!
Balance Your Yin/Yang with 5 Easy Tips for Your Home!
Outdoor Allergy Survival Guide
We Wanna Hear From YOU (Pretty Please)!
TUNE IN MONDAY…Something's Brewin!
14 Design Tricks to Make Your Home Feel Bigger
5 Home Décor Trends That Are Hot Right Now
6 Steps to Create a Healthier Hospital Stay
5 Self-Pampering Tips Essential for Your Well-being
5 Ways Feng Shui at Home can Create Positive Communities
Mindful Decluttering: How Hoarding Affects Your Health
How These 7 Feng Shui Tools Can Change Your Life
What Your Home's Colors Say About You
How to Age Comfortably at Home
How to Keep Your Home Pest Free
5 Home Fencing Options for Your Yard
Simple Ways to Expand Your Living Space
The Accessibility & Evolution of Mobility Chairs
How One Company Transformed the Health of an American Town
5 Ways to Maintain a Healthy Life
Driving Safety: 7 Myths You've Been Told
10 Ways the Womb Chair Can Up-level Your Home's Interior
8 Home Inspections to Consider Before Moving
Cell Phones for Senior Citizens: 4 Must-Have Features
4 New Technologies to Make Your Home Senior-Safe
5 Rules and Tips for Building Your Kid's College Fund
Staying Young: 3 Habits to Counter Aging
Exterior Cladding Materials Ranked from Worst to Best
4 Benefits of Having Custom Sheets
4 Considerations When Moving a Parent to an Independent Living Facility
Lastly, it is sooo important to have a like-minded community focused on supporting one another and if you are reading this, then consider yourself part of ours! We thank the companies and individuals who contributed; the evening would not have been the same without their generous support.  P.S.  If you are not already on our newsletter list, be sure to sign up HERE to receive a FREE downloadable gift of the : 5 Essential Secrets to Creating a Toxic-Free Home.