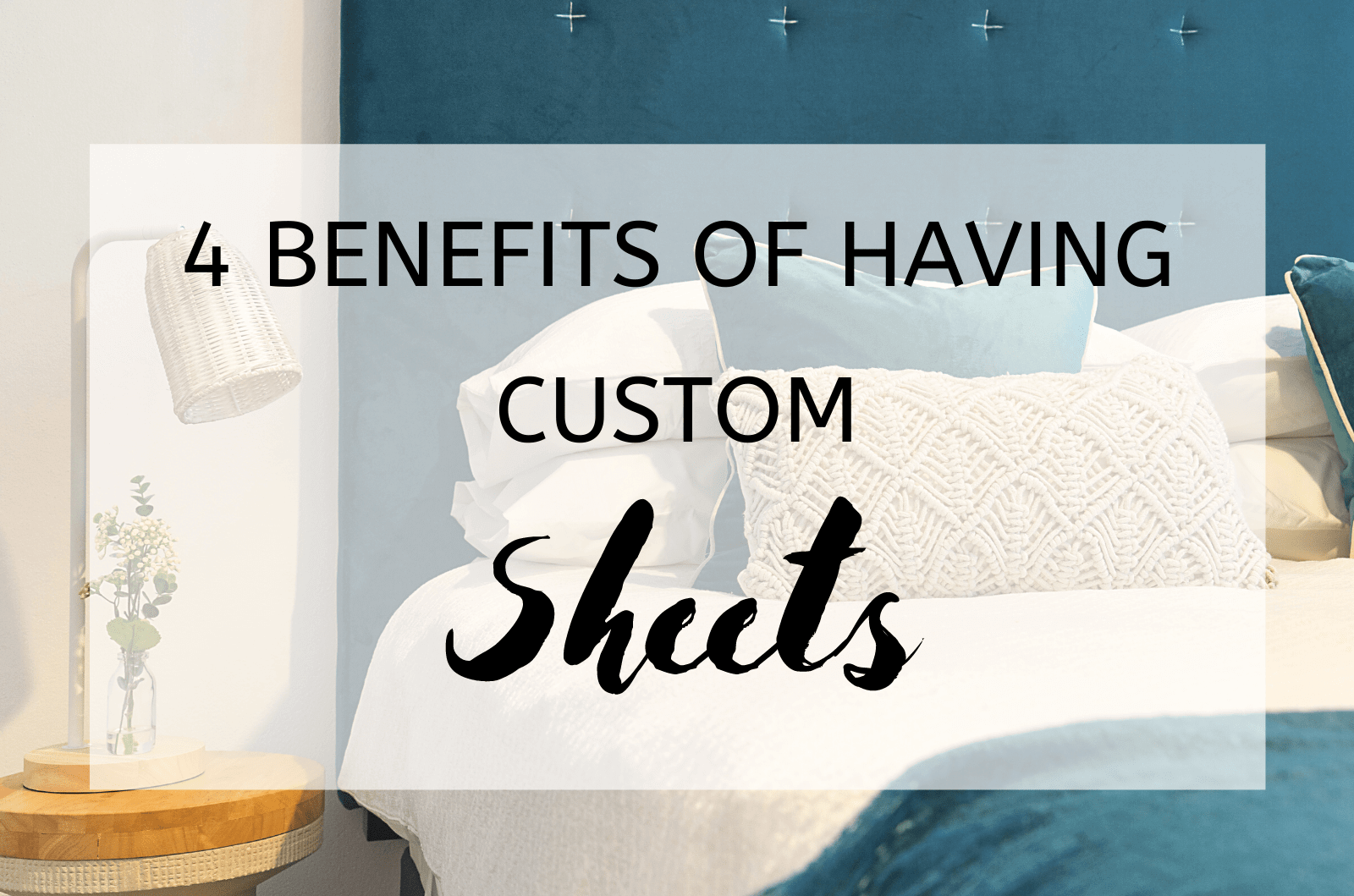 We know that a bed cannot be complete without sheets. A beautiful quilt or sheet in breath-taking colors enhances our sleep area. Most of us are very meticulous about the kind of sheets we purchase for our beds. After all, our beds are an essential part of our lives; but some of us pay no particular attention to comfort or quality. For most, their primary concern is the price; however, cost shouldn't be the only issue when purchasing bed linens.
When buying sheets, there are many other considerations; buying custom-made sheets just may change the way you think about buying bed linens in the future. Purchasing customized sheets has many benefits, but some people might be reluctant to change their shopping traditions by purchasing custom sheets. When we spend money, especially on our creature comforts, most of us want reassurance that we received quality for the money spent. Most of us are usually willing to pay for household items that will last a long time. Here are some benefits of custom-made sheets.
1. Comfort Matters
We savor the delights of lying in a comfortable, snug bed. But even with high-quality bedroom furnishings, many people fail to consider their sheets. There is no place like a warm and comfy bed after a long day's work and the type of sheets make a difference. Custom-made sheets are made with comfort in mind and offer the freedom to choose the colors and textures that suits our tastes, styles, and mood.
2. Luxury

Even if operating on a tight budget, investing in quality bed linens is worth the expense. Sheets that reflect good taste and are custom-made provide a luxurious touch to the bedroom décor and give a sense of belonging.
It's worthwhile to splurge little on ourselves since sheets are not an everyday purchase.
3. Quality
Selecting quality bed linens is a serious undertaking. When we purchase sheets, aesthetics is important, but there is also the expectation that the fabric is durable, making quality equally as important. When we buy sheets made with our needs in mind, we have the advantage of inspecting and selecting the best quality material made specially to meet our standards.
Related Articles:
Lisa Auditions for Oprah's New Network!
How to Protect Yourself Against Possible Radioactivity from the Fukushima Reactors
Soyummi Organic, Dairy and Gluten-Free Pudding Review and Coupon
Your Opinion Matters! Take the Ron & Lisa Survey
We Wanna Hear From You: Take Our Survey & Enter to WIN a $100 Gift Card!
A GREEN Evening Under the Newport Beach Stars!
Balance Your Yin/Yang with 5 Easy Tips for Your Home!
Outdoor Allergy Survival Guide
We Wanna Hear From YOU (Pretty Please)!
TUNE IN MONDAY…Something's Brewin!
14 Design Tricks to Make Your Home Feel Bigger
5 Home Décor Trends That Are Hot Right Now
6 Steps to Create a Healthier Hospital Stay
5 Self-Pampering Tips Essential for Your Well-being
5 Ways Feng Shui at Home can Create Positive Communities
Mindful Decluttering: How Hoarding Affects Your Health
How These 7 Feng Shui Tools Can Change Your Life
What Your Home's Colors Say About You
How to Age Comfortably at Home
How to Keep Your Home Pest Free
5 Home Fencing Options for Your Yard
Simple Ways to Expand Your Living Space
The Accessibility & Evolution of Mobility Chairs
How One Company Transformed the Health of an American Town
5 Ways to Maintain a Healthy Life
Driving Safety: 7 Myths You've Been Told
10 Ways the Womb Chair Can Up-level Your Home's Interior
8 Home Inspections to Consider Before Moving
Cell Phones for Senior Citizens: 4 Must-Have Features
4 New Technologies to Make Your Home Senior-Safe
5 Rules and Tips for Building Your Kid's College Fund
Staying Young: 3 Habits to Counter Aging
Exterior Cladding Materials Ranked from Worst to Best
4 Considerations When Moving a Parent to an Independent Living Facility
4. Perfect fit
The bed occupies the majority of the space in our bedrooms and usually attracts the most attention. A neatly made bed adds a sense of order and tranquility to the bedroom, while an untidy bed can detract from our comfort. Ill-fitting sheets can cause loss of sleep and general discomfort. Consider the advantage of having sheets made to your desired specifications. No more pulling and tugging to ensure neatness since customized sheets are made to specific measurements to meet your needs and designed for the perfect fit.
Our bedrooms should not only be attractive but be comfortable and welcoming. The quality and fit of our bedsheets can give us the feeling of serenity and luxuriousness. When we invest in sheets made to suit our personal needs, comfort, quality, and durability are guaranteed.