By guest blogger, Carol Cannon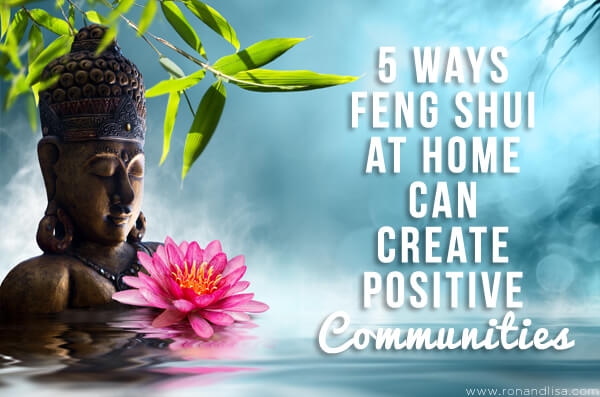 Healthy communities are a positive factor in our lives. The energy in our interior surroundings can be a clue as to what can improve our exterior lives. Here's a quick Feng Shui checklist for your home or office to provide the support you need.
1. Are your Wealth and Helpful People areas in balance?
If you're struggling financially, check the far left rear corner (wealth) and the front right corner (helpful people), for missing sections or detrimental influences that need remedies. If your home is not 'squared off', in the world of Feng Shui, this creates "missing corners." Remedies include planting flowers outside where the home would have squared off. Or, try placing a pretty screen or hanging light in this indoor corner in your interior space. We need a supportive community in order to create a positive flow of wealth in our lives.
2. Make sure the Relationship and Knowledge areas of your space's Bagua (opposites: far rear right corner and front left corner of your space) are in balance.  
Relationships and knowledge are important factors in creating any positive community. Try placing photos of yourself with your community in your Relationship corner, and/or symbols of your knowledge, such as your graduation certificates, in the Knowledge area. Set positive intentions, while avoiding people that are not at -or above- your energetic level. Associate with like minded or uplifting people to provide support and success in your relationships.
3. Look at the Career (front center) and Fame (rear center) areas of the Bagua, to develop success and recognition in your life. Again, as opposites, these need to be in balance.
If you want to create a positive reputation, add a bit of the Fire element to the Fame area of your home. This could be candles, photos of mountains, or a grill outside this area. To support your career, the Water element helps get things flowing.  A water fountain, inside or outside this area, is quite supportive to your career. Also, volunteer to be of service in your community. The act of giving manifests in return in abundant ways.
4. Just as you need balance for a positive flow of Chi in your home or office, you also need balance of Chi to create a healthy community.
It takes all sorts of people, with different type of Chi, or life force, to create a positive and productive community. Take a look at the Family and Friends area (left center) and Children/Creativity (right center) areas of your home.
Years ago, I had a client that had a solitary, heavy metal, life-sized statute standing alone – carrying a burden of a heavy yoke of water on its back – placed in the Family and Friends area of her home. We don't need to go at it alone. Life shifted for her once she removed that burdensome symbol.
The opposite area of Children is an area to embrace whether you have children, or not. It is an area that I suggest you look at to see if anything is there that might sadden your own inner child. If so, remove and replace with something fun!  Choose friends from all walks and ages of life. Variety is indeed, the spice of life.
Related Articles:
Lisa Auditions for Oprah's New Network!
How to Protect Yourself Against Possible Radioactivity from the Fukushima Reactors
Soyummi Organic, Dairy and Gluten-Free Pudding Review and Coupon
Your Opinion Matters! Take the Ron & Lisa Survey
We Wanna Hear From You: Take Our Survey & Enter to WIN a $100 Gift Card!
A GREEN Evening Under the Newport Beach Stars!
Balance Your Yin/Yang with 5 Easy Tips for Your Home!
Outdoor Allergy Survival Guide
We Wanna Hear From YOU (Pretty Please)!
TUNE IN MONDAY…Something's Brewin!
14 Design Tricks to Make Your Home Feel Bigger
5 Home Décor Trends That Are Hot Right Now
6 Steps to Create a Healthier Hospital Stay
5 Self-Pampering Tips Essential for Your Well-being
Mindful Decluttering: How Hoarding Affects Your Health
How These 7 Feng Shui Tools Can Change Your Life
What Your Home's Colors Say About You
How to Age Comfortably at Home
How to Keep Your Home Pest Free
5 Home Fencing Options for Your Yard
Simple Ways to Expand Your Living Space
The Accessibility & Evolution of Mobility Chairs
How One Company Transformed the Health of an American Town
5 Ways to Maintain a Healthy Life
Driving Safety: 7 Myths You've Been Told
10 Ways the Womb Chair Can Up-level Your Home's Interior
8 Home Inspections to Consider Before Moving
Cell Phones for Senior Citizens: 4 Must-Have Features
4 New Technologies to Make Your Home Senior-Safe
5 Rules and Tips for Building Your Kid's College Fund
Staying Young: 3 Habits to Counter Aging
Exterior Cladding Materials Ranked from Worst to Best
4 Benefits of Having Custom Sheets
4 Considerations When Moving a Parent to an Independent Living Facility
5. The Five Elements (Water, Wood, Fire, Earth and Metal) are important in understanding how you fit in with others, and vice versa.
In Feng Shui, I look to a person's birth information to determine their strong and weak areas in life. Known as The Four Pillars of Destiny, this is helpful in understanding why you do, or don't, get along so very well with others. If you're a Gentle Water person that enjoys solitude, it might be overwhelming to share much time with a Strong Fire person that loves drama. However, in a greater community, each of these people will have much to contribute and we can celebrate their strengths by assigning them positions in which they thrive.
Take inventory of your own home or office, and see how balanced your environment appears to be. Make some adjustments, and then wait for those positive communities to show up, eager for your own contribution.
Carol Cannon, a graduate of the New York School of Feng Shui has been a Feng Shui Practitioner since 1993. She is also certified as a BBEC (Building Biologie™ Environmental Consultant). As a resident of Emmaus, PA, Carol's passion is to help people find peace and joy in their lives. Visit Carol online HERE.
Save