By guest blogger, Carol Cannon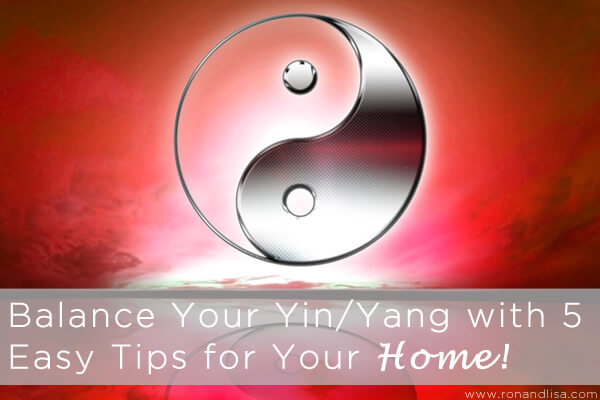 The Spring Solstice on March 20th marks the day when daytime and nighttime are in balance. This is a great day to begin spring cleaning with the use of Feng Shui tools. Feng Shui, the ancient art of placement, is ALL about bringing oneself into balance. We look to our surroundings to make changes, but the REAL change is the one that occurs inside YOU!
5 Tips to Balance Your Yin/Yang with Feng Shui:
1. As sure as buds appear on a tree in the spring, it is also a time for you to blossom! With increased light, it is easier to see the neglected areas that the dim light of winter covered. Begin with a duster, some organic cleaners, and seek out cobwebs! Look up, look down and look all around your furniture. Become a dust buster and feel the positive energy start to filter in to your personal ch'i.
2. Create a list with the name of each room in your home across the top. Walk into each room and write down 3 things that you are not using, do not like, or that are broken. Follow up by removing these things from each room and donate, sell, or toss them away. Note: If you find more than three, that's great!
3. Take a good look at your windows (Feng Shui expression of your creativity) as well as your doors (Feng Shui expression of your adult self). Are they in prime condition? Or, do they need replacing, painting, cleaning? When was the last time that the window coverings were cleaned? Is the door hardware shiny and in working condition? If any of these items are out of alignment, fix them up and bring more balance to yourself and your Inner Child.
4. Take a look at your bedroom. Is your bed in a Feng Shui position of power? If it is directly in line with the door – move it! Great locations are catty-cornered from the entry. Missing a headboard? It's time to purchase or make one to give you support! The bedroom is the location where you spend 7-8 hours a night rejuvenating – make sure it is properly in balance. And, be sure to reduce the amount of electrical objects in the room; you'll sleep much more soundly with low electromagnetic fields.
Related Articles:
Lisa Auditions for Oprah's New Network!
How to Protect Yourself Against Possible Radioactivity from the Fukushima Reactors
Soyummi Organic, Dairy and Gluten-Free Pudding Review and Coupon
Your Opinion Matters! Take the Ron & Lisa Survey
We Wanna Hear From You: Take Our Survey & Enter to WIN a $100 Gift Card!
A GREEN Evening Under the Newport Beach Stars!
Outdoor Allergy Survival Guide
We Wanna Hear From YOU (Pretty Please)!
TUNE IN MONDAY…Something's Brewin!
14 Design Tricks to Make Your Home Feel Bigger
5 Home Décor Trends That Are Hot Right Now
6 Steps to Create a Healthier Hospital Stay
5 Self-Pampering Tips Essential for Your Well-being
5 Ways Feng Shui at Home can Create Positive Communities
Mindful Decluttering: How Hoarding Affects Your Health
How These 7 Feng Shui Tools Can Change Your Life
What Your Home's Colors Say About You
How to Age Comfortably at Home
How to Keep Your Home Pest Free
5 Home Fencing Options for Your Yard
Simple Ways to Expand Your Living Space
The Accessibility & Evolution of Mobility Chairs
How One Company Transformed the Health of an American Town
5 Ways to Maintain a Healthy Life
Driving Safety: 7 Myths You've Been Told
10 Ways the Womb Chair Can Up-level Your Home's Interior
8 Home Inspections to Consider Before Moving
Cell Phones for Senior Citizens: 4 Must-Have Features
4 New Technologies to Make Your Home Senior-Safe
5 Rules and Tips for Building Your Kid's College Fund
Staying Young: 3 Habits to Counter Aging
Exterior Cladding Materials Ranked from Worst to Best
4 Benefits of Having Custom Sheets
4 Considerations When Moving a Parent to an Independent Living Facility
5. Finally, walk around and look at your artwork and photos that are being displayed. If you knew nothing about the person living in this home, what story would these items tell? If they are not uplifting to your soul, consider removing them and replacing them with something that does. Art that you subconsciously notice will affect you every day. Pull yourself into balance with art that supports you!
Have nothing in your house that you do not know to be useful, or believe to be beautiful. ~William Morris
Now that you've completed your spring cleaning with Feng Shui project, reward yourself. Take a walk outside, breathe in the fresh air and return home to a place of perfect balance for your soul!
Carol Cannon, a graduate of the New York School of Feng Shui has been a Feng Shui Practitioner since 1993.  She is also certified as a BBEC (Building Biologie™ Environmental Consultant).  A resident of Emmaus, PA, Carol's passion is to help people find peace and joy in their lives.  Visit Carol HERE.