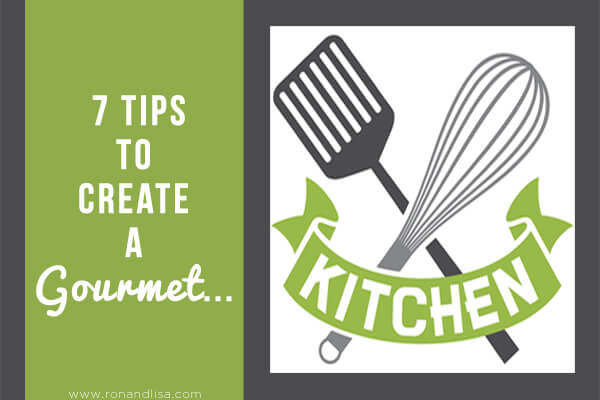 Would you like to turn your simple kitchen into a gourmet kitchen? Renovating the kitchen is something many homeowners definitely find enjoyable. And, almost every homeowner out there desires a kitchen that they can be proud of. Here are some tips on creating a gourmet kitchen.
What is a Gourmet Kitchen?
A Gourmet Kitchen is a kitchen space with a state-of-the-art culinary set up with all the features, a wide range of appliances, and tools you need to be able to cook exotic dishes and specialty foods. A Gourmet Kitchen will usually include high-quality stainless steel appliances, gadgets, galore, and specialty ingredients.
What makes a Kitchen Gourmet?
Here are the 7 Gourmet Kitchen Ideas that make a kitchen gourmet:
Install a High-End Cooking Range in Your Gourmet Kitchen
Opt for a Double Oven
Choose a Sustainable Flooring Option
Go for Easy-to-Clean Surfaces
Install Lighting Features Where Needed
Consider Warm Colors
Promote Organization
Install a High-End Cooking Range in Your Gourmet Kitchen
Gourmet kitchens are characterized by high-end cooking ranges. If you love to cook, then it's a wise idea to invest in such essentials. They may be costly upfront, but they offer a lot of awesome features. Most people prefer gas ranges over electric ones. Gas appliances help you have better control of the cooking heat as well as lower your electric consumption. Additionally, high-end cooking ranges make your kitchen look classy and modernistic.
Opt for a Double Oven
When shopping for new appliances, it is advisable to opt for a double oven instead of a single one. Double ovens are perfect for chefs because this allows them to prepare different foods at the same time. When you have to prepare meal for a large family – or for some dinner guests in a short time – one oven may not suffice. Some double ovens are standalone units; while others are built into countertops and/or cabinetry. These are also convenient for families with various cooking preferences.
Choose a Sustainable Flooring Option
When it comes to the flooring of your kitchen, there are a number of options to consider. You should select the one that best suits the general style of your kitchen. For instance, if you want your gourmet kitchen to have both a sustainable and contemporary appeal, you may be interested in linoleum flooring. If you prefer a traditional or naturalistic aesthetic, you could consider choosing natural stone, wood, cork, or even bamboo flooring. Click HERE to discover the many benefits of cork flooring. Remember, gourmet kitchens do necessarily have to look modern.
Go for Easy-to-Clean Surfaces
When furnishing your kitchen, it is important for you to select surfaces that are simply clean. For example, if you are looking for a sustainable countertop, you might want to consider quartz because since it is not porous as other countertop materials. Quartz is also stain resistant. Discover 5 Sustainable Countertops That Are Better Than Granite. Also, when shopping for kitchen appliances, you may want to consider stainless steel. Not only are these easy to clean and maintain, but they feature a sleek look as well.
Install Lighting Features Where Needed
Gourmet kitchens are well-lit. You will not be able to prepare food well if you are not getting adequate amounts of light. These days, most people consider installing task lighting such as under-cabinet lights in order to brighten the areas where they chop, prepare, and cook food. Installing pendant lights over your kitchen counter is also a great idea. Each part of your gourmet kitchen must be illuminated to create a beautiful Kitchen look as well as to create the illusion of cleanliness.
Consider Warm Colors
Colors play an important role in interior design. For gourmet kitchens, it would be better for you to consider playing with warm colors. Light red, yellow, and terra cotta are just some popular examples. Yellow and red in particular are perfect colors for kitchens since they are known to stimulate one's appetite. Though warm colors are ideal for gourmet kitchens, it doesn't mean you need to rule out cool colors altogether.
Promote Organization
No matter how few or numerous the contents of your gourmet kitchen are, it is important that they be arranged properly. The organization is vital in kitchens which is why you should make prudent use of cabinets and drawers. These will help you keep things in a dedicated spot. The wirings of your appliances must be arranged neatly as well. Your kitchen should not have a cluttered look. Wouldn't it be nice to work in a kitchen that is clean, neat, and organized?
These are just a few tips on creating a gourmet kitchen and serve as pointers to get started. Remember that, in the end, it is ultimately you should decide how your kitchen should look to reflect your personality and taste.
Gourmet kitchen vs regular kitchen
On the surface, a gourmet kitchen looks like it is more luxurious. There are many fancy accessories that make for an appealing display in these kitchens including a high-end cooking range and state-of-the-art appliances. However, the best part about gourmet kitchens is that they are well-organized. You can find everything you need in one place, so it makes cooking and baking easier. The clutter typically found in regular kitchens is not present here, which makes for easier storage and cleaning.
Guest blogger, Leslie Kramer, is a freelance blogger and a die-hard fan of culinary arts. Leslie uses blogging as a platform to share tips regarding the same. She is currently writing for Baybrook Remodelers, a well-known name in remodeling services.
Photo credits: Flickr