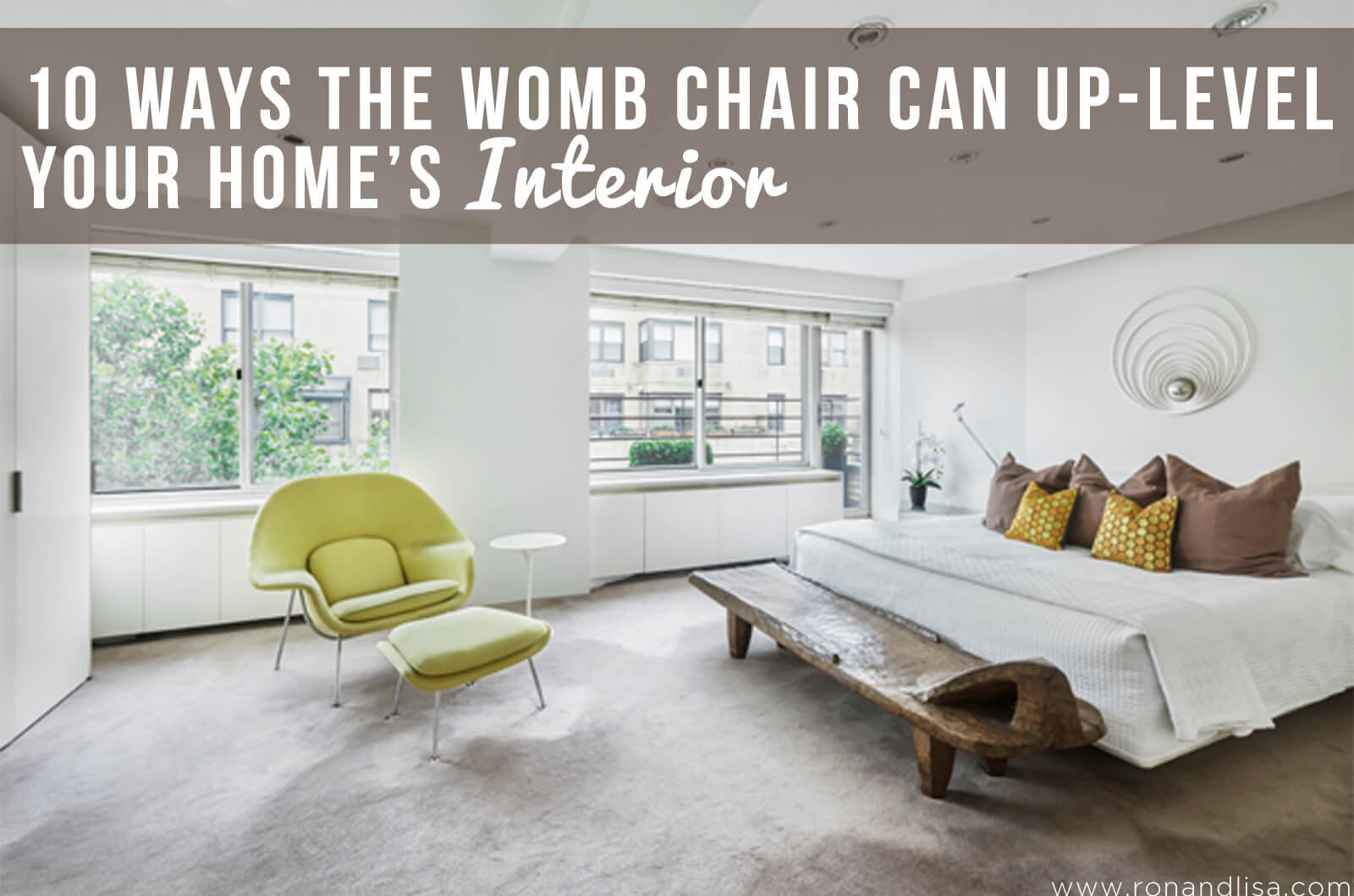 If you're not familiar with the gorgeous aesthetics of the iconic Womb Chair, you should be. Originally designed by Eero Saarinen in 1945, the Womb Chair is as comfortable as it is stylish. Sleek lines give this chair an aesthetic appeal, while soft, body-hugging curves and quality stainless-steel construction have made the Womb Chair a modern-day-must-have. All materials are fire-retardant & non-toxic, making it safe homes with children and pets. If you're wondering just how to introduce a Womb Chair into your existing home design, here are 10 inspirations to help you up-level your home's interior.
1. Utilize Water Views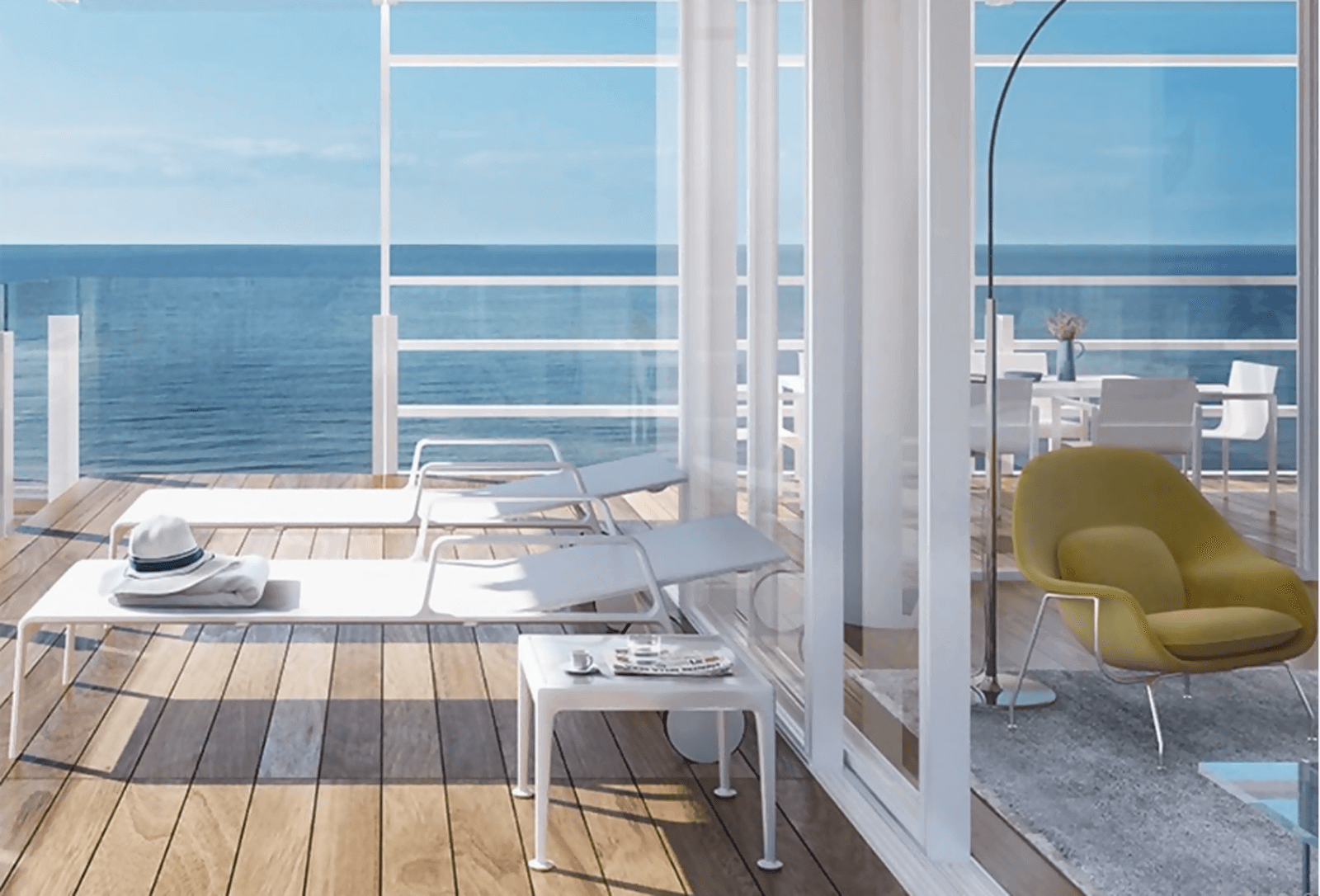 The aesthetics of a lake- or beach house can be perfectly utilized with picture windows, white outdoor furniture, and sandy wooden accents. However, the presence of a yellow-hued Womb Chair (as shown above) amidst an azure, ocean-lined backdrop gives the room an anchoring point. This chair adds both color and shapely contrast within the space to make it feel warm and livable.
2. Accent Capacity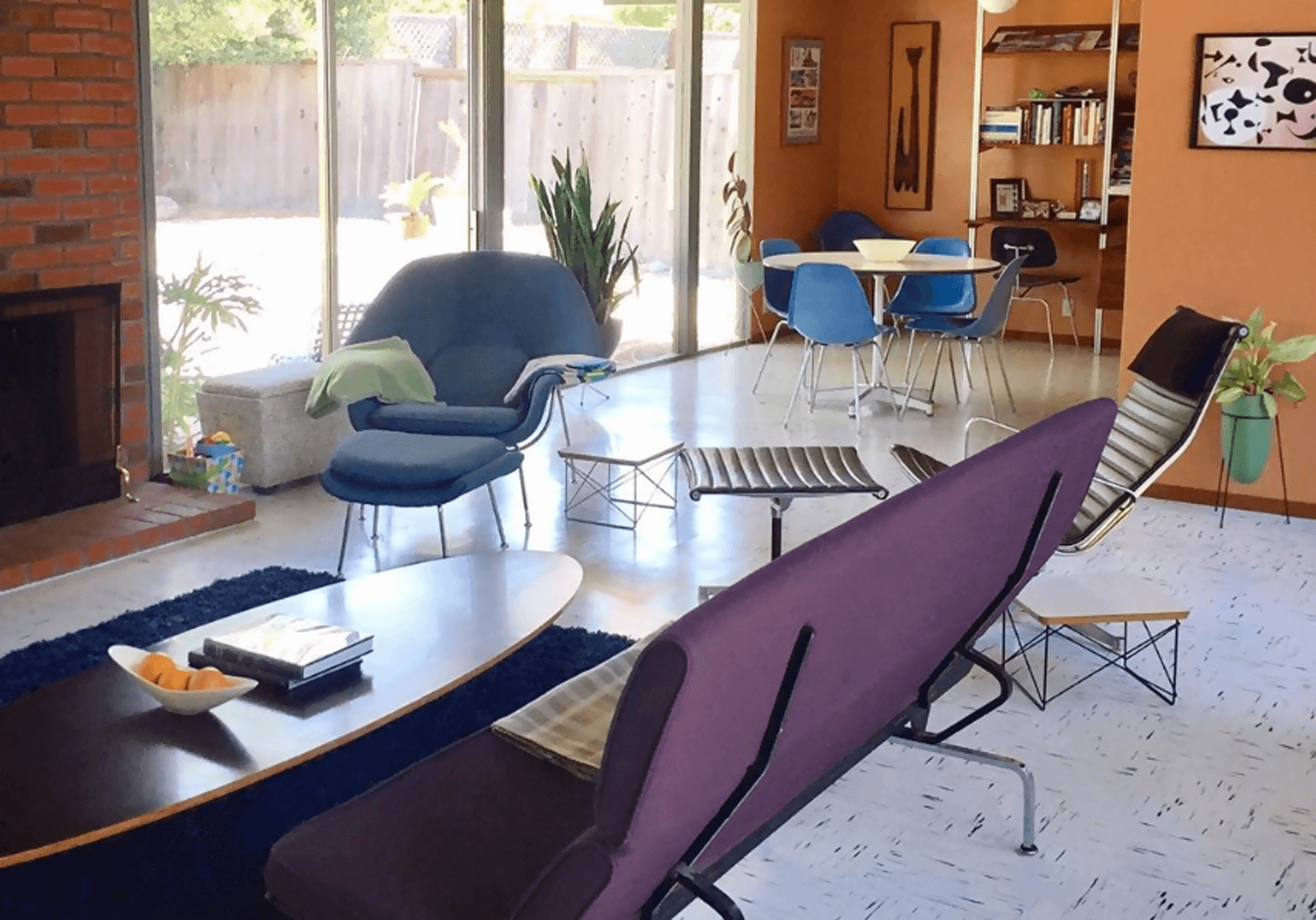 The unique shape of the Womb Chair makes it the perfect accent piece for most residential interior decors such as the beautiful space pictured above. Surrounded by furniture that's equally as statement-worthy, the Womb Chair holds its own within the overall ambiance, while adding a pop of contrast to the setting thanks to its vivid, blue-hued upholstery. The chair exquisitely contrasts and complements the surroundings.
3. In Public Spaces: Hong Kong Airport Cathay Lounge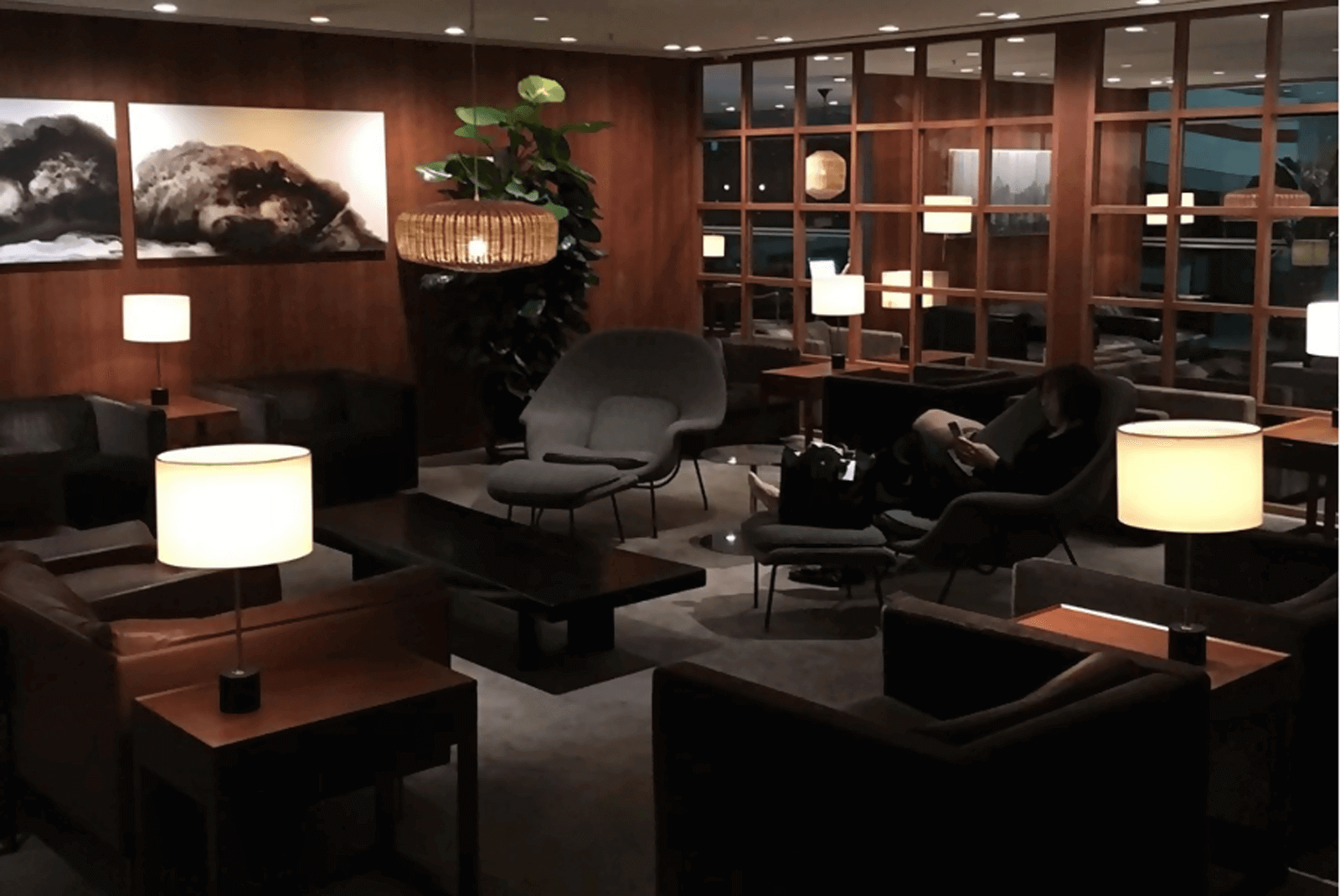 The Womb Chair has a very sophisticated design. It's simple and elegant with a distinctive aura. It's also highly comfortable, which makes the Womb Chair perfect for furnishing in public spaces. The interior design of the Cathay Lounge in Hong Kong's Airport features exactly how the chic presence of the Womb Chair can seamlessly offer comfort and aesthetic value to public spaces.
4. Color-Texture Contrast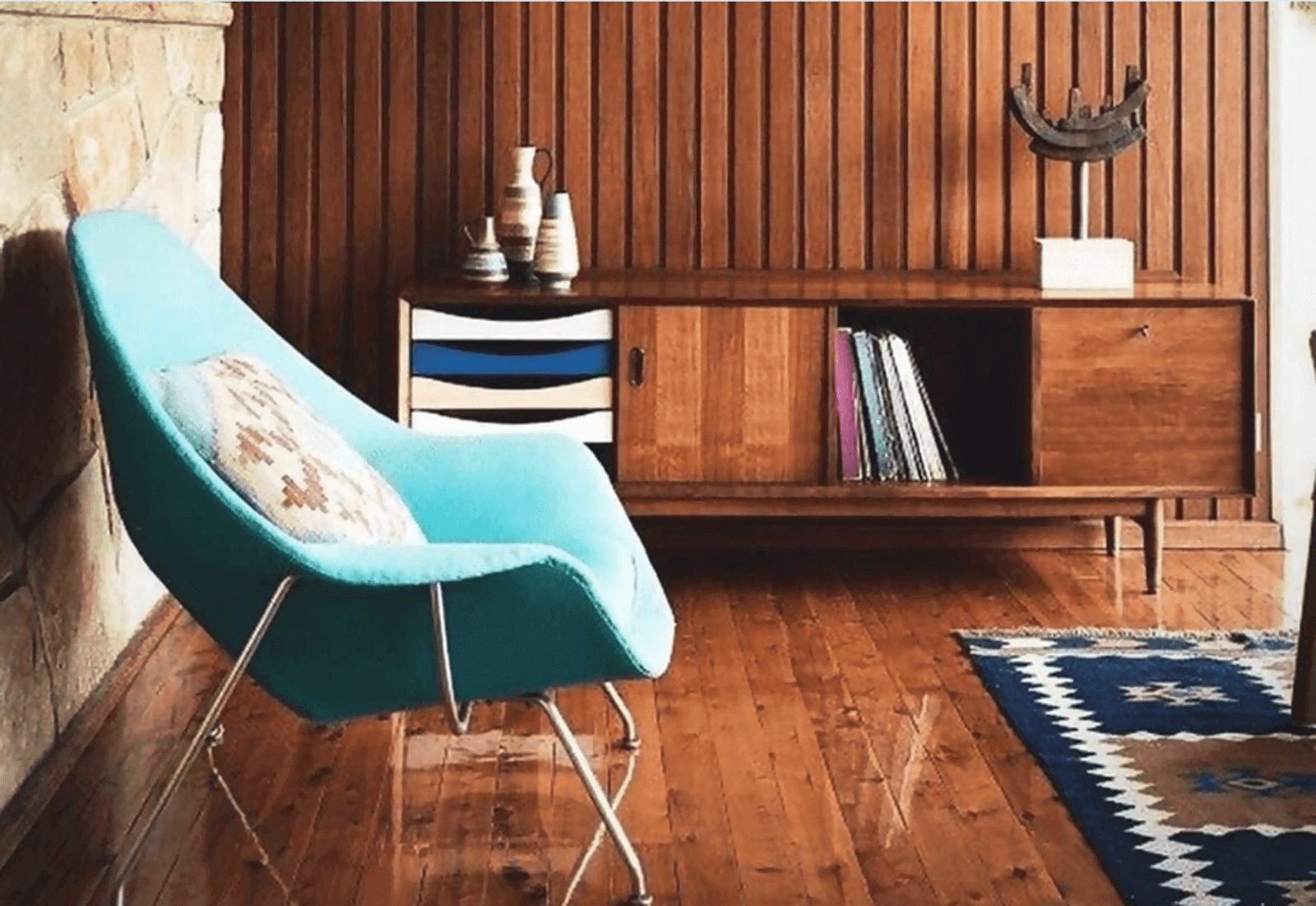 The Womb Chair has a diverse palette of attributes to compliment any environment. With its shape and design being the prominent characteristics, the Womb Chair also provides texture and vivid color thanks to its statement-worthy fabric choices. Available in a wide variety of vivid and subdued hues, this chair can be used to introduce high color-texture contrast when desired. The sky-blue upholstered Womb Chair in this image above depicts how a single color can uplift and diversify and entire ambiance.
5. The Perfect Reading Chair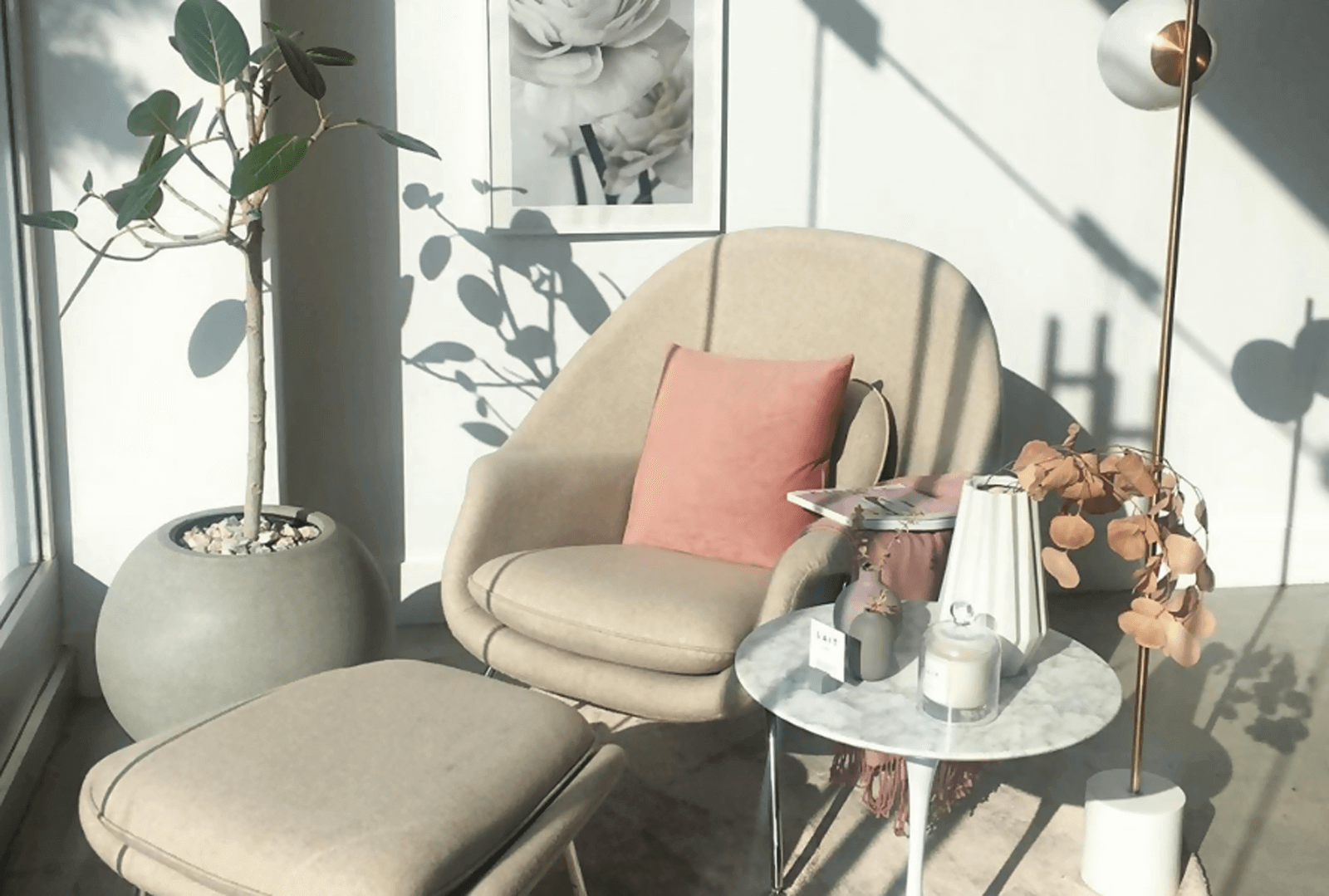 The style and comfort of the Womb Chair are two of its most appealing qualities; making this chair the perfect candidate for a cozy, contemporary designed reading nook. The grey-beige upholstery of the chair above and accompanying accent pieces are gorgeously complemented by rose-colored accessories. This setting makes for a whimsical but totally relaxing setting – perfect for a cozy winter read in the sun.
6. Style Contrast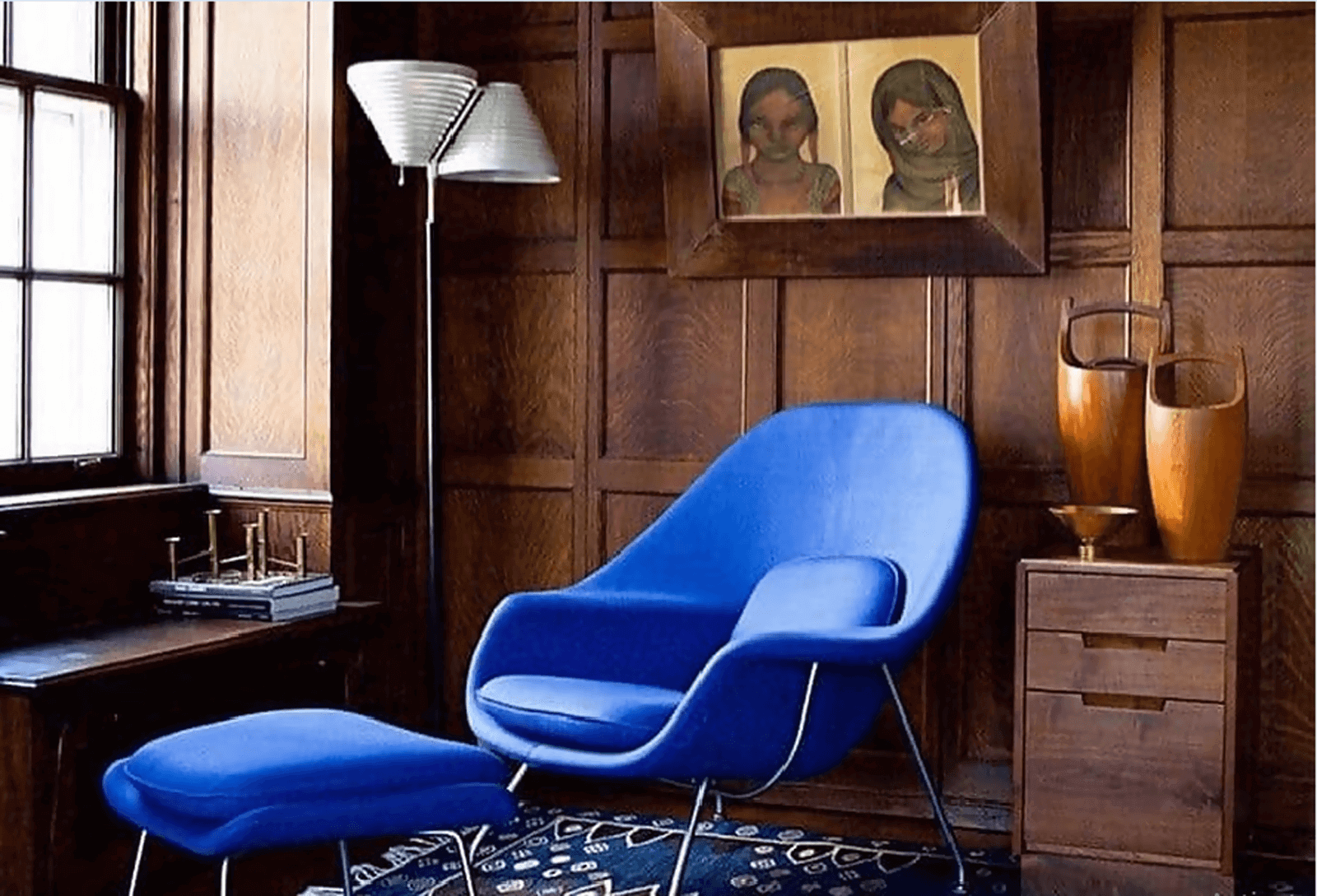 The Womb Chair has very distinct midcentury modern characteristics. Its flowing body and single-toned upholstery make the Womb Chair distinctly contemporary in aesthetics; it would make an excellent accent piece in a classically-styled interior. Above, you'll see how the traditional warm wood backdrop coupled with vintage accessories is gorgeously complemented by the electric blue presence of the Womb Chair.
7. Art Personified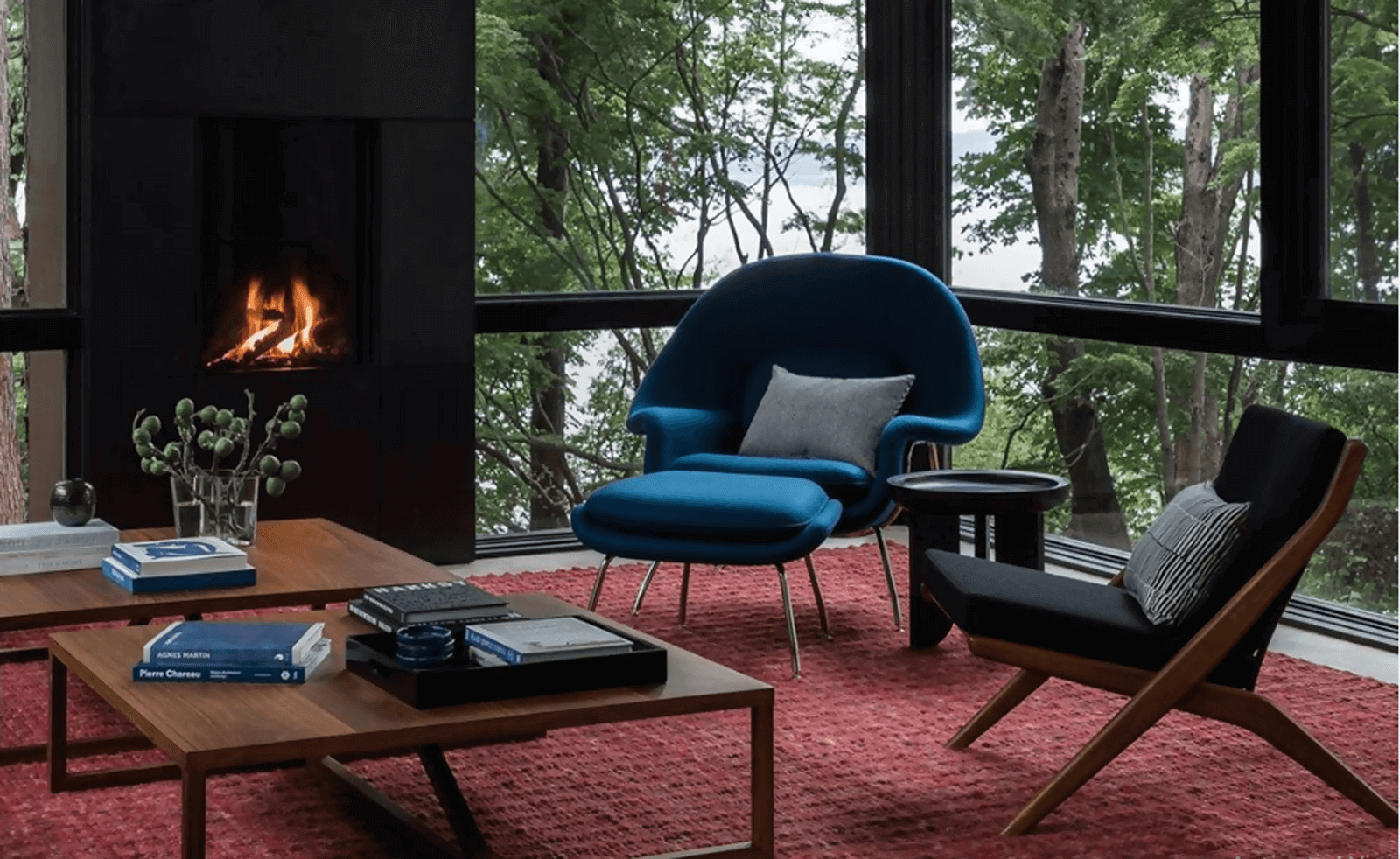 The Womb Chair has a sculptural shape – it not only fits and molds to the contours of your body in the most comfortable, natural ways, but the chair serves as a piece of art as well. With a backdrop of nature in the L-shaped windows pictured above, the teal-colored Womb Chair feels like a veritable sculpture, serving as the foreground accent piece.
8. Complementing the Surroundings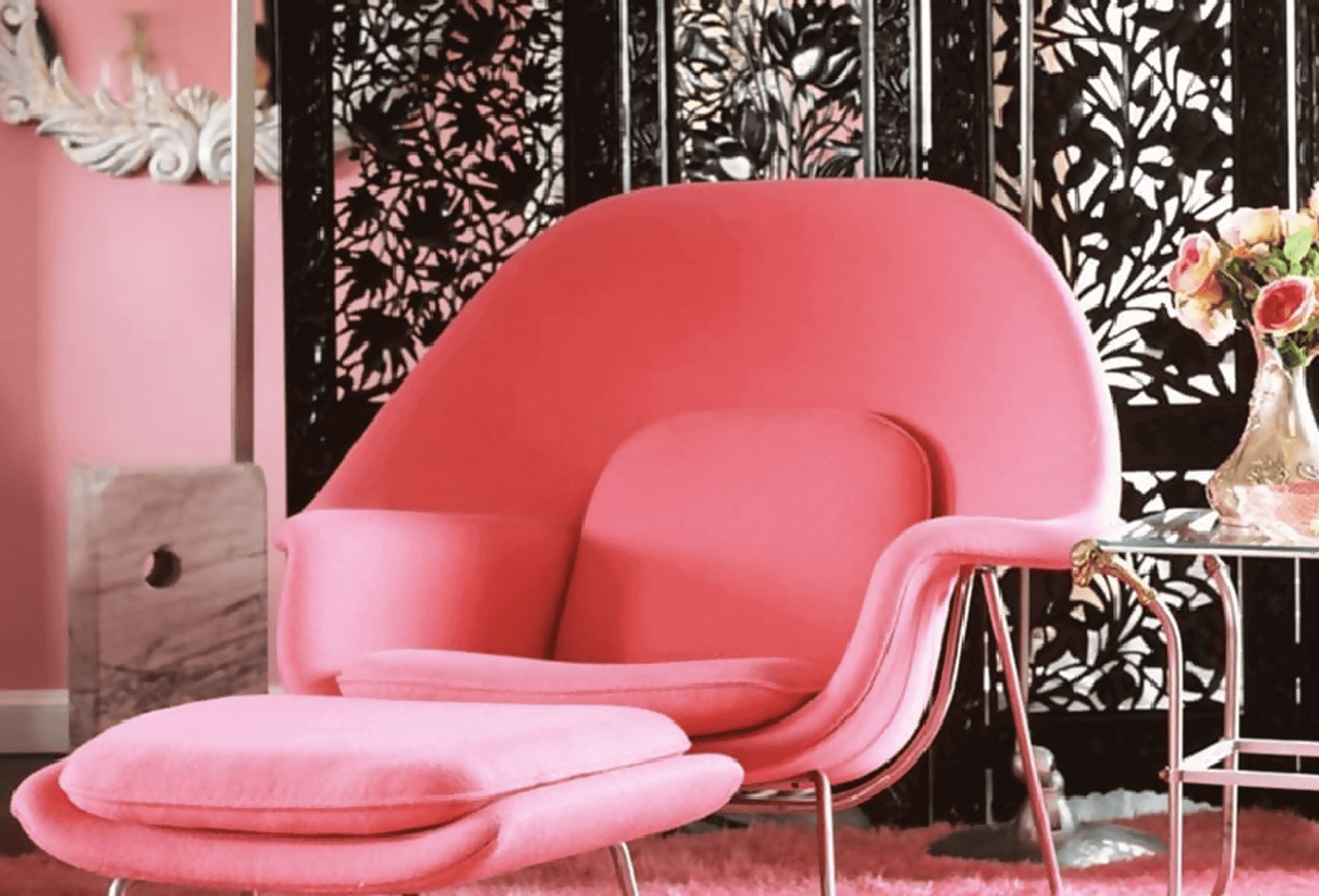 While the Womb Chair is used for adding contrast within an environment, it can also be used to match an existing design or theme. Take a look at the retro-eclectic theme in the image above. The large-scale use of pink on the walls is complemented by the presence and style of the Womb Chair while accessories and a dark backdrop provide a grounded contrast within the entire setting.
9. Funky on Funky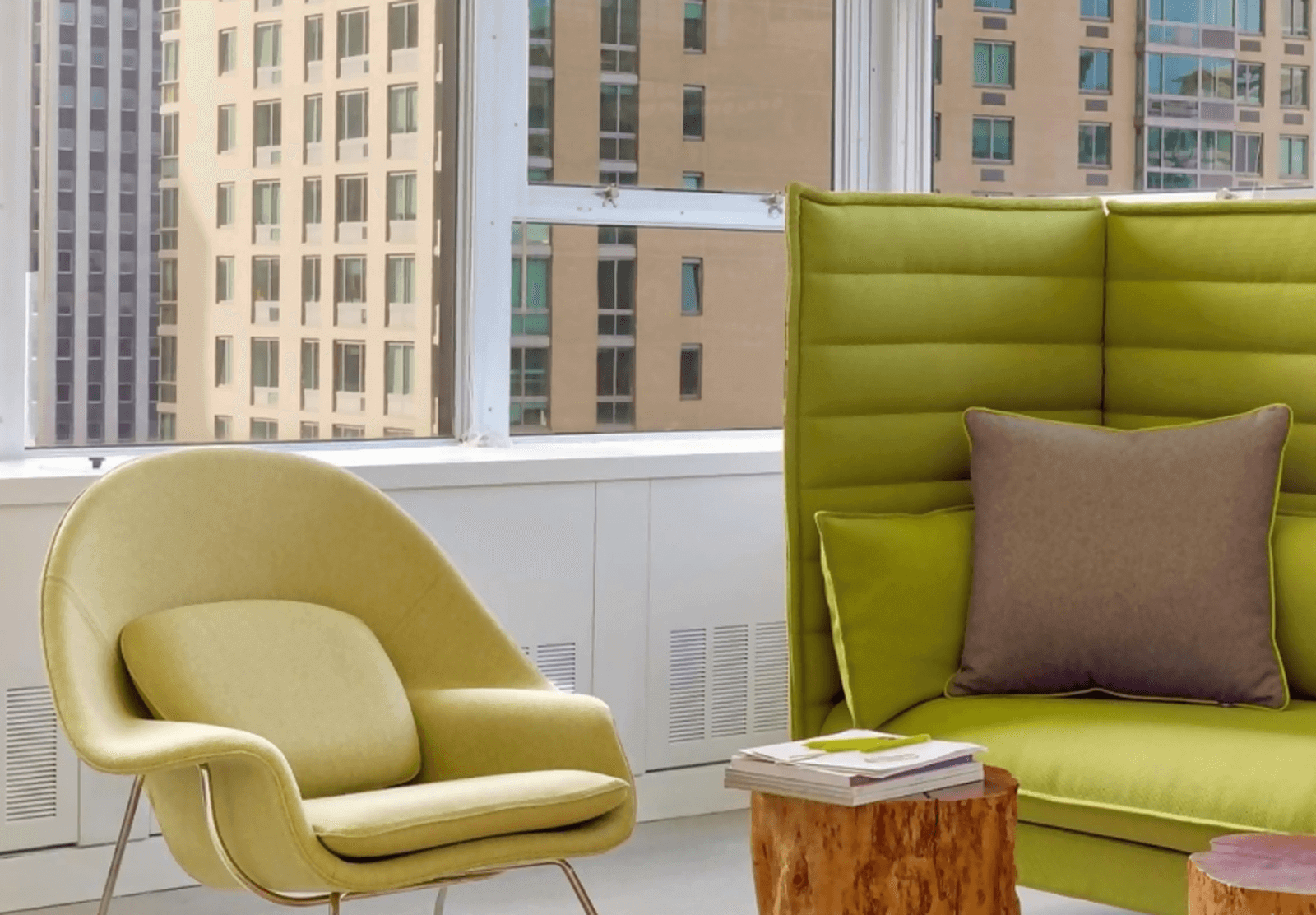 The quirky aesthetic of the Womb Chair can be used to complement other furniture that's just as unique and funky. The sofa, log table, and Womb Chair (featuring lime green upholstery) combination featured in the image above is an excellent example of how to incorporate style-on-style contrast to make your spaces more dynamic and visually appealing.
Related Articles:
Lisa Auditions for Oprah's New Network!
How to Protect Yourself Against Possible Radioactivity from the Fukushima Reactors
Soyummi Organic, Dairy and Gluten-Free Pudding Review and Coupon
Your Opinion Matters! Take the Ron & Lisa Survey
We Wanna Hear From You: Take Our Survey & Enter to WIN a $100 Gift Card!
A GREEN Evening Under the Newport Beach Stars!
Balance Your Yin/Yang with 5 Easy Tips for Your Home!
Outdoor Allergy Survival Guide
We Wanna Hear From YOU (Pretty Please)!
TUNE IN MONDAY…Something's Brewin!
14 Design Tricks to Make Your Home Feel Bigger
5 Home Décor Trends That Are Hot Right Now
6 Steps to Create a Healthier Hospital Stay
5 Self-Pampering Tips Essential for Your Well-being
5 Ways Feng Shui at Home can Create Positive Communities
Mindful Decluttering: How Hoarding Affects Your Health
How These 7 Feng Shui Tools Can Change Your Life
What Your Home's Colors Say About You
How to Age Comfortably at Home
How to Keep Your Home Pest Free
5 Home Fencing Options for Your Yard
Simple Ways to Expand Your Living Space
The Accessibility & Evolution of Mobility Chairs
How One Company Transformed the Health of an American Town
5 Ways to Maintain a Healthy Life
Driving Safety: 7 Myths You've Been Told
8 Home Inspections to Consider Before Moving
Cell Phones for Senior Citizens: 4 Must-Have Features
4 New Technologies to Make Your Home Senior-Safe
5 Rules and Tips for Building Your Kid's College Fund
Staying Young: 3 Habits to Counter Aging
Exterior Cladding Materials Ranked from Worst to Best
4 Benefits of Having Custom Sheets
4 Considerations When Moving a Parent to an Independent Living Facility
10. Eclectic and Cluttered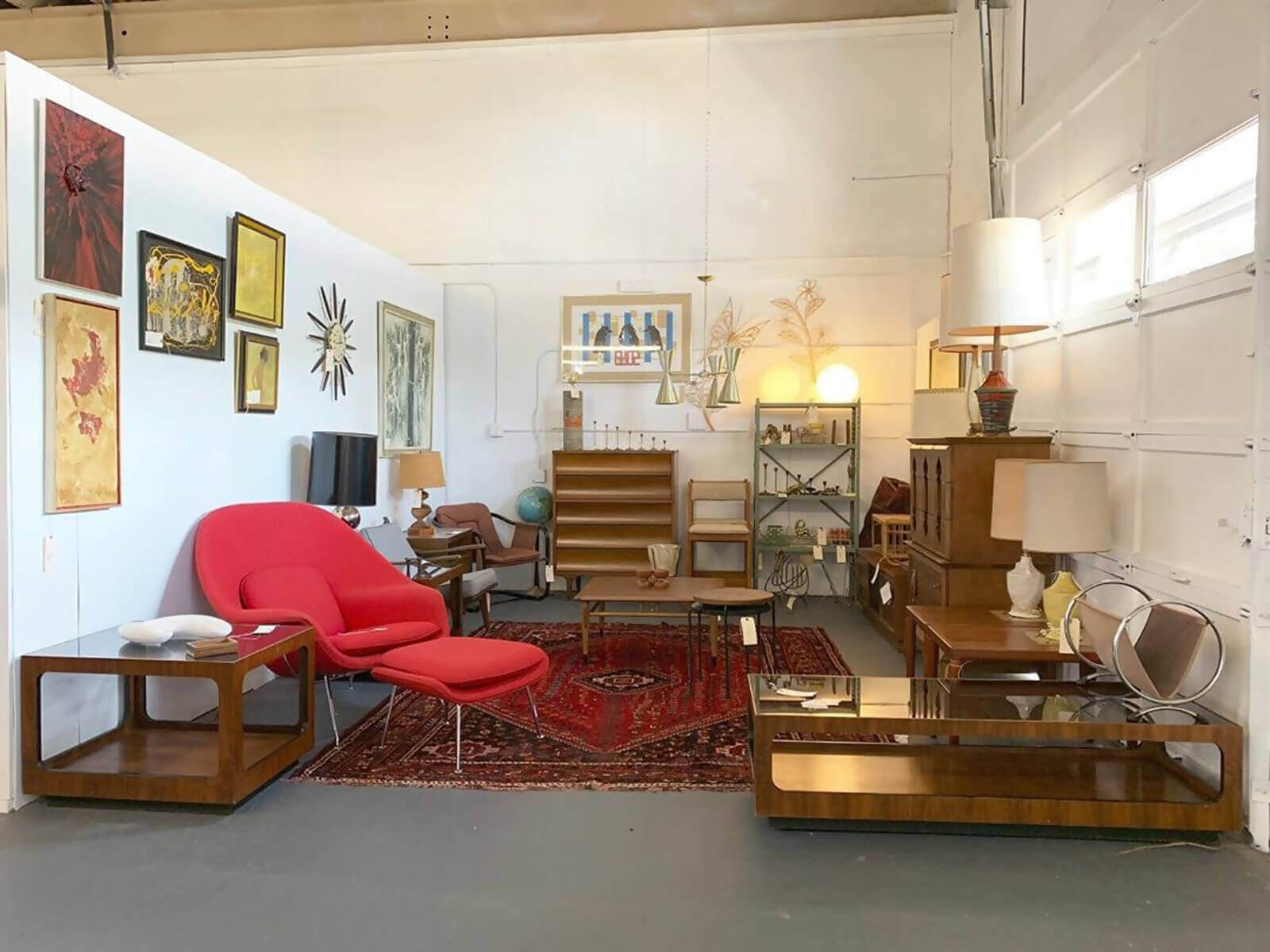 The Womb Chair can be used to emphasize visual diversity in an eclectic theme as depicted by the image above; perfect inspiration for those who love to mix and match. With the dissimilar artwork, Oriental rug, and mismatched furniture, the whole ambiance feels incredibly quirky but charming at the same time.
These ten inspirations cover a diverse range of interior settings. We hope some of these ideas help you find inspiration to up-level your interior and make the most out of incorporating a Womb Chair into your existing or outdated décor.
This post was sponsored. All thoughts and opinions are our own.