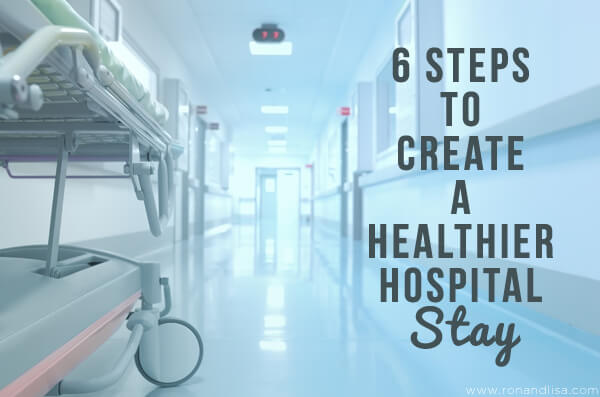 If you've ever been admitted to a hospital – or visited a loved one there – then you're likely aware that hospitals aren't always the healthiest of places. According to the CDC, 99,000 deaths occur each year from healthcare-associated infections during hospital stays. But it's not just HAI's that are a concern; it's also hidden toxic chemicals. New hospitals, in particular, are not immune to the harmful effects of volatile organic compounds (VOC's) off gassing from synthetic carpeting, fresh paint, formaldehyde-laden particleboard and veneered surfaces or even petroleum-derived foam bedding.
The last time I visited a family member, I was utterly shocked to see the unhealthy food choices (including artificial sweeteners linked to cancer being served with pesticide-laden coffee and tea) as well spaghetti and meatballs on the dinner menu. But, the toxic buck didn't stop there. I witnessed the use of unhealthy cleaning products and non-HEPA vacuums being used to clean.
Someone who is trying to heal obviously requires the least amount of toxic chemical exposures. If you're looking for ways to show your support for a loved one, follow these tips to assure their hospital stay is as healthy as possible by reducing their body burden.
1.) Breathe Better Air
While the goal of a hospital is to heal people, the air inside of patient rooms can be extremely unhealthy. If your hospital doesn't have a good air filtration system implemented, why not bring one to your friend or family member? There are numerous effective portable units like the Air Angel that protect rooms from germs, viruses, aeroallergens and harmful pollutants in the air and on surfaces. You can pick one up for a fraction of the price of a large unit. Keep it yourself –or- gift it to your loved one after they leave the hospital.
2.) Nontoxic Gifts
When looking for a gift to bring to the hospital or send home after your friend or family member has been released, think beyond flowers. Not only do flowers take up valuable shelf space in an often cramped hospital room, but they can contain toxic pesticide residues. Instead, choose a personalized gift. Perhaps it's a special blanket threaded with an uplifting quote to offer strength. Or, send a charm bracelet with words of encouragement that will serve as a constant reminder of the people who love them. Whatever gift you choose, putting in the effort to personalize a gift is a thoughtful way to show your support.
3.) Healthy Hospital Food
Just because your loved one doesn't request help, doesn't mean they don't need it. Don't wait for them to ask, rather do what needs to be done without fanfare or expectation. One great example is to prepare healthy and convenient juices, smoothies or delivery meals for them or their stressed out family members. Plated is a great service that offers sustainably sourced seafood, meat from animals raised without antibiotics and vegetarian options.
"Let medicine be thy food and let food be thy medicine." — Hippocrates
4.) Games for Your Brain
Hospital patients don't always have visitors and spending extended amounts of time in a hospital bed can be depressing. Make sure your loved one has all the tools they need to keep boredom at bay by creating a brain game care kit. Fill it with Sudoku puzzle books, crosswords exercises, magazines, and books you know they'll appreciate. Adult coloring books (or even ones for little kiddos) can be surprisingly therapeutic. Also, healing affirmations on audio CDs or a subscription to a streaming service like Netflix will fill the lonely or quiet hours.
5.) The Organic Comforts of Home
Being in the hospital surrounded by machines and sterile walls is anything but reassuring. Share some of the comforts of a healthy home to ensure they're feeling as comfortable as possible. Maybe it's an organic quilt or throw from Boll & Branch, an organic pillow from Earthsake, or pictures of their loved ones. Even a diffuser of essential oils can have the place smelling divine without the toxic chemicals found in most synthetic air fresheners.
Related Articles:
Lisa Auditions for Oprah's New Network!
How to Protect Yourself Against Possible Radioactivity from the Fukushima Reactors
Soyummi Organic, Dairy and Gluten-Free Pudding Review and Coupon
Your Opinion Matters! Take the Ron & Lisa Survey
We Wanna Hear From You: Take Our Survey & Enter to WIN a $100 Gift Card!
A GREEN Evening Under the Newport Beach Stars!
Balance Your Yin/Yang with 5 Easy Tips for Your Home!
Outdoor Allergy Survival Guide
We Wanna Hear From YOU (Pretty Please)!
TUNE IN MONDAY…Something's Brewin!
14 Design Tricks to Make Your Home Feel Bigger
5 Home Décor Trends That Are Hot Right Now
5 Self-Pampering Tips Essential for Your Well-being
5 Ways Feng Shui at Home can Create Positive Communities
Mindful Decluttering: How Hoarding Affects Your Health
How These 7 Feng Shui Tools Can Change Your Life
What Your Home's Colors Say About You
How to Age Comfortably at Home
How to Keep Your Home Pest Free
5 Home Fencing Options for Your Yard
Simple Ways to Expand Your Living Space
The Accessibility & Evolution of Mobility Chairs
How One Company Transformed the Health of an American Town
5 Ways to Maintain a Healthy Life
Driving Safety: 7 Myths You've Been Told
10 Ways the Womb Chair Can Up-level Your Home's Interior
8 Home Inspections to Consider Before Moving
Cell Phones for Senior Citizens: 4 Must-Have Features
4 New Technologies to Make Your Home Senior-Safe
5 Rules and Tips for Building Your Kid's College Fund
Staying Young: 3 Habits to Counter Aging
Exterior Cladding Materials Ranked from Worst to Best
4 Benefits of Having Custom Sheets
4 Considerations When Moving a Parent to an Independent Living Facility
6.) Care for the Family
If your loved one is in the hospital for an extended amount of time, he or she may be worried about their family members back home. Help assuage their fears and concerns by picking up the slack so they can focus their energy on healing. Provide gift cards to nearby healthy restaurants so the family can get enjoy comradery. You can bring some healthy snacks or head over to clean up the house using natural ingredients so its spick and span when they return home. They'll appreciate the sparkle; sans the toxic chemicals.
Don't forget the furry members of the family; offer your assistance with walks, or keep their pet in your care until they're back home. Taking care of little tasks like these can mean loads of stress off of your friend of family member's back.
If your loved one has recently been admitted to the hospital, consider the above six steps to make the harrowing process a bit easier while extending your support in a way that's not only helpful, but healing.