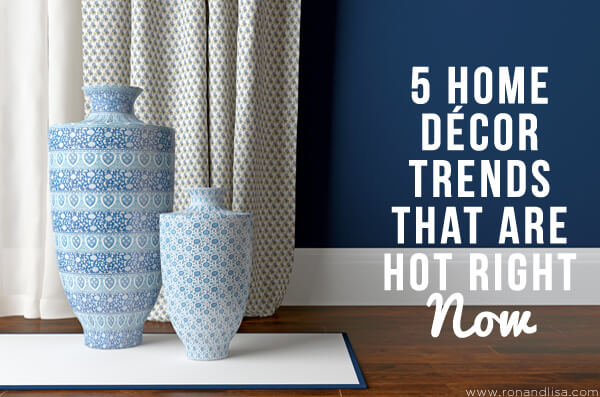 Redecorating your favorite room – or your entire home – can be a huge project. Then, there's the added complication of wanting to style your home in a way that will feel tasteful and fashionable, without having to replace your furniture every few years. The best way to achieve the right balance is to take stock of what's in season, then choose styles and items that will age along with your personal tastes and preferences.
To get started, take a look at a few of the trends that are popular right now in home design and choose styles that will make you feel the happiest and the most at home in your space.
1) Shades of blue.
Blue seems to be the color of the year. It's even better if you can integrate several shades of blue in a myriad of ways into your color scheme. Consider sticking to accent items since these provide an easy way to add a pop of color and interest to your room, without taking on the huge commitment of buying entirely new furniture.
Other popular color schemes of the season include jewel tones and all things bright. If you aren't into the flashiness of bright colors, then you might consider the popularity of hints of gray. Light gray is a great neutral color for the home decorator who prefers muted shades. Sticking to this as your base color comes with the added benefit that it's easy to adapt through seasonal and stylistic changes as your space evolves over time.
2) Textured surfaces.
When choosing color palettes for your space, keep in mind that you don't have to stick with solids. Textured patterns can make your plain surfaces such as curtains and walls a bit more interesting. One particularly popular texture is the watercolor look.
3) Modern.
When it comes to choosing furnishings, the more modern, the better. Sleek lines and sharp angles have been consistently popular in home design for quite some time. However, if that's not your personal aesthetic preference, there are numerous other types of modern furnishings to consider. Two of the biggest modern looks include the revitalized industrial space and the rustic-chic farm look. While these may not be the first styles you consider when visualizing "modern," for many they are, since they rely on a sort of vintage sensibility. Rustic-chic and new industrial are sort of an old-school-does-modern;  if you're partial to an older look, these can be a great way to incorporate something contemporary to suit your tastes.
4) Minimalism.
No one likes living in a home that feels cluttered. However, even if you're the type who enjoys a fuller environment, you likely don't desire spaces that aren't cohesive or well-appointed. Choosing an overall minimalist design scheme is a great way to combat the oppressive feeling of having too much stuff or a occupying a disorganized design plan. If you collect new items frequently, make it a habit to sort through unwanted things to sell, or repurpose, on a regular basis. Donate these items to charity for a tax write-off if you're unable to sell them. In the future, choose decorative items that will easily adapt to your design scheme over time. Additionally, attempt to keep these items in a similar or concentrated location. It's better to have specified areas that are highly decorated, versus allowing your décor items dominate the entire home.
Related Article:
Lisa Auditions for Oprah's New Network!
How to Protect Yourself Against Possible Radioactivity from the Fukushima Reactors
Soyummi Organic, Dairy and Gluten-Free Pudding Review and Coupon
Your Opinion Matters! Take the Ron & Lisa Survey
We Wanna Hear From You: Take Our Survey & Enter to WIN a $100 Gift Card!
A GREEN Evening Under the Newport Beach Stars!
Balance Your Yin/Yang with 5 Easy Tips for Your Home!
Outdoor Allergy Survival Guide
We Wanna Hear From YOU (Pretty Please)!
TUNE IN MONDAY…Something's Brewin!
14 Design Tricks to Make Your Home Feel Bigger
6 Steps to Create a Healthier Hospital Stay
5 Self-Pampering Tips Essential for Your Well-being
5 Ways Feng Shui at Home can Create Positive Communities
Mindful Decluttering: How Hoarding Affects Your Health
How These 7 Feng Shui Tools Can Change Your Life
What Your Home's Colors Say About You
How to Age Comfortably at Home
How to Keep Your Home Pest Free
5 Home Fencing Options for Your Yard
Simple Ways to Expand Your Living Space
The Accessibility & Evolution of Mobility Chairs
How One Company Transformed the Health of an American Town
5 Ways to Maintain a Healthy Life
Driving Safety: 7 Myths You've Been Told
10 Ways the Womb Chair Can Up-level Your Home's Interior
8 Home Inspections to Consider Before Moving
Cell Phones for Senior Citizens: 4 Must-Have Features
4 New Technologies to Make Your Home Senior-Safe
5 Rules and Tips for Building Your Kid's College Fund
Staying Young: 3 Habits to Counter Aging
Exterior Cladding Materials Ranked from Worst to Best
4 Benefits of Having Custom Sheets
4 Considerations When Moving a Parent to an Independent Living Facility
5) Gallery style.
When looking for ways to display your wall art, a popular trend is to use a gallery format. Rather than spacing these objects evenly throughout the room, create one wall with a high concentration of art objects; each displayed close together so that the blank space of the wall is almost completely covered. Have some fun picking out varied types of art pieces in different textures and frames to achieve a whimsical, eclectic look. Try to have an overall theme, or color palette, to keep the design looking cohesive.
Decorating your home with the latest trends is only partially about mimicking interior photo spreads from design magazines. The most important thing is to create a home that resembles a space that you love and want to live in.