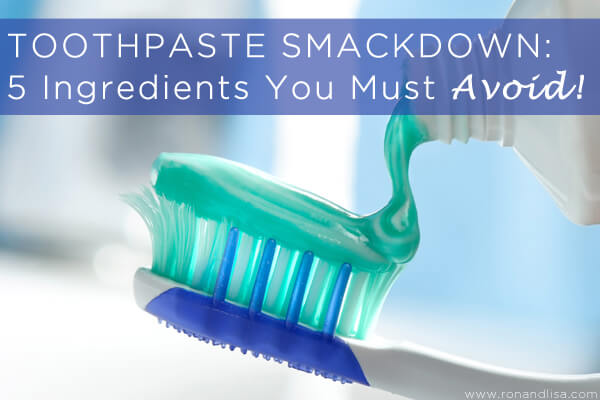 An apple a day may keep the doctor away, but we're not so sure if the same logic applies to the daily brushing of your pearly whites.  Good oral hygiene is imperative, but not so much when your brushing routine is laced with abrasives and toxic chemicals.  Before you assume we aren't referring to your brand of Toothpaste, you may wanna grab your tube and compare the ingredients list.  Does your brand contain any of these?
Related: Top 10 best natural toothpaste
What are the ingredients you must avoid in toothpaste?
Here are the 5 Ingredients You Must Avoid In your TOOTHPASTE:
FLUORIDE
SACCHARIN
SODIUM LAURYL SULFATE (SLS)
CARRAGEENAN
PROPYLENE GLYCOL
FLUORIDE
Used in toothpaste to strengthen enamel, fluoride is considered toxic when ingested at high levels and is a controversial additive in water. The addition of fluoride to toothpaste prompted manufacturers in the U.S. to have warning labels required by the FDA stating: "WARNING: Keep out of reach of children under 6 years of age. If you accidentally swallow more than used for brushing, seek professional help or contact a poison control center immediately." Watch An Inconvenient Tooth, a fluoride documentary. There are natural toothpaste with fluoride too. Therefore it is important to read the ingredients of the toothpaste you are buying.
SACCHARIN
Enough said.  But, for those of you who still consume it, the sweetening agent in Sweet N 'Low is sodium saccharin in toothpaste, which has been linked to bladder cancer. Splenda (sucralose) is a chlorocarbon and Equal (aspartame) is an excitotoxin. These are three chemicals that offer absolutely no health benefit to the body and over time will potentially lead to health problems. Additionally, brain tumors and lymphoma in rodents have been linked to the consumption of high amounts of sweeteners.
Read about best natural toothpaste
Buy a toothpaste without saccharin. Although, finding toothpaste without artificial sweeteners is difficult. If you like the sweet flavor in your toothpaste, try Stevia toothpaste instead. It is a great alternative to toothpaste without sodium saccharin.
SODIUM LAURYL SULFATE (SLS)
In the cleaning industry, Sodium Lauryl Sulfate is used to clean garage floors. SLS is a drying agent which has a foaming effect that can be found in some toothpaste. It is known to cause microscopic tears in mouths that can lead to canker sores. Look for SLS-free toothpaste that uses glycyrrhizin, derived from licorice root, to lather and disperse ingredients.
CARRAGEENAN
Although extracted from red seaweeds (sounds healthy in theory) dozens of scientific, peer-reviewed studies used food-grade carrageenan and found exposure to carrageenan causes gastrointestinal inflammation, ulcerations, lesions, and even colon cancer in laboratory animals). Also, the American Diabetes Association links the consumption to insulin resistance and glucose intolerance in mice. Since we adhere to the precautionary principle, we advise avoiding this as does the Cornucopia Institute based on numerous scientific studies.
PROPYLENE GLYCOL
Can you say anti-freeze?  Yes, people, this is a solvent that is the active component in some anti-freezes. It's a petroleum-based chemical that is used to soften cosmetic products and is used in a plethora of personal care products. In large quantities, studies have shown that it can cause damage to the central nervous system, liver, and heart. The same stuff used to make antifreeze does not belong in your mouth.  Period.
FAQs
What makes toothpaste sweet?
Sucralose and saccharin, which are artificial sugars, are most commonly used as the primary sweeteners in toothpaste.
Is there a restriction on the amount of sugar that can be used in toothpaste?
But there are no restrictions on the amount of sugar that can be used in toothpaste, so it's possible for manufacturers to use as much sugar as they want. Sucralose and saccharin, which are artificial sugars, are most commonly used as the primary sweeteners in toothpaste.
Recommended Healthiest Toothpaste Brands
Remember, not even the best natural toothpaste brands and the best organic toothpaste make the cut.  In fact, many of the Tom's of Maine safe toothpaste brands contain fluoride, and Tom's and Trader Joe's fluoride-free versions contain carrageenan. A few of our healthiest toothpaste recommendations here at the Healthy Home Dream Team® include:
Earthpaste (clay-based)
Weleda Oral Care
Kiss My Face
Neem Toothpaste
DIY – make your own using this simple recipe!
Got a favorite and trusted brand?  Please share it below with us in the comments section!