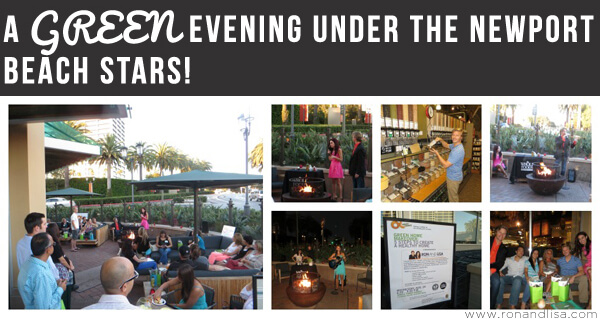 We had such a magical night last night at Whole Foods Fashion Island in Newport Beach, CA in conjunction with our local OC Green Drinks presenting: GREEN HOME MAKEOVER: 5 Steps to Create a Healthy Home!  We loved seeing many of you there and meeting new friends (but, missed those who live afar and could not attend).  Hence, we wanted to bring the event to you and share a few highlights:
In addition to our featured presentation, all guests enjoyed live music by singer/songwriter, Dasha Dorlandt, a complimentary cocktail, a raffle ticket (with over $350.00 in green giveaways), tasty food and vegan Mint Chip Shake samples from Chef Raya Belna!  Also, every guest received a free gift bag upon arrival with a Dishmate sample from Earth Friendly Products and a complimentary copy of E/The Environmental Magazine. Other peeps who helped make the night include:
Anil Kewel and all of the volunteers from OC Green Drinks, Essentia – the world's only natural memory foam mattress. Also, Glenn from Budding Culture (who created all of the beautiful signage).
Our gratitude to the great community from Orange County who donated their time or products including Ruby Blaise Aromatherapy, the Bite Market, BeautyMark Organics, BuyGreen.com, and photography by Hello Misha

.
We also sold signed copies of our books Just GREEN It! – the ultimate shopping guide and Lisa's children's book, My Body My House. Don't worry; you can still purchase these online. Your support helps us continue the work of helping others create healthy and non-toxic homes!
[easyrotator]erc_21_1378774452[/easyrotator]
WOW! What beautiful pictures. There's really something special about the photos … a California vibe and spirit comes shining through. What an incredible venue, too, for special events at your Whole Foods. I love it! So happy to be a part of your event. ~Karen, E – The Environmental Magazine
Thank you for a great event last night. My wife and I are all about a healthy eating and cleaning lifestyle and try to learn more with every opportunity. Last night was no different.I can't wait to get a new Essentia foam mattress after hearing Lisa explain the differences. Ron, after hearing your talk on electronics, I completely unplugged our bedroom and made my wife place her phone (alarm) on the opposite side of the room! ~Ed, Blended Giving
Lastly, it is sooo important to have a like-minded community focused on supporting one another and if you are reading this, then consider yourself part of ours! We thank the companies and individuals who contributed; the evening would not have been the same without their generous support.  P.S.  If you are not already on our newsletter list, be sure to sign up HERE to receive a FREE downloadable gift of the : 5 Essential Secrets to Creating a Toxic-Free Home.