By Chef Tanya Fuqua of Avanti Natural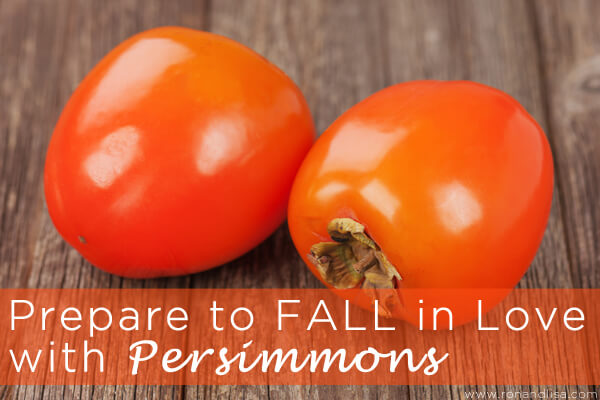 My husband and I were cruisin the farmers market a few days ago and suddenly I saw them…persimmons! They're so beautiful in all of their orange glory. To me it's the first sign of fall. Just as the season rolls around so do the questions. How do you eat them? What are the differences between the varieties? When are they ripe? What do I do with them?
Health Benefits of Persimmons
The persimmon is native to China. It spread to the Korean peninsula and Japan quite long ago and later was introduced to California during the middle of the 19th century. Persimmons show up in the supermarket in the US from September through December. Persimmons are quite high in Vitamin C, vitamin A and B- vitamins. They also contain minerals like potassium and magnesium. And, they have around 80 calories each.
Although there are numerous varieties, most of the time you'll see two different types of persimmons in the store – Fuyu and Hachiya. They have very distinct personalities and hence, need to be treated differently.
Fuya Persimmons
Fuyu persimmons are round and shaped like tomato. They have bright orange skin that can be eaten. These persimmons are what they call a non-astringent variety. This means they can be eaten just about any time. Fuyus will soften some as they ripen but will stay reasonably firm. This makes them perfect for slicing and dicing and eaten raw.
Hachiya Persimmons
Hachiya persimmons are bright orange, oblong, heart-shaped fruit and usually a little bigger than the Fuyu. This persimmon is an astringent variety. You'll only want to eat this persimmon soft; really soft! Just when you think one might be too ripe is when it's perfect. It's called astringent because, if you were to eat this unripe, it would give you a very unpleasant pucker in your mouth (not appetizing at all). The skin on this one is also edible. And, this persimmon is designed to be eaten with a spoon rather than slicing. Because of its super soft texture, I find its best to cook with.
How to Prepare Persimmons
Don't be bashful with your persimmons! Try the Fuyus in salads, on warm oatmeal in the morning or straight up as a snack. Here's a great recipe: Roasted Brussels & Persimmons – A Perfect Autumn Plate. Let them adorn your cereal bowl or try them in a fresh fruit salsa. Cook the Hachiyas with a little garlic, lemon juice and olive oil for a delicious sauce for vegetables, chicken or fish. Or, add them to a sweet bread pudding with raisins and walnuts. Both varieties are perfect for the whole family so get 'em before they're gone! Whatever you do, don't miss out on this sweet treat for your fall table!
Below are a few helpful links for all of your persimmon ponderings:
Got a favorite way to cook or eat them? Let us know in the comments below!