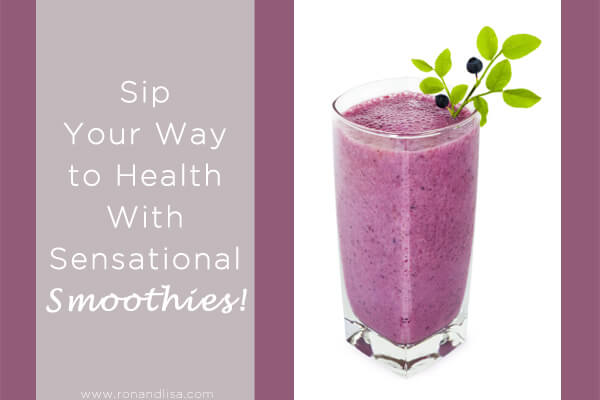 You may have noticed a change in our newsletters and in this websites' URL! We are still the Healthy Home Dream Team,™ but we've changed our domain name to RonandLisa.com! Same us, same mission – to create healthy homes across America: one nest at a time.
So what does this announcement have to do with smoothies? Nothing and everything. We realize that we post a lot of technical information which is oh so very important in making you aware about hidden dangers and toxins that exist in your home. We also realize, thanks to Sir Francis Bacon, that "knowledge is power." But, occasionally, we vow to not take ourselves too seriously and to always share some lighthearted information (still with a healthy twist, of course)! With summer heat in the air, we wanted to share our favorite smoothie recipes. After all, a healthy home also consists of healthy food that nourishes your body and soul. Ron and I drink smoothies religiously; almost every single morning for breakfast in fact. It's a great way to get your fruit intake and start the day. It does, however, require variety not only to prevent taste bud boredom, but to maintain a healthy nutrition level.
If you followed along Ron and I's two week raw food detox from 118 Degrees, then you are well aware that our number one requirement for healthy food is that it better be delicious. Besides 118 Degrees, another favorite local spot we enjoy is Native Foods. Chef Tanya created the acclaimed vegan restaurant and I am happy to share one of the recipes from her book, the Native Foods Restaurant Cookbook. It's called the Crystal Blue Persuasion and as Tanya says, it "makes you feel like the name sounds."
Recipe: Crystal Blue Persuasion Smoothie
Summary: Blueberry and banana smoothie
Ingredients
1 banana
1 cup of ice
2 Tbsp of blueberries
2 small pieces of crystallized ginger (mmmmm)
¼ tsp. of dried lavender flowers (that's a first for me!)
¾ cup of almond, rice or soy milk
Add blueberries for garnish
Instructions
Puree' all ingredients (except garnish) in blender.
Garnish with 2-3 fresh blueberries.
Did you ever eat a peanut butter and banana sandwiches as a kid? Well, I did and loved them!  Since peanut butter and peanuts have too many issues to address in this quick (and fun) post, I eighty-sixed the PB and am sharing my easy, healthy and delicious recipe for an Almond Butter-Banana Smoothie (vegan). Clearly I need your suggestions for a better name after reading Chef Tanya's!
Recipe: Almond Butter Banana Smoothie
Ingredients
1 organic banana
2 heaping Tbsp of organic almond butter (Trader Joe's brand is great)
1 cup of ice
½ cup of your favorite non-milk alternative (ie: Almond milk, rice milk, hazelnut milk, multigrain milk, etc)
1 packet of Stevia to sweeten (yes; the all natural sweetener) or a splash of agave nectar
2 heaping Tbsp of your favorite protein powder (rice, hemp, pea)
Related Article:
Instructions
Puree' in blender until it creates a creamy texture.
What are you waiting for? Pour, sip and enjoy!
If you have a recipe you'd like to share with us, please do!