By guest blogger, Dr. Mike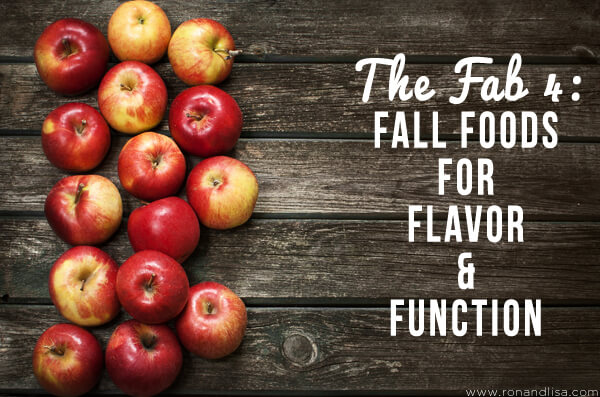 A fundamental principle of my Grassroots Gourmet™ approach to food and health is to get closer to the delicious essence of real and authentic food by getting back in step with nature. A simple, and often economically beneficial, way to do this is to observe the natural local bounty that accompanies seasonal change. With Jack Frost ready to make his appearance in the northern climates, here are four fall foods that are guaranteed to – not only please the palate – but pack a powerhouse of nutrition in each bite as well.
4 Fall Foods in Focus
• Winter squash: important source of carotenoids, reduces inflammation
• Sweet potatoes: important source of fiber, reduces inflammation
• Apples: stabilizes blood sugar, increases satiety
• Green beans: important source of antioxidants, aids in bone and joint health
1. Winter Squash
Winter squash has been a fall favorite long before the pilgrims arrived. A staple crop for the indigenous peoples throughout the Americas and across the globe for millennia, we are still learning about the important health benefits of the gourd-squash-melon family of foods known as Cucurbitaceae. Winter squash are among the best sources of carotenoids on the planet. These include alpha-carotene, beta-carotene, lutein, zeaxanthin and beta cryptoxanthin. The fiber found in these vegetables are an important food source for our gut microbiome; a symbiotic organ that is critical for maintaining our health. Additionally, certain starches found in winter squash contain homogalacturonan. These types of polysaccharides have shown antioxidant, anti-inflammatory and insulin regulating properties. The B-complex vitamins are also critical for regulation of blood sugar levels and winter squash provides a good amount of vitamins B1, vitamin B3, vitamin B6, pantothenic acid and folate. In addition to supplying vitamin C, manganese and the essential omega-3 fatty acid alpha linolenic acid, the Cucurbitaceae genus of plants contain cucurbitacins, which are glycoside molecules that are also found in Brassica vegetables, some mushrooms and mollusks. These may contribute to the powerful anti-inflammatory properties associated with winter squash. The result is less obesity, diabetes, a reduction in certain types of cancers and an improvement in overall cardiovascular health. This versatile vegetable can be enjoyed in a number of ways. Try it in a curried butternut soup or use the roasted squash as a taco filling along with other traditional Mexican and Central American flavors.
2. Sweet Potatoes
Another great source of beta-carotene is the sweet potato. True sweet potatoes (Ipomoea batatas) should not be confused with yams (Dioscorea batatas); which are not even remotely related. In the United States, there are two main varieties: one with white and one with orange flesh. The sporamins are the storage proteins unique to the sweet potato. Recent research has focused on the powerful antioxidant properties of these compounds. Along with other phytonutrients found in the sweet potato, studies suggest that consumption of these vegetables can result in a powerful anti-inflammatory effect. Like winter squash, the fiber found in sweet potatoes provides a valuable substrate for keeping our gut microbiome healthy. The effects of fiber along with other compounds found in sweet potatoes can aid to improve the body's ability to handle glucose. Despite the palate pleasing sweetness, even those suffering from type II diabetes may benefit from the ability of sweet potatoes to aid in blood sugar regulation. Try some baked sweet potato fries with a bit of chili spice for a scrumptious crispy contrast of textures and flavors.
3. Apples
Few things are as emblematic of fall as the iconic apple. And it is the whole apple that is important to consume. Studies have shown that you cannot get the benefits associated with consuming the fruit in its whole form when you substitute it with applesauce, apple juice or even the pectins alone. These benefits include an improvement in blood glucose levels. Much like sweet potatoes and despite their natural dulcitude, apples help regulate your blood sugar. Through a holistic interaction involving fiber, pectins and other phytocompounds found only in the whole fruit apple; consumption is associated with an improvement in blood lipid levels and thus reduces the risk of cardiovascular disease. And it's not only the cardiologist that the apples can keep away; they may keep you away from the refrigerator. Studies have shown that those consuming one apple approximately 15 minutes before meal consumed approximately 15 percent less food. Since it is the quality of the food we eat that truly matters, it is important to note the regular consumption of apples has been shown to have beneficial effects on our gut microbiome as well. Such a diet has been shown to be associated with the favorable alteration of at least two different types of gut bacteria; Clostridiales and Bacteriodes. It is also been shown to be associated with increased amounts of the bacterial byproduct, butyric acid. Butyric acid is a short chain saturated fatty acid that has anti-inflammatory and antitumor properties.
4. Green Beans
Green beans deserve much better treatment than being drowned in soup from a can and buried alive with unidentified fried objects. Despite their obvious green nature, green beans like many other fall vegetables are rich in carotenoids like lutein, beta-carotene, violaxanthin and neoxanthin. They are also a rich source of B-complex vitamins like vitamin B6 and vitamin B2. They are good source of essential minerals like manganese and silicon; essential for healthy bones, joints and connective tissue. They are a good source of antioxidant compounds such as phenols and flavonols like quercetin, kaempferol, catechins, epicatechins, and procyanidins. Compared to other peas and beans, green beans are among the most powerful antioxidants. Green beans are also a source of the essential omega-3 fatty acid alpha-linolenic acid. They are another excellent source of fiber, which acts to keep the gut microbiome in a healthful balance. All this powerful anti-inflammatory action, unsurprisingly, is associated with reductions in cardiovascular complications and type II diabetes. Try some lightly steamed green beans in a quick salad with sliced apple, lemon, basil and toasted pine nuts. A quick sauté with other fresh seasonal vegetables from the farmers' market is always an easy win.
When you are collecting comestibles for your fall cornucopia, it is as important to pay attention to the manner in which the products are raised or harvested as it is to the categories of selection. Quality counts and this includes the pedigree of production. With organic produce, the vibrancy of the fruits or vegetables reflects the concentration of vital compounds like beta carotene. When consuming the skin of fruits like apples, organic options avoid the unintended ingestion of pesticides or herbicides. Certain plants like winter squash can accumulate compounds such as polycyclic aromatic hydrocarbons from the ground into the vegetables. Organic options are grown in soils much less likely to be so contaminated. And fresh, wholesome and authentic food just plain tastes better and that's what fall is really all about – as it should be.
5 Reasons to Buy Organic Products
• Vibrant color translates to nutritional density (not artificially dyed)
• Less likely to concentrate soil contaminants like polycyclic aromatic hydrocarbons
• Thin skinned fruits less likely to contain pesticides and herbicides
• Studies suggest 1 serving of organic equals 2 servings of conventional