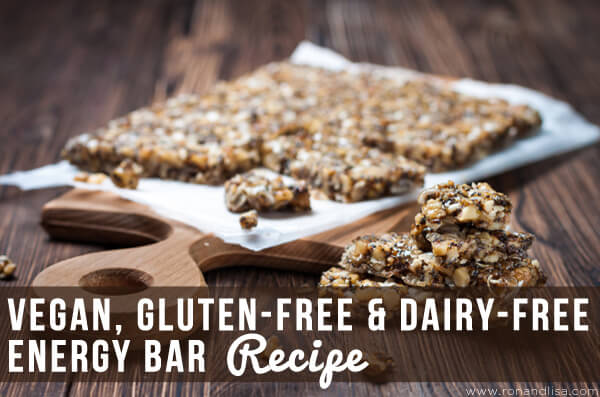 By Chef Tanya Fuqua of Avanti Natural
It's a new year and, for many people, it can be challenging to resume healthy eating habits after the recent holiday indulgences.
If you're ready to get a jump start on a healthy new you, I've got an energy bar that will knock your vegan socks off. It's gluten-free, vegan and contains no refined sweeteners. Rather, it contains many beneficial superfoods for an extra nutritional kick. And, it's delicious and easy to make. This energy bar recipe is just what the doctor ordered and a great way to start your new year off on the right foot!
This is a fairly flexible recipe. For example, you can pick your own nuts and dried fruit or play around with spices. If you're feeling decadent, add some chocolate or carob chips. Just remember to try and use organic ingredients and unsulfured dried fruits for the most nutritious results.
Instructions for Vegan Energy Bars: Gluten-free & Dairy-free
1 ½ cups gluten free rolled oats
½ cup cooked quinoa
3 Tablespoons chia seeds
2 Tablespoons flax seeds.
½ cup diced dates
¼ cup chopped nuts- your choice
3 Tablespoons coconut
¼ cup additional dried fruit such as raisins or cranberries- diced
1 ½ teaspoons cinnamon
½ teaspoon nutmeg
½ teaspoon salt
½ cup honey or brown rice syrup
½ cup natural almond butter
2 Tablespoons flaxmeal mixed with 3 Tablespoons of water
2 additional Tablespoons water
1. Preheat your oven to 325.
2. Line an 8-inch square pan with foil or parchment. Make sure to line the sides of your pan as well. Spray with natural cooking spray.
3. In a medium bowl mix together your oats, quinoa, chia, flax seeds, nuts, all dried fruit, coconut, spices, and salt.
4. Mix your almond butter, honey, and water in a small saucepan. Put that on medium heat until everything is melted and soft.
5. Stir in your flax meal/ water mixture and add to your dry ingredients. Mix well; making sure everything is evenly distributed.
6.Pour into your prepared pan and press down and smooth out the surface of your bars. Wetting your hands will make the job a little less messy.
7. Bake at 325 for 10 minutes and then lower your oven to 300 and bake an additional 15 minutes. Cook until dark golden brown around the edges.
8. Let cool before removing from the pan and slice and serve.
NOTE: These vegan energy bars can be made in advance and kept for about a week at room temperature. You can also freeze them. Makes 12 bars.
Have you made these or a variation thereof? If so, let us know in the comments below!