You may be pulling out all the stops to assure you and your family are getting your daily recommended allowance (RDA) of fruit and vegetables – but if these are doused in synthetic pesticide chemicals – you may be getting more than you bargained for.  And, speaking of bargains, we all know eating 100% organic food isn't always the most cost effective.  This is where the uh-mazing peeps at the Environmental Working Group (EWG) come in.  They realize that eating 100% organic is great for those who can grow all of their own produce, but for the remaining 99% of you – chew on this: each year, EWG creates a list called the Annual Shopper's Guide to Pesticides in Produce™ which includes The Clean Fifteen™ + The Dirty Dozen™  lists (click HERE for the entire guide).
The former list includes produce that, after numerous testing, are shown to contain the least amount of toxic pesticide residue.  The latter, The Dirty Dozen™, contains produce highest in pesticide residue.  This is important because it allows us to spend our dollars where it matters most by avoiding the 12 most contaminated fruits and vegetables and choosing the least contaminated produce.  Our friends at Body Unburdened created a great visual of these two lists so that you can print it out and carry in your purse or stick on your refrigerator as a great daily reminder!  And, for those of you who are looking for an easy DIY recipe to wash off conventionally grown produce the chemical-free way, check out this fast and affordable tip HERE using just vinegar + water.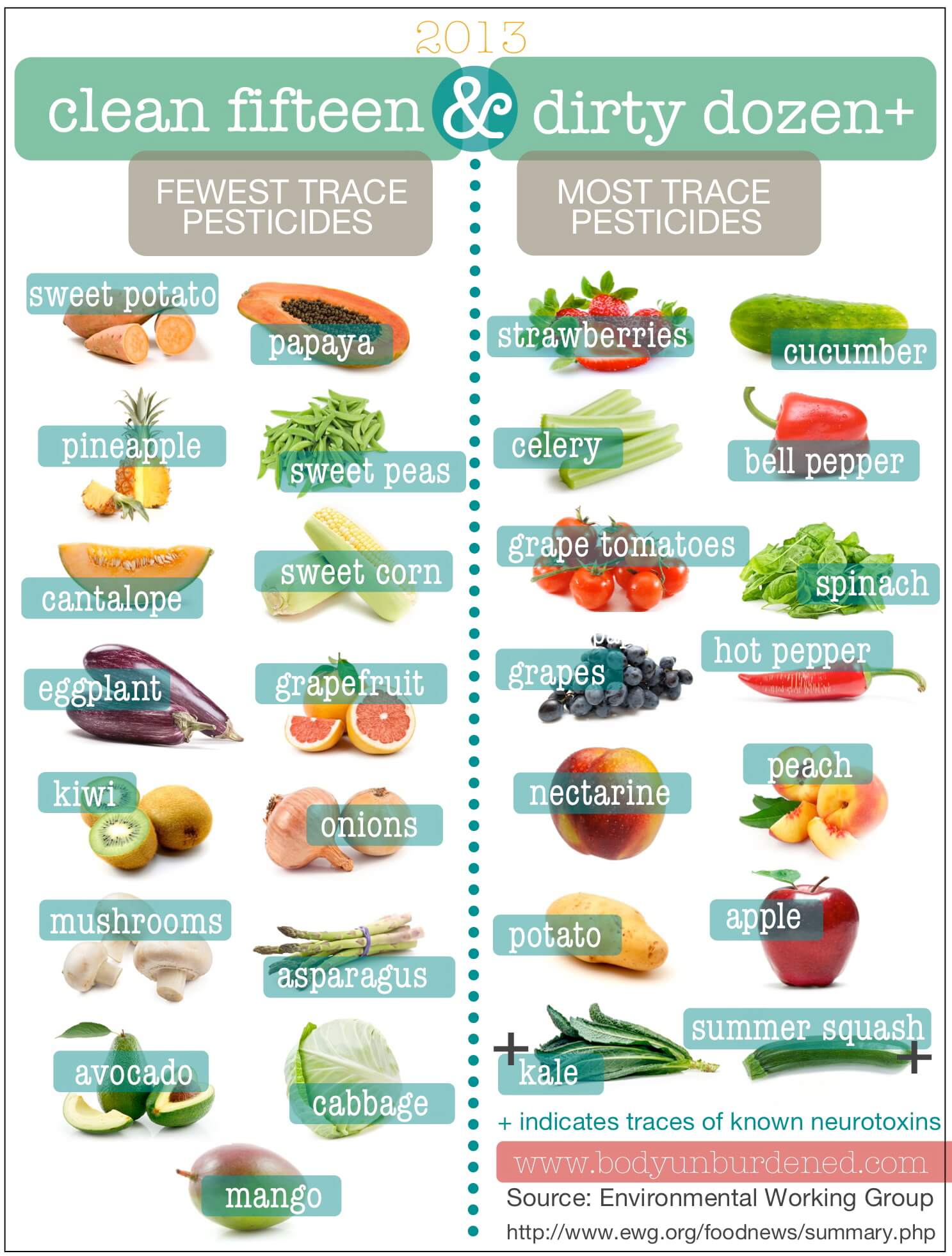 Contrary to popular belief, an apple a day may not necessarily keep the doctor away today.  Topping The Dirty Dozen™ list this year were apples!  In 99 percent of cases tested, apples contained at least one pesticide residue while the next two top offenders— strawberries and grapes—revealed nearly every sample containing pesticides with one grape alone showing traces of 15 pesticides!  For information on genetically modified plants, (GMOs) be sure to read the EWG executive summary HERE.  P.S. You'll looove this convenient app for your smart phone HERE as well.
Finally, hold on summer squashes and leafy greens!  EWG expanded the Dirty Dozen™ with a Plus category this year to highlight two crops – domestically-grown summer squash and leafy greens; specifically kale and collards. Although these crops didn't meet the Dirty Dozen™ criteria, they were found to be contaminated with pesticides that are toxic to the nervous system, including organophosphate pesticides (potent neurotoxins that can affect children's IQ and brain development; even at low doses) and organochlorine pesticides (ie: dieldrin, DDT and heptachlor; neurotoxins which studies link to cancer, neurological damage, Parkinson's disease, and more). Watch below as Dr. Sanjay Gupta tours a grocery store to show us which foods have the highest levels of pesticide residue and how to reduce 80% of your food pesticide exposure:
2015 UPDATE:
Food for thought! Here's how to spend ur money where it matters…buy organic for produce highest in pesticide residue ??

Posted by Ron and Lisa on Monday, March 7, 2016
Photo by Nest Design Group