By Chef Mark Cleveland of Avanti Cafe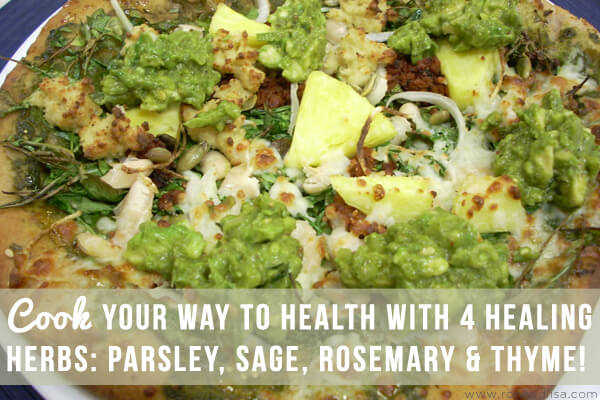 From Southern California to the coasts of Maine, spring is the season for the freshest and most tender herbs. The Simon & Garfunkel song, Scarborough Fair, reminds us to pair four powerful & tasty herbs together for culinary flavor with holistic healing properties. The above photo of the Avanti Classic Chimichurri Pizza with garlic shallot spinach & arugula, pineapple, BBQ tempeh and house made Kick A$% Guacamole is a great example of how you can do this yourself.
PARSLEY
Curly parsley got a bad rap when it was used as a clunky 70's garnish. Today, many of the heirloom varieties grown organically pack a flavor punch and superb texture. At Avanti Café, we like making a green chimichurri with tons of parsley, a wee bit of cilantro, red wine vinegar, lemon juice, garlic & serrano chilies. As for the flat leaf Italian variety, use it liberally in all your raw and cooked springtime fare, but don't overly chop and mince it. Let the leaf shape remain in tact. You can save the tough stems, then steep them in hot water as you would tea and consume as a hot or iced beverage or a simply delicious soup base as well.
Did You Know? Health benefits of parsley include: lung, heart and joint health. Also, an antioxidant.
SAGE
Well known in both the Americas and Europe as a healing herb for centuries, the many varieties of salvia are astounding. Some are inedible and grown for their blossoms or plant oils, while the edible varieties are filled with flavors strong & mild and many colors of the rainbow. Lightly warmed in extra virgin olive oil with a little lemon zest & black pepper, sage leaves perfume everything from vegetables to risotto & polenta. And, we like to change it up a bit and make a sage and walnut pesto during this season; adding quite a bit of brother parsley and some celery leaves into the mix.
Curly organic heirloom parsley beautifully displayed as a centerpiece.
Did You Know? Health benefits include: Antioxidant & anti inflammatory, brain function; helps with type II diabetes.
ROSEMARY
Ahhh, herbal royalty indeed – the mighty rosemary stands up to every dish and announces it's flavor with gusto. We love it most of all paired with roasted Yukon gold potatoes. Dress up olives with a hearty handful of rosemary and long strands of orange & grapefruit zest. Our Avanti Rosemary and Toasted Coriander Sea Salt Blend is a fragrant flavor staple in our kitchen. Give it a try…we sell it by the packet. Or, try a simple and very elegant flat bread pizza with organic ricotta (warm just to melt and slightly caramelize the cheese), evoo, Avanti Rosemary Sea Salt, more fresh rosemary and sliced black and green grapes. The flavors marry with glee.
Did You Know? Health benefits include: Improves both memory & concentration. Antiviral, antibacterial, anti-inflammatory and antioxidant properties.
THYME
Every cool climate herb garden celebrates the many varieties of thyme in all its hearty, woody splendor. Everything from the woodlands loves being paired with the flavor of thyme. Mushrooms stewed with plenty of fresh thyme sprigs sing. A hearty soup of several varieties of springtime onions; green, red, yellow, white & sweet Maui or Vidalia perfumed with copious amounts of thyme, dry vermouth and black pepper is scrumptious. Oh, and organic eggs, fresh goat cheese & thyme w/ sweet English peas scramble up to lip smacking perfection.
Did You Know? Health benefits include: Strengthens respiratory & digestive systems as well as the eyes & internal organ cell membranes.

AND…

Thyme, sage and rosemary are in the mint family and thus loaded with healthful micronutrients & flavonoids. Parsley is in the same family as celery & is a naturally great source of vitamin C.
Here's a link to a fun segment on the Dr. Oz show showing some easy and healing uses for both thyme and sage.
Hum the song Scarborough Fair while you shop your local farmers markets and add all four of these green machine, flavor powerhouses to your baskets, pots & plates. It really is – that simple!