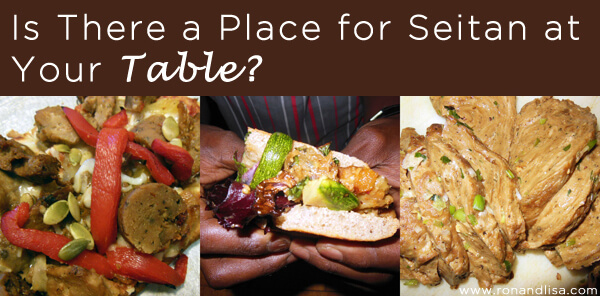 Seitan (pronounced: SAY-tahn), or wheat gluten protein (aka: vegan meat), has been around for centuries; originating in China most likely as a vegan Buddhist meat alternative.  It was cultivated into a culinary art of many flavors as an offering to Chinese Emperors who observed a week of vegetarianism each year as a spiritual and symbolic ritual.  The name Seitan, however, is relatively recent.  George Ohsawa, the philosopher and founder of the Macrobiotic way of eating, coined the term – often translated as 'ideal protein'- in the 1960's.
Interestingly, most protein sources in the long-standing Asian Buddhist tradition of vegan health food are made of either wheat gluten or soybeans.  These days, with gluten issues at the forefront of national attention and fears of soy being a low quality GMO food, these two titans of historical veganism are under attack.
Vital wheat gluten is almost 80% protein, making seitan a high quality, high protein meat alternative with a protein spectrum to rival that of meat sources.  It has a wonderful al dente texture; more chewy than tofu.  Our Avanti Café version is seasoned with a bit of non-GMO, all natural miso and lightened with onion for flavor and texture.  We, then, simmer it in a light flavorful broth of green tea, ginger, garlic, onions & other aromatic seasonal vegetables for added micro nutrients and of course, flavor. Take a peek below at our seitan – ready to poach: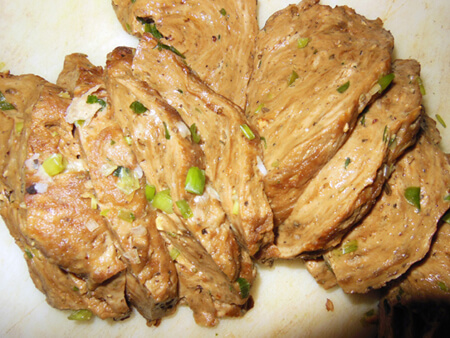 Note that a one ounce serving has 42% of your protein requirement for the day at only 104 calories.  Check out this comprehensive nutritional information guide from Self.com.  That's a protein powerhouse right there!
Like tofu, seitan is an excellent foil for any flavor you choose to add to it.  Home cooks who enjoy creating sauces, curries, soups and stews will revel in doctoring up seitan in a myriad of ways.  It can be smoked in a home smoker or given a smoky flavor by adding smoked paprika –or- simmering it in some Lapsang Souchong tea.  Once smoky, you'll find it a nice vegan substitute for bacon in your favorite dishes.  It's particularly good in old fashioned Boston baked beans, BLT sammies, paired with simmered greens like kale, chard, mustard & collards, or as a topping for your favorite pizza.
Do keep in mind that people who are gluten sensitive or intolerant can't enjoy seitan as a rule.  There are some recipes and products available for gluten free options, so do your research.  Those whose digestion system benefits from eating high quality wheat products will find a healthy portion of both flavor and nutrition in dishes that incorporate seitan.  In the Avanti Natural Kitchen, we've added seitan as a protein component to our regular production list and have it available often as additions to build your own pizzas and tacos. Here is our 'meat' lovin' customer's build your own pizza creation incorporating our two flavors of Avanti seitan in tomatillo & tomato sauces with added vegan sausage: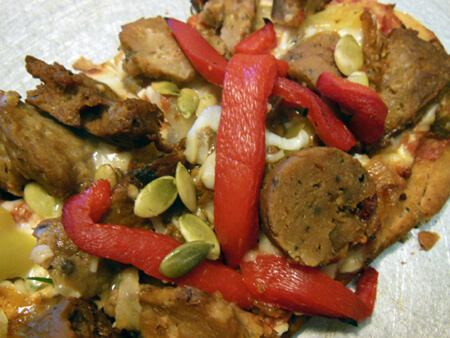 And, remember our golden rule of the Avanti Natural Kitchen: Always choose the highest quality ingredients to cook with.  Organic wheat products, grains and sweeteners are a must.  Make sure when enjoying soy – whether it be tofu, miso, edamame or other tasty soy concoctions – that you choose organic soy as this is never GMO.  And, you'll also see a clear label on most quality soy products stating that they are made from GMO FREE SOYBEANS!
Lastly, bite into this vegan, high protein seitan loaded panini!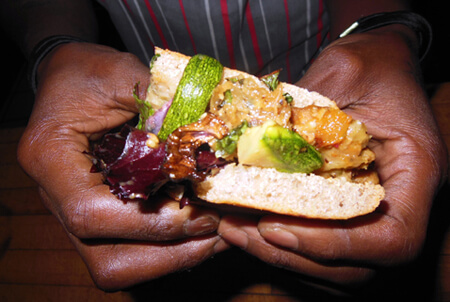 Guest blogger, Chef Mark Cleveland is the Chef / Owner Avanti Natural. Avanti is the longstanding leader in organic, sustainable, local, flavorful cuisine in Orange County. Visit them online here: www.avantinaturalstore.com + www.avantinatural.com.  They post photos of all the tantalizing specials coming out of the Avanti kitchen every day, so be sure to follow them on facebook, instagram, pinterest and twitter to see what they're up to.