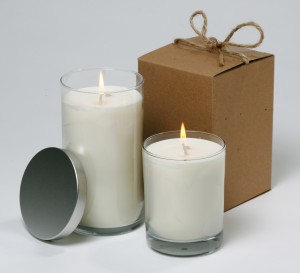 What is the first thing you do when you see, or smell for that matter, a candle at a boutique or shop? You pick it up to inhale the fragrance, right? What you may not realize however, is there may be more to that smell than meets the nose. Although the bouquet of freshly cut apples sprinkled with cinnamon powder may send messages to your olfactory nerve alerting you of the 'type' of smell, your nose doesn't always 'know' the origin. For example, is the scent made from synthetic chemicals tricking your senses into believing it's the real thing? Chances are, it is. Most candles today are scented with synthetic chemicals. Why? Because hey are cheaper (and buy that, I don't just mean the price you pay in dollars). Using 100% essential oils is the only way you should purchase scented candles, or choose unscented which is what we offer at Green Nest to accommodate those with MCS. Don't be fooled by imitators who claim their candles are made 'with essential oils' either. This can mean one drop essential oil; 99 drops of chemicals. Candle manufacturers are not required by law to list their ingredients,so you have no way of knowing what you're actually breathing when you light your candle. In fact, the word "fragrance" or "parfum" in the ingredients list often masks hundreds of hidden chemicals. Even if a regular paraffin candle is scented with essential oils, it's still a petroleum-based candle that pollutes your air as it burns. And speaking of not being fooled, marketers love to prey upon your naiveness about a topic, hence the label – 'lead free wicks.' Hmmm, sounds impressive! Maybe even reason enough to spend more money on it, right? WRONG! Lead wicks have been banned in the US since 2003 by the Consumer Product Safety Commission. Today, these are only a concern with older candles or unsafe imported goods.
If you frequent our online home store for green, non-toxic and organic products for your home,
GreenNest.com, then you may have seen our soy candles. Or, perhaps you saw them featured in, Just GREEN It! Simple Swaps to Save the Planet and Your Health. We have been selling these MACC candles since our inception in 2005. There are many reasons why we love these soy candles. Here are a few reasons. All Green Nest soy candles are made using EcoSoya wax, which is:
100% vegetable wax,

created with pure soybean oil,

and do no contain petroleum, paraffin, pesticides, herbicides, or toxic materials,

are not subject to animal testing, and

are available unscented for those with sensitivities

are manufactured to meed FDA and Kosher standards,

contain no GMM (Genetically Modified Material), and are considered GRAS (generally regarded as safe) under the Food, Drug and Cosmetic Act, assuring you will know the FDA has tested and passed the substance for use by people.
Now that you know the do's and dont's of what to look for when purchasing candles, did you ever realize the right candles can actually be beneficial in your home! Candles with certain essential oils can have anti bacterial properties making them a very clean and green choice!
BBC News: The traditional soy candle could become the latest weapon against harmful bacteria.

Researchers from the University of Southampton have found that adding essential oils, like eucalyptus, orange and thyme to soy candles can destroy bugs. Dr Lindsey Gaunt and Sabrina Higgins said adding these oils to plug-in devices had a similar effect.

The researchers told a conference in Tokyo that adding oils to candles could be as effective as scrubbing with disinfectants. 'Kills bugs' Their tests found that some oils can destroy bacteria like Escherichia Coli and Staphylococcus aureas on surfaces. Thousands of people are infected with Escherichia Coli each year. It is a leading cause of food-borne illness.

"It proves what we've been saying for a very long time" Susan Ager, Aromatherapist

While most people recover after a few days, it can lead to kidney failure and death for others. It is sometimes found in undercooked meat, raw milk and in sewage-contaminated water. Staphylococcus aureas are commonly carried on the skin. However, they can cause infections if the skin is broken. These range from boils and pimples to pneumonia.

The superbug MRSA is Staphylococcus aureas, which is resistant to a type of penicillin normally used to kill it. The researchers said further tests were needed to see if adding essential oils to candles could fight the superbug. "We have only tested against standard laboratory strains of bacteria," said Dr Gaunt. "We haven't looked at MRSA."

The researchers believe that the oils react with ions in the wick and with oxygen to take on anti-bacterial properties. They said adding these essential oils to candles could help people to kill bacteria lurking in their homes. "I don't think there would be any harm in doing that," Dr Gaunt told BBC News Online. "But I wouldn't advise people to stop using other methods to keep their homes clean and candles won't get rid of dirt or grease."

Susan Ager, who runs an aromatherapy school in Essex, backed the findings. "It proves what we've been saying for a very long time," she told BBC News Online. "These essential oils used correctly have great benefits – not just to be used on the body but around the house for hygiene.