By Chef Mark Cleveland of Avanti Natural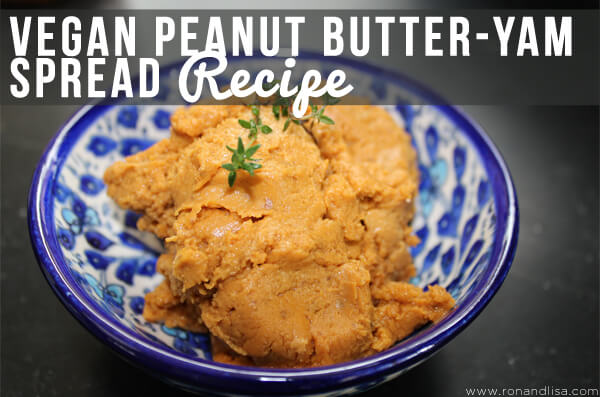 Spring has sprung and – let's face it – we all want to spend more time outside. Since our energy levels are in high gear this season, our bodies require flavorful, healthy foods that take little time to whip up; allowing us more time outdoors.
This three ingredient wonder, Peanut Yam Powerhouse Spread, is truly scrumptious. It's organic, vegan, gluten-free and it takes virtually no time to prepare. Make it in the evening when the temperature cools down. If you enjoy this spread, make a double or triple batch. It freezes well and lasts at least 3 weeks in the refrigerator.
How to Eat It
1.) Spread it on sandwiches with bananas, avocados, blueberries, pineapple, favorite cheeses, dried fruits, jerkies and more.
2.) Use it as a dip with cucumber slices, celery, sweet peppers, ancient grain crackers and more.
3.) Add it to smoothies and protein drinks.
4.) Thin it with coconut water, soy sauce, fish sauce or tamari and garlic for an amazing Asian peanut sauce.
5.) Mix it with carob, chocolate chips or raisins, roll into balls and dust with a mixture of organic sugar, cocoa powder and cinnamon for a delish sweet peanut yam truffle sweet treat.
For each medium sized organic yam, you'll need 1 cup of peanut butter and 2 to 3 teaspoons fresh ginger. Wash the yam well; do not peel. Try not to break the skin. It roasts better this way. Roast in a 400 degree oven for about an hour, until tender. Let it cool for about 10 minutes and remove any blemishes if necessary, then place in the bowl of a food processor. Do not peel. When you use organic yams, the skin is full of nutrients and added fiber. Add in the ginger and the peanut butter. Process until nice and smooth and the skin has been incorporated into the pureed spread. High protein, high fiber, high flavor – this 3 ingredient powerhouse is clean food, knocked out in no time flat.
Vegan Peanut Yam Spread Ingredients
1 medium sized organic yam
1 cup best quality peanut butter, preferably organic
2 to 3 teaspoons fresh ginger, peeled & diced
Vegan Peanut Yam Spread Instructions
1.) Preheat oven to 400.
2.) Wash the yam well, but do not pierce the skin.
3.) Place on a parchment or foil lined baking sheet and roast for about an hour until tender.
4.) Check with a skewer after 45 mins.
5.) Let cool about 10 mins. Remove any blemishes at this time.
6.) Place in the bowl of a food processor. Break up w/a fork.
7.) Top w/ ginger and peanut butter.
8.) Process until smooth.
9.) Pack into a jar, glass preferred.