By Guest Blogger, Aime Valpone of The Healthy Apple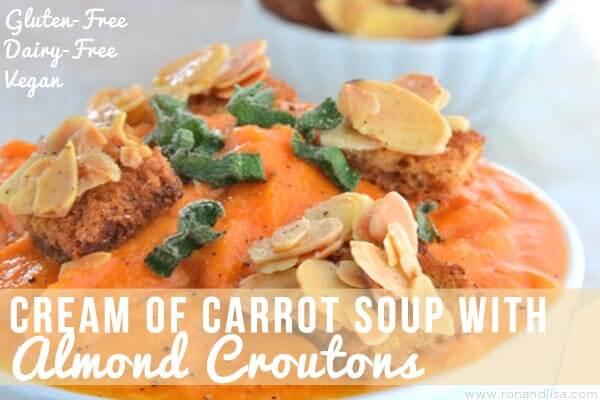 Serves 4
Ingredients
2 1/2 lb. carrots, peeled and chopped
1/4 tsp. sea salt
1/4 tsp. freshly ground pepper
2 slices gluten-free bread
1 tbsp. extra virgin olive oil
2 tbsp. sliced almonds
1/2 cup almond milk
1/2 tsp. fresh tarragon, finely chopped
1/2 tsp. fresh sage, finely chopped
Directions
1. Preheat oven to 350 degrees F.
2. Add carrots to a large soup pot and cover with cold water, sea salt, and pepper. Cover and bring to a boil, then lower heat and simmer for 25 minutes or until the carrots are tender. Reserve 1 cup of the cooking water.
3. Meanwhile, slice bread into 1/4-inch cubes to make croutons. Add cubed bread to a large mixing bowl with olive oil and sliced almonds. Gently toss to combine. Place croutons onto a baking sheet and bake in the oven for 15 to 20 minutes or until golden brown and crunchy.
4. Transfer the carrots and 1 cup of water to a blender; pulse until smooth. Add almond milk, tarragon, and sage; puree soup until well combined. Transfer soup to four serving bowls.
5. Serve warm topped with almond croutons.