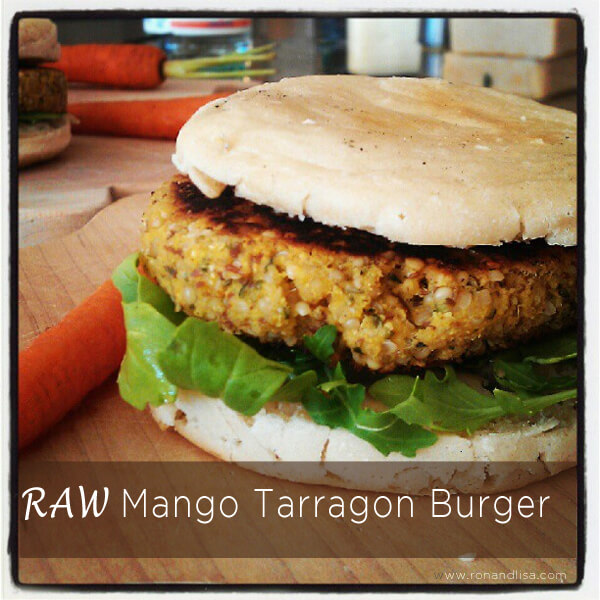 Wondering how to eat healthy and still enjoy backyard summer parties? Here is my recipe for the BEST summer burgers ever! Bring these to your next BBQ and I guarantee no one will miss the meat or the heat!
1 c sprouted sunflower seeds
1 c walnuts, soaked and dehydrated
1 mango, extra ripe
1/4 c fresh tarragon, lightly packed
1/4 c flax meal + 1/2 c water
1 clove garlic
salt and pepper to taste
Combine all ingredients in food processor until smooth. Stir in:
Form 4 inch patties and place on mesh dehydrator sheet. Dehydrate at 110 degrees for 2 hours or until outer edges are slightly dry. Serve wrapped in butter lettuce and topped with avocado and spicy horseradish mustard.
Cooked option: Grill and serve on Gluten-Free bread with horseradish mustard, grilled red onions, avocado and arugula.
Yield: approximately 9 patties
Quick Tip: Make a double batch ahead of time and freeze for easy grab and go party food. *(Remember dehydration time will be longer if patties are frozen).
Chef Raya Belna is an organic plant-based chef specializing in gluten-free, vegan and raw foods. She is an expert on RAW luxury in Orange County and runs the successful organic catering company, Palmo Foods. Her signature line of gourmet raw cupcakes has been featured on the Food Network and is available throughout Southern California. Visit her at: http://rayabelna.com