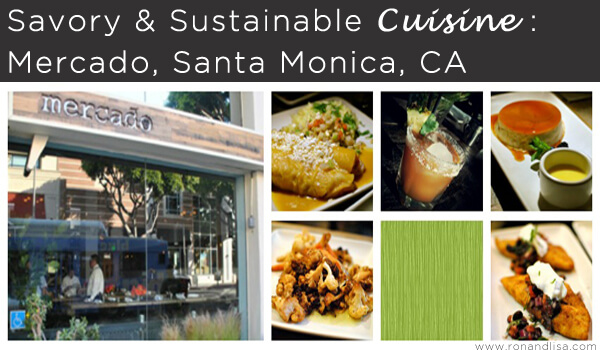 What do you get when you combine a cup of culinary flavors, add a dash of delectable entrees, mix in a spoonful of sustainable produce and top it with a teaspoon of tantalizing cocktails + tequilas?  An authentic destination named one of the Top 10 New Restaurants in 2012 by LA Magazine, of course!
Nestled amidst the hustle and bustle of the Third Street Promenade in Santa Monica, an eclectic vibe spills from the street straight into Mercado Santa Monica.  It is here that you will find high quality, signature cuisine paired with an inventive mix of ingredients, atmosphere and tradition, that reflects the heart and soul of Mexican dining. How do we know?  We took it for a taste bud spin ourselves on a recent double-date night.  Ron and I happen to adore Mexican fare and when we heard about executive Chef Jose Acevedo's and co-owner Jesse Gomez's passion for incorporating produce from local farms into their mix, well – we couldn't resist.  In fact, a signature side on their menu is the SM Farmers' Market Vegetables (Chef Jose's hand-picked seasonal vegetables).
Upon entering, I immediately felt at ease. The vibe was energetic, the mood upscale; yet comfortable while the space created a modern, but intimate atmosphere. We had the pleasure of dining on the mezzanine level which overlooks the main room.  I preferred this as it's a bit quieter (and perfect for a private party).  My eye caught a creative cocktail at their eclectically stocked bar (which was no doubt inspired by their award-winning mixologist, Gilbert Marquez).  It looked like a cross between a margarita, a salad and a Bloody Mary.  Since I always advise eating the colors of the rainbow, we couldn't resist this concoction of reds, greens and yellows. It was undoubtedly the best margarita any of us had tasted (made from fresh juices and mescal combined with bountiful garnishes (see picture below).  The chef also sent their signature Jalapeño Margarita for us to sample.  When we said Just GREEN It!, they headed our advice and created something as aesthetically pleasing as it is delish!  Next, it was time to tempt our palette (which required a slight vegan/RAW hiatus) while sampling their unique Mexican cuisine which, for us, included: homemade guacamole (avocado, serrano, cilantro, red onion, chile de arbol salsa & spicy pepitas); grilled sweet corn with caramelized onions, kale salad (kale, arugula, candied pumpkin seeds, pears, dried strawberries, cotija pestocroutons & agave-lime vinaigrette); chopped salad (arugula, avocado, raw Santa Monica farmers' market vegetables with hibiscus vinaigrette); Tacos de Pescado Estilo Baja; Callos de Hacha (jumbo deep sea scallops encrusted with pumpkin seeds, chipotle-peppercorn sauce, chayote with calabacitas); and much more! Seriously, the presentation of the food was as much artisan and contemporary as it was classic in flavors. See for yourself here:
[easyrotator]erc_83_1369187210[/easyrotator]
For the carnivores, the menu exemplifies the cuisine and flavor of Chef Jose Acevedo's and co-owner Jesse Gomez's Mexican roots, featuring items such as Chef Acevedo's signature carnitas, created from a recipe handed down through generations. With tortillas made by hand daily, the finest meats, poultry and seafood, enchiladas and tacos, produce from the local farmer's market, flavorful sauces and everything made from the freshest ingredients – Mercado offers handcrafted Mexican cuisine, artful design, a warm atmosphere and friendly service. The staff was pleasant, helpful and high on service; low on attitude.
If you are in the area, be sure to try their happy hour at the bar and communal tables Monday through Friday from 5 to 7pm + Saturday and Sunday from 4 to 6pm. For the tequila lovers, their bar offers over 70 premium Silver, Reposado and Anejo Tequilas, as well as 14 draft and bottled beers. Mercado serves as a classic and contemporary Mexican restaurant and truly is one of a kind in terms of service, flavor, ambiance and soul! If you are in the area, say sayonara to chain establishments and hola to Mexican fare with a sustainable flair! Visit them at: 1416 4th Street, Santa Monica.