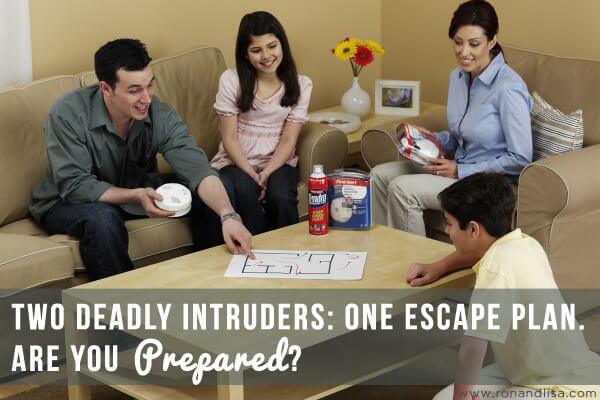 Did you know that October is Fire Prevention Month? Perhaps, not. This is because many of us don't pay attention to the potential threat posed by both fire and carbon monoxide exposure until we are faced with immanent danger. Today in America, we reside in an instant gratification society – or in this case – and instant reaction society. Money becomes no object when one is faced with the diagnosis of a serious illness, yet we balk at the price of items designed to prevent illness in the first place. Why is this? As professionals immersed in a field of creating healthy homes for people all across the world, this is a question Ron and I often ask ourselves. One of the first concerns most people have when it comes to the purchase of healthier home products such as low VOC paints, organic bedding or non-toxic cleaners is Are they more expensive? In contrast, however, I rarely hear people ask this when they make the decision to buy a new, flat screen television; the latest iPhone or swig down their daily latte. Rather, the majority of consumers accept the fact that it will, undoubtedly, cost money for these indulgences. Moreover, the high price of beauty is another example. Droves of women flock to their dermatologists to smooth out crows feet and frown lines with injections made from the neurotoxin, botulinum; straighten their hair with professional blowout treatments (some recently proven to contain formaldehyde, a carcinogen); or apply lash enhancers in the quest for longer, thicker lashes, knowing full well the risk involves possible increased brown pigmentation of the colored part of the eye.
Is something seriously wrong with the way we prioritize our values today in America? We think so. Selling prevention can definitely be a challenge when we are operating in a society where the long-term consequences of disease, pain or even death are, quite frankly, out of sight and out of mind.
This brings us back to the true cost of prevention. Do you currently have a carbon monoxide and smoke detector installed on every level of the home and one in each sleeping area? If not, then you are not fully protected from the number one cause of poisoning death in America – carbon monoxide (CO). As you have heard us say numerous times on this website is, what you can't see can hurt you! Carbon monoxide is an odorless, colorless, and extremely dangerous gas, which can be given off by the most common appliances in your home or even a car in an attached garage. You cannot see or smell it, but at high levels carbon monoxide can kill a person in minutes.
Did You Know? Hundreds of people die accidentally every year from CO poisoning caused by malfunctioning or improperly used fuel-burning appliances. Even more die from carbon monoxide produced by idling cars.
Carbon monoxide is produced whenever any fuel based appliance such as gas, oil, kerosene, wood, or charcoal is not working properly or is used incorrectly. This is when dangerous levels of CO can result. In order to avoid this, prevention is the key! Here are a few Do's & Don'ts towards CO poisoning prevention:
The Do's:
Have your fuel-burning appliances inspected by a trained professional at the beginning of every heating season. Make sure that the flues and chimneys are connected, in good condition, and not blocked.
Choose appliances that vent their fumes to the outside whenever possible, have them properly installed, and maintain them according to manufacturers' instructions.

Read and follow all of the instructions that accompany any fuel-burning device. If you cannot avoid using an unvented gas or kerosene space heater, carefully follow the cautions that come with the device. Use the proper fuel and keep doors to the rest of the house open. Crack a window to ensure enough air for ventilation and proper fuel-burning.
The Don'ts:
Idle the car in a garage – even if the garage door to the outside is open. Fumes can build up very quickly in the garage and living area of your home.

Use a gas oven to heat your home, even for a short time.

Ever use a charcoal grill indoors – even in a fireplace.

Sleep in any room with an un-vented gas or kerosene space heater.

Use any gasoline-powered engines (mowers, weed trimmers, snow blowers, chain saws, small engines or generators) in enclosed spaces.

Ignore symptoms, particularly if more than one person is feeling them. You could lose consciousness and die if you do nothing.
What about smoke? One of the most important fire safety devices for the home is the smoke alarm or smoke detector. However, according to a recent survey, the majority of American's do not practice what they plan when it comes to fire safety.
Did You Know? Several studies have concluded that when working smoke alarms are present, the chance of dying from the fire is cut in half.
The good news: The smoke detectors currently in homes today have saved thousands of lives. The bad news: 1.) The 12% of homes without alarms have more than half of the fires. 2.) It is estimated that a third of the smoke alarms in place are not working 3.) Many homes do not have as many smoke alarms as are needed to protect the occupants properly.
We visit our dentist to prevent tooth decay; take our vehicles in for regular maintenance; and even visit our physicians for regular check ups, but we often neglect the health of our homes! Since we, as American's, spend 90% of time indoors it becomes easy to see through the smoke to a clearer picture of this potential recipe for disaster.
Now that you are better informed, don't choose just any alarm to protect yourself and /or your loved ones. Our personal recommendation is the Combination Talking Smoke Alarm and Carbon Monoxide Detector by First Alert (SC07CN-C2). For one, these devices are equipped with voice alarms that not only help you identify when there is a problem so you can quickly evacuate, but whether the danger is smoke or carbon monoxide. This is especially important if you have children in the home. Studies show voice alarms are more effective at waking children than the standard beeping alarm because children may have higher energy levels within sleep, making a child's sleep deeper and harder to disturb than adults. What's more, the batteries are so easy to change! You can replace them without removing the alarm from the ceiling. We so thrilled about these, that we are offering one lucky winner a chance to win four (4) of these for their home! You can ENTER every day for a chance to win and be sure to share with your friends and family. To learn more about how they work and how to easily install & test, watch HERE.