By Oram Miller, BBEC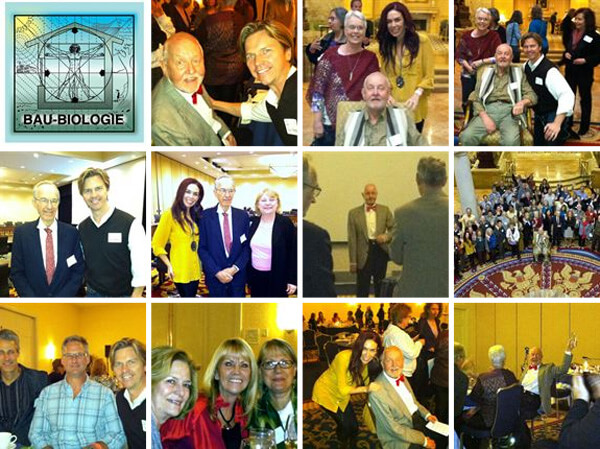 The world has lost a giant, one who may never be known by many people. I am referring to the recent passing of Helmut Ziehe, beloved founder of the International Institute for Bau-biology® & Ecology (IBE); the American branch of the profession that trained and certified Ron & Lisa, myself and over one hundred other building biologists throughout North America.
I would like to introduce you to this remarkable man and his great work posthumously. Time will reveal Helmut's great contributions to the field of healthy, non-toxic living and work spaces.
Helmut began his journey as an architect designing housing in North Africa using conventional building materials that were common in Europe but had no place in the desert of Libya. He realized he had to modify his design to make the houses work in the local environment. Helmut returned to his native Germany and studied with Anton Schneider, who himself realized that the destroyed housing stock in post World War II Germany had been rapidly rebuilt often using modern American methods of thin-walled, wood frame construction and toxic materials that disregarded the healthier centuries-old thick-walled, post and beam, daub and wattle building practices in Europe. The result was people were becoming sick in these newly built houses, and thus was born the profession of Bau-biologie® which literally means the study of the biology, or health effects of human exposure to houses ("bau").
Helmut learned this new knowledge and first brought it to London, where he had little response from students. After one year, he immigrated to the US, founded the IBE and began teaching courses in this country. Helmut's first American students became teachers for the profession, including engineers, builders and others dedicated to healthy houses. A board of directors was formed and non-profit status as an educational organization was granted. Throughout the past 25 years the IBE has trained hundreds of individuals.  The profession has established itself as one of the pre-eminent resources on healthy living and work spaces in the country.
As a tribute to Helmut, a team within the planning committee worked with a documentary filmmaker, Cyndi Lenz of Florida, for a year to produce a one-hour video, entitled, The Visionary Life of Helmut Ziehe: The Man who brought Building Biology to America. To learn more or to donate to the Helmut Ziehe Scholarship Fund, we strongly encourage you to purchase a copy of this DVD from the Institute through their website.
Building-Biology® is in many ways a one-stop shop for information on home toxicity from chemical out-gassing, mold and indoor air quality including lead; to radon, asbestos, natural gas and carbon monoxide. IBE also covers the extensive field of natural, non-toxic building materials. Finally, IBE offers extensive training and expertise in the detection, mitigation and health effects of EMF's (electromagnetic fields) in all their manifestations including: electric fields, magnetic fields, wireless devices, and "dirty electricity," which I have written about on this website HERE. Building biologists provide home + office evaluations and consultations on remodeling, new construction and the purchase of a new or rented home. We are authors, lecturers, speakers, and promoters of this knowledge.
Helmut was way ahead of his time, training healthy home experts before sustainability became established in the United States. The green movement honors the environment by encouraging renewable building practices, conservation and energy efficiency. Helmut's contribution was to develop a parallel profession that focuses solely on the health of the occupant in the built environment. We, along with his dedicated wife, Susannah, had the distinct privilege of honoring Helmut during a 25th Anniversary Celebration Dinner where Helmut was presented with the National Sustainability Association's Environmentalist of the Year Award at our profession's successful conference this past October in Washington, D.C. (see pictures above).
In closing, Helmut Ziehe may never be world renowned for his work, but he inspired hundreds to follow his example and provide assistance to those who care about healthy homes. Today, our country's health is vastly improved because of Helmut's dedication and foresight.