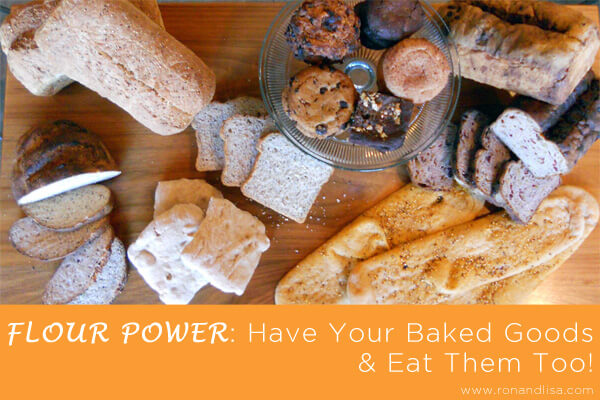 Everyone is buzzing these days about wheat, gluten and the deleterious effects of all things made with wheat flour.  It is yet another good conversation to raise consciousness about what Americans consume regularly as part of our Standard American Diet [SAD].  While some folks have serious gluten allergies and diseases that make them unable to process wheat gluten in any food, most of us simply make SAD choices when it comes to the foods we choose to eat.
Whole grains of all varieties are naturally complete foods containing in each grain of wheat, rice, millet, barley and quinoa, etc., three essential food components: protein (the germ), dietary fiber (the bran) and carbohydrates (the endosperm).  Wisely, Mother Nature bundled them together in tiny nutritious packets.  When we consume these in their natural form, they are good for us and digest well while possessing a low glycemic index.  Conversely, when we get too technological, cut corners to make a fast buck, or create products that tantalize the taste buds with no consideration to food value, then we wind up with baked goods that make us fat, sluggish & unhappy in mood.
The solution is fairly easy really! Look for breads, cakes & pastries that are made of at least 60% organic whole wheat flour.  Often, 100% whole wheat products are a bit too earthy for most palates.  Adding a little bit of organic UNBLEACHED all purpose flour creates a wonderful texture, and doesn't raise the glycemic index too much.  When you make wise decisions to choose organic milled flours, you'll have peace of mind knowing that artificial agents and techniques were not utilized to rush the product to market.  Do, however, make sure that any baked good you eat NEVER contains bleached white flour.  People may not realize that it's not always the wheat that causes reactions; it's the additives.  To make bleached flour extra and unnaturally white, it's bathed in chlorine gas.  Excuse me – but, who wants to eat?
If you'd like to read more about the bleaching process, here is a good link on Dr. Mercola's website.
Whether its wheat or soy; cheese or chicken – our response to the Standard American Dietary offerings should always be the same.  Make choices based upon the quality of ingredients used.  Opt for local and organic as often as you can.  Organic flours, grains, sweeteners and eggs combine to make nutritious baked goods that tantalize the taste buds.  If you crave low quality breads and sweets, then make a new commitment to only eat high quality ones.  Find a good local bread shop & bakery.  Tell yourself you can indulge in fine quality treats made with exceptional ingredients and reward yourself for passing on the chemical-laden, adulterated, SAD stuff.
You don't need to go cold turkey or deprive yourself of a flavor reward, just up the ante! Make a simple commitment to genuine wholesome foods (in every category) created and prepared by real culinary artisans who take pride in their products.  Note how your body feels after you eat delicious quality foodstuffs.  It won't take long before your taste buds broaden their horizons and it's the real good stuff you crave with gentle fondness.  Because real food is so satisfying, you won't eat it absentmindedly.  Instead, you'll dine in the moment and enjoy your senses with a present mind and heart.
Eating healthy & delicious is a win, win, win situation! Eat Live & Party Well as we say. Dine with us several times a week and it's likely you'll become healthier than you already are. And, your taste buds will love every minute of it too. How many restaurants can legitimately make that claim?!
By Chef Mark Cleveland, Chef / Owner Avanti Natural. Avanti is the longstanding leader in organic, sustainable, local, flavorful cuisine in Orange County. Visit our online store HERE.