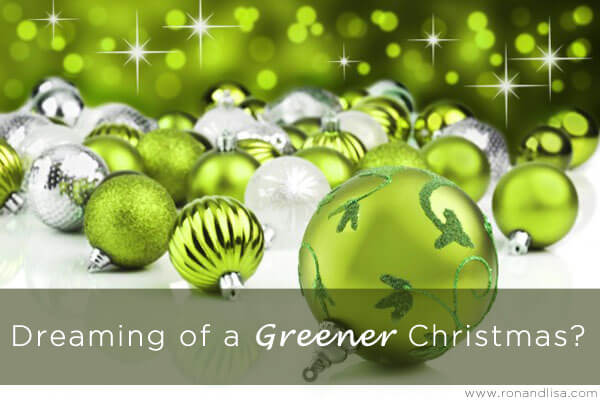 According to the Environmental Protection Agency (EPA), each year Americans produce 25 percent more waste during the holiday season than any other time of year.  But, there are several ways you can reduce your carbon elf print while adding a little green to your holidays.
This time of year, we tend to buy and use a lot more stuff than usual; typically without any thought to what happens when the holidays are over. Gift wrapping, cards, ribbons, decorations – are all things that we purchase and basically throw back into the environment when finished. You do, however, have many options to create a greener home this holiday season.
To begin, opting for artificial tree to spare a live one might surprisingly, not be your best bet. Artificial trees in general contain PVC– polyvinyl chloride – which off-gas contaminates into the air we breathe that are carcinogenic.  Every year you that you pull your tree out of storage; you're potentially decreasing the indoor air quality of your home. Look instead for live, potted trees that can be replanted after the holidays are over.
Additionally, candle light adds instance ambiance, but those with synthetic fragrances can be hidden indoor polluters. Candle manufacturers are not required by law to list the ingredients on candles.  Therefore, you want to be sure you are looking for soy-based, vegetable-based wax candles– not petroleum or paraffin varieties.  And, be cognizant to purchase those that are unscented or made from scents derived from 100% essential oils – like peppermint, balsam fir or cinnamon provided by plants; not chemicals.
Looking for safety and savings?  LED twinkle lights never get hot and can cut about 90 percent from your electric bill.  We feature a battery operated set in our Holiday Gift Guide 2011 that are perfect for outdoor wreaths and areas where there is not an outlet convenient.
Ornaments made of natural materials like wood or glass are a superior choice to synthetic plastic.  Also, look for natural alternatives for wrapping gifts.  For example, instead of using paper or a plastic bag that's just going to end up in the landfill, opt instead for a natural fibered bag made from cloth.  They make a stunning impact and can be reused again and again.  Or, get creative with newspaper or the comics. To finish the look, choose recycled paper and organic ribbons.  You can even go a bit greener if you're shipping gifts.  Swap Styrofoam packing peanuts for some old newspaper or use the newer recycled, biodegradable peanuts; typically, the light green variety.
Remember, the holidays aren't about feeling guilty or overwhelmed thinking that you have to do everything perfect.  Just making one step is guaranteed to make a positive impact for both you and for the planet.
And finally, here is a natural air filter you might not be aware of.  Poinsettias are not only a popular holiday plant, but they also provide a natural defense against formaldehyde and other chemicals in the air.  Ideally, you'll need one poinsettia plant for every 100 square-feet of your home to effectively clean your indoor air.  This year, add a splash of color to your home or office and breathe a sigh of relief to holiday stress!
You can find more holiday tips and simple swaps to save the planet and your health in our book, Just GREEN It!  Simple Swaps to Save the Planet and Your Health.