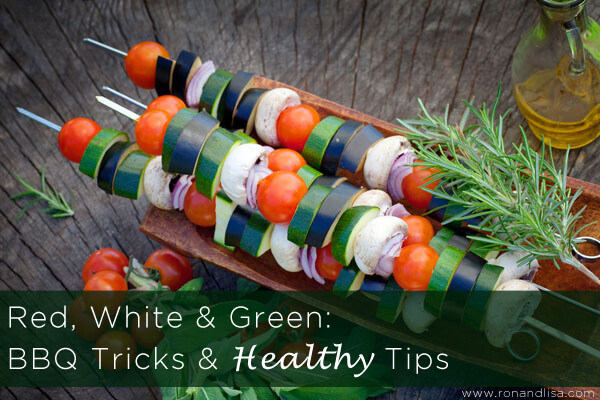 Like any holiday celebration, your Memorial Day weekend get-together or barbecue doesn't have to mean packing on unwanted pounds.  Instead, make wiser choices to keep you and your waistline healthy.  Below, we share simple holiday tricks & healthy barbeque tips; including (3) of Blythe Raw Live's Superfoods to incorporate into your weekend festivities.
RED
BBQ Tip:  Don't get burned! According to the National Cancer Institute, over one million people are diagnosed with skin cancer due to ultraviolet light (UV) exposure from the sun.  Keep your skin healthy by using the proper sunscreen. EWG, (the Environmental Working Group) has created the 2012 Sunscreen Guide Guide which rates over 1,800 sunscreens, SPF lip balms, moisturizers and makeup to assist you in making healthier choices.
Suggested Red Superfood: Mangosteen.  The indigenous people ofSoutheast Asia have for centuries treasured and revered the exotic fruit Mangosteen for its exquisite taste and multiple health benefits. They used the fruit to prevent and treat infections, diarrhea, dysentery and eczema. They also used Mangosteen to control fever, reduce pain, treat inflammation and a variety of other common ailments.
"To eat is a necessity, but to eat intelligently is an art." ~ La Rochefoucauld
WHITE
BBQ Tip: Choose healthy buns!  When it comes to bread, Wonder is out.  You can, instead, make healthier choices such as Stonefire Naan (the Whole Grain is our favorite) flatbread which is made with all-natural ingredients.  Or, for gluten free hotdog and hamburger buns, choose Kinnikinnick breads in regular or multigrain.  Don't worry steak lovers; you too, can go healthy with vegan steak options such as vegan Black Pepper Steaks by VegUSA.  Who said eating healthy was a compromise?  You can munch on Hi I'm Skinny sticks instead of potato chips!  They are GMO free, all natural and their sweetness comes from evaporated cane juice instead of refined sugar. With 40% less fat than regular potato chips…you'll be feeling skinny in your swimsuit too!
Suggested White Superfood: Chia seeds. Omega-3 fatty acids are required by your body as a primary building block of every cell in your body. The phrase "you are what you eat" becomes clear here:
700% more omega 3 than salmon
500% more calcium than milk
200% more iron than spinach
100% more potassium than bananas
1400% more magnesium than broccoli
100% more fiber than bran flakes
500% more protein than kidney beans
300% more selenium than flax seeds
800% more phosphorus than whole milk
more anti-oxidants than blueberries'
more folate than asparagus
This complete whole raw food should be consumed by everyone from kids to seniors because of the chia seeds health benefits.
GREEN
BBQ Tip: Just GREEN It! Use recycled and recyclable plates made from plant-based, renewable materials & compostable cups made from corn plants found in the Bare by Solo line.  Also, choose glass straws instead of plastic like those from Glass Dharma.  Don't worry parents – they're safe for kids too and come with a lifetime guarantee against breakage.  Sip sustainably!
Suggested Green Superfood:  Spirulina. Spirulina is one of a family of nutritional algaes, along with chlorella. They are usually found in warm and alkaline waters all over the world, predominantly in South America, Africa, andMexico. The name "spirulina" is derived from the Latin word for "helix" or "spiral"; reflecting the physical configuration of the organism as it forms swirling, microscopic strands. Spirulina contains about 70% protein, vitamin E, vitamin C, beta carotene, B vitamins and chlorophyll. It also has abundant essential fatty acids, B vitamins, antioxidants and minerals like calcium, iron, magnesium, manganese, potassium and zinc. Especially important for vegetarians, one tablespoon of spirulina provides about 300% of your RDA for vitamin B-12.