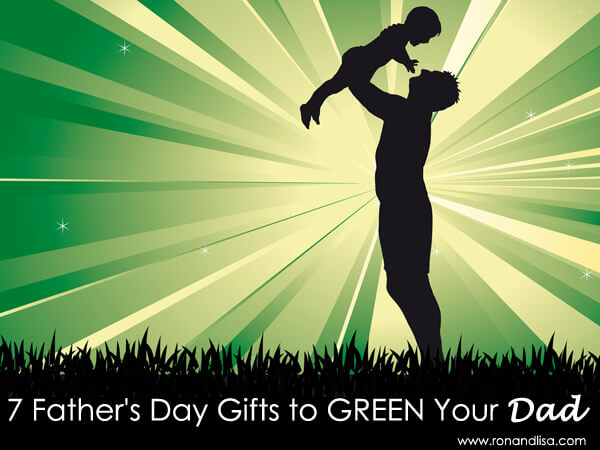 Another June is upon us and for most, the daunting task of finding that perfect something for the 'other' man in your life – your dad – has arrived! Father's Day is here and what better time to say, thank you? If you have made the choice to shop online, then you'll already have peace of mind from your greener purchasing decision.
Did You Know?
Warehouses used for online retail businesses use only about 1⁄16th of the energy
it takes to run a brick and mortar store.
If you're like most people, then you can relate to Ron and I when it comes finding the oh-so perfect gift for your dad. Asking him directly can be futile as fatherly responses like this are all too familiar: Don't get me anything. Really, I don't need any gifts. Just get me some socks. Huh? Does he really mean that? Perhaps, but the only thought racing through your mind is, Is he really going to remember the year he received socks!?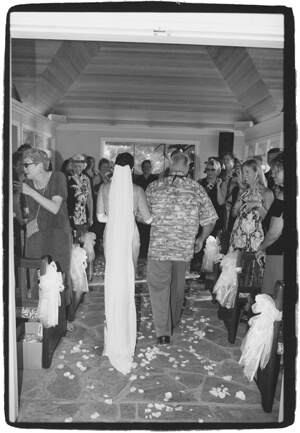 My dad and I on my wedding day in Waikoloa, Hawaii.
 It may be that dads are just so darn easy going, or that they really don't need anything. But, as creative beings who want to show appreciation, socks or a tie just don't scream 'effort' was put behind this purchasing decision. After all, if you are a girl, this is the man that has – or will one day – walk you down the aisle.
Our advice? Say goodbye to boring gifts and opt instead for something truly unique for daddy-o this year. I, personally, love to give a gift that gives back; one that will enhance their health and well-being and something that they wouldn't normally buy themselves.
7 Father's Day Gifts to Green Your Dad
1.) Who said robes are just for moms? Dad will love the organic velour bathrobe on his days off.
2.) Shower dad in health with a shower filter to remove chlorine from his daily bathing (did you know 50% of chlorine intake occurs from bathing?)!
3.) If your ol' pop is a handyman, help him reduce toxic exposure from VOC's found in traditional building products and treat him to some non-toxic building products for his next DIY project.
4.) Don't slather dad with toxic cologne chemicals!  You love your Dad too much to give him toxic cologne made with cancer-causing chemicals. Men's cologne, hair dyes, shampoos, and anything with a fragrance may contain chemicals like triclosan, toluene, coal tar, and formaldehyde—chemicals linked to cancer, birth defects, learning disabilities and other chronic health problems. Our friends at the Campaign for Safe Cosmetics developed a factsheet about men's products, including tips on how to detoxify any guy's bathroom cabinet and safer alternatives. 
5.) Get dad a book he'll really enjoy reading! Just GREEN It! is the perfect gift idea for Dad! It's chock-full of hundreds of swaps to save the planet + your health.
6.) Celebrate Father's Day with a free downloadable D.I.Y. Gift Guide featuring 8 ways to celebrate a doting Dad; from creative cards to painted paper weights from the amazing peeps at Green Kids Crafts!
7.) Channel your inner-Martha and go homemade – baked goods, a card, a photo book or a plant just may be that special something he remembers from the year 2013!
Remember, it's the thought, not the cost, of a present that really counts in the end!