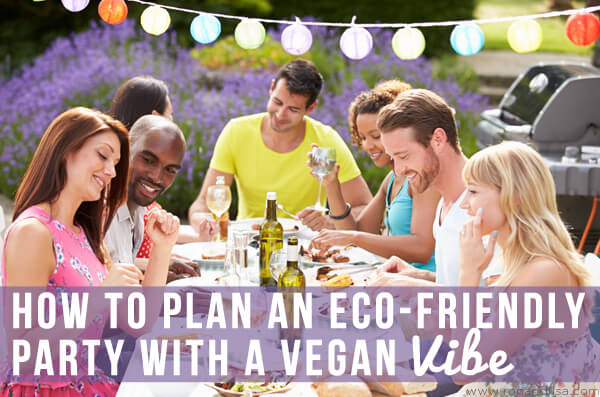 Are you a newbie to a living healthier? Just like going green, being vegan doesn't have to restrict your vibrant lifestyle. You can protect animals, save the planet and achieve great health while still having fun with friends and family. Just because you're eco-conscious  doesn't mean you can't host an exquisite dinner party or throw a killer birthday bash (um, take our word for it!). So, here's the green light to send out those eco-friendly evites (like the darling designs from Paperless Post). Enjoy the following 6 party-planning tips below. Inspire a great gathering with vegan vibes while creating a truly meaningful party with a purpose.
1.) Sustainable Toasts

If you're pining for those carefree summer days, invite your friends and family over for a tropical-themed soiree. Kick off the party with pineapple coconut cocktails to quench the thirst for a beachy escape. This exotic drink recipe by Elephantastic Vegan is a mix of pineapple juice, coconut water, coconut milk, rum and a sprinkle of cinnamon. You can serve it up in the actual pineapple as a drinking cup for a delicious taste of the tropics. Or, party organically with light VEEV cocktail recipes such as the White Sangria or Coconut Lemonade.
2.) Backyard Garden Party
A charming garden party is conveniently ideal for Mother Earth-inspired outdoor decorating. It's also perfect for a ladies luncheon or shower brunch. Create edible crudite centerpieces by filling tins with an assortment of organic veggies, and serve a creamy vegan yogurt herb dip on the side. Eco-friendly floral arrangements from The Bouqs in reusable glass jars can also add a touch of traditional whimsy. And, a stone and moss table centerpiece adorned with votive candles creates a warm glowing ambiance, as featured on MarthaStewart.com.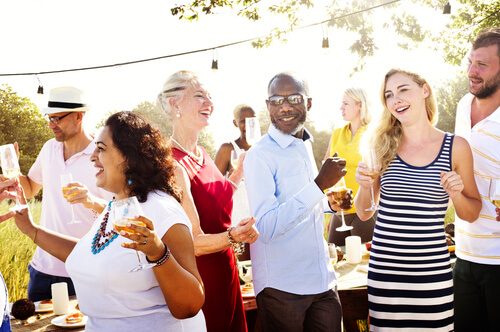 3.) Vegan Eats
As long as you have bites, beverages, tunes and good company, you have the makings for an epic party. And for a health foodie, a great party is one with delicious vegan food that even non-vegans will love to indulge in. Green Planet shares an entire vegan menu of tasty appetizers for pleasing the palate, including vegan mozzarella sticks, super flax green bean fries, sweet potato bruschetta and baked jalapeño poppers (um, who's getting hungry?). The main dish? Go for crunchy tofu tacos or veggie burgers with a side of spicy chickpea salad -or- kale and quinoa pilaf.
4.) Healthy Sweets & Treats
Yes, even the kiddos can get enjoy vegan eats; especially if it leads to vegan sweets and treats. Planning a birthday party for your child with the goal to stay vegan? Sweeten the celebration by baking a vanilla vegan birthday cake with "buttercream" frosting. The recipe by The Healthy Family and Home recommends decorating the cake with all-natural, vegetable-colored sprinkles. For the sweet sidekicks, serve vegan funfetti cupcakes or vegan chocolate chip cookies. Are you seeing a theme here?
5.) Sustainability Party Supplies

Adding festive party flair that agrees with Mother Earth has never been so easy. Susty Party is our go-to choice for disposable and compostable trendy tableware like star-patterned cups and striped straws. The palm leaf line offers plates with an aesthetically unique natural pattern for special occasions and even includes heart-shaped dessert plates for cake and ice cream. They've got the greenest selection for your St. Patty's Day celebration (and OMG – can you say the cutest trash bags, ever?). You can also go green and colorful with eco-friendly tassel garland, paper confetti or honeycomb tissue ball decorations from Eco Party Time.
6.) Earthy Party Favors
Whether you're throwing a bridal shower or birthday party, passing out favors is a kind gesture to express thanks. Give friends and family tiny gardens or market-style floral bouquets as charmed take-home gifts. Single blooms in a vintage vessel are also stylish, yet simple tokens of appreciation. Along with these living souvenirs, fresh farmers-market herbs offer an organic feel as a flavorful favor. Place herbs in a mini cube planter and attach a recipe that includes the herb as an ingredient.
Ahh, so much celebration, so little time. Got a favorite way to celebrate sustainably? Let us know in the comments below.
Here is a good read about Veganism & The Environment.