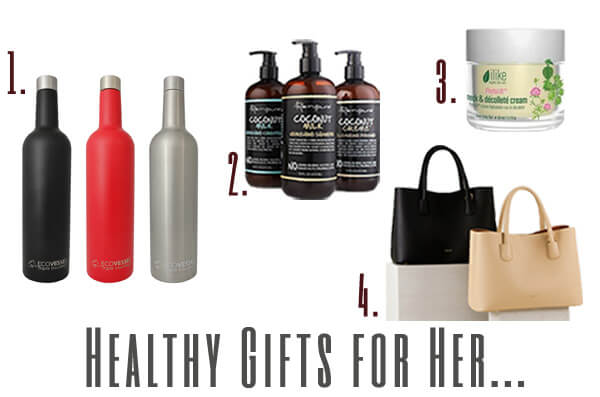 Looking for gifting inspiration? The VINE holds a full 750 mL bottle of wine, making it the perfect travel companion for everyone from the outdoor enthusiast to the family sommelier. It features an elegant silhouette that easily transitions from beach party ready to a formal dinner setting, all without worrying about breakable glass or pouring wine from a cardboard box. Thanks to its use of EcoVessel's TriMax® Triple Insulation Technology, it keeps any wine at the ideal temperature for 36 hours while staying true to taste. Cheers!
This family owned and operated business created the most complete hair care line ever entirely devoted to Coconut. Their formulas have been infused with a multitude of Coconut Oils that work in tandem to create balanced hydration, silky-soft locks, and beautifully radiant hair. They believe in using good ingredients and responsible sourcing and products contain no sodium chloride, sulfates, dyes, harsh salts, parabens or gluten.
ilike's new PhytoLift skincare line (gel mask, moisturizer, serum, eye cream and neck cream) targets lost elasticity for firmer, tighter skin while balancing skin's natural hormone levels. Thee Neck & Décolleté Cream helps hydrate, firm and lift the delicate skin of the neck and décolleté. It helps reduce the appearance of loose, sagging skin while firming and tightening for long-lasting youth. While firming, it also works to reduce the look and depth of fine lines and wrinkles. This cream is intensely hydrating, revitalizing aging skin. They entire Phytolift line made with a blend of organically grown ingredients from Hungary that include: antioxidant-rich Grapeseed Oil, anti-aging Calendula, moisturizing Shea Butter, collagen boosting Flaxseed Oil and Yucca, along with soothing Lavender Oil render skin dewy, deeply hydrated and radiant. Plus, Hops which is loaded with collagen and elastin boosting flavonoids as well as phytonutrients; plant goodies that are great for toning and softening the skin.
A cruelty-free, pebble textured tote, the Cher, by Angela Rio, is available in Black and Crème. It's faux and fabulous ethical luxury made with animal-friendly materials, and is crafted by artisans. Bonus: every sale helps end animal cruelty!