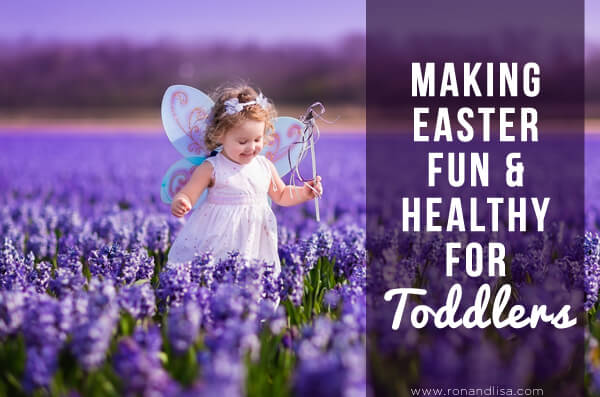 Easter is on its way, and while it might seem like you have plenty of time to prepare, March 27th will be here before you know it. If you've got some little ones in the family and you're looking for special ways to entertain the toddlers this Easter, incorporate some of these fun and healthy ideas to really make their Easter occasion special.
1.) The Egg Hunt
As this may be one of the first years the little ones might understand the Easter egg hunt, make sure it's an occasion to remember. Grab some personalized Easter baskets that display the little gals and guys names; be sure you have plenty of healthy Easter gifts in easy places for them to track down. Whether you find organic stuffed animals for them to cuddle with or stick to vegan and fair trade chocolate, the little ones' eyes will light up with joy and delight.
2.) Egg Decorating: Toddler Edition
Making brightly colored eggs is one of the most beloved traditions for the kids during Easter, but instead of dealing with messy or toxic dye and causing yourself unnecessary cleanup, consider these better options.
Lay out sheets of stickers that little fingers will be able to take off and apply to their organic eggs in whichever design they prefer.
You can also stick with the decorating utensils like washable markers or toxic-free crayons.
If you do choose to use crayons, make sure you let the children draw on the eggs when the shells are still a tad warm to the touch from being boiled—it will help melt the crayon and make application on the egg much easier.
3.) Arts and Crafts
Do some arts and crafts with your children to encourage their imagination and make some fun décor to hang up for the holiday occasion.
1.) Cut the shape of a sheep out of white construction paper, then grab some cotton balls and help them glue onto the paper for a fluffy creation they will love to touch—and requires little cleanup.
2.) Glue on some googly eyes and some black construction paper legs and you'll have a flock of little sheep.
3.) Cut an Easter egg shape into a colorful sheet of paper, then provide all the fun accoutrements so your toddler can decorate his or her own Easter egg—no messy dye involved. From colorful pipe cleaners to glitter, buttons to string, anything and everything in your craft box is fair game.
If you'll have a large number of little ones at your Easter celebration, inexpensive and easy crafts like these are sure to delight. You can also enlist the help of other adults in the family to help you wrangle the little ones and help them with their projects. This will get everyone involved and enjoying the holiday.
4.) Read Easter-Themed Stories
Little ones love reading, so if you want to move away from the sugar laden, candy-centric quality of this celebration, consider incorporating some fun Easter-themed books into their Easter gifts. Host a book reading for all the kids when they're patiently waiting for all the Easter goodies to be hidden out in the yard.
5.) Face Paint Fun
I don't know what it is about face paint that little ones love, but it's always a winner. Purchase some non-toxic face paint and paint some whimsical whiskers, bunny noses, or even Easter eggs and flowers on their little faces. If you've got teens with art skills in your family, put them to work—it'll create fun for the entire family!
6.) DIY Displays
Your toddler will love helping you put together some egg displays this March, so make sure you put some easy-to-make recipes on your to-do list. Make two-ingredient Easter egg nests with all natural, vegan melted marshmallows with Cocoa Krispies. Little hands can help you mold the mixture into nest shapes, and place the eggs right on top for the picture perfect Easter nest display.
To make sure this Easter is fun for the littlest members of your family, you'll need plenty of activities to keep them busy. Consider incorporating these wonderful ideas into your Easter celebrations this March and make sure the holiday is fun for every member of the family, no matter how young or old.