By Chef Mark Cleveland of Avanti Natural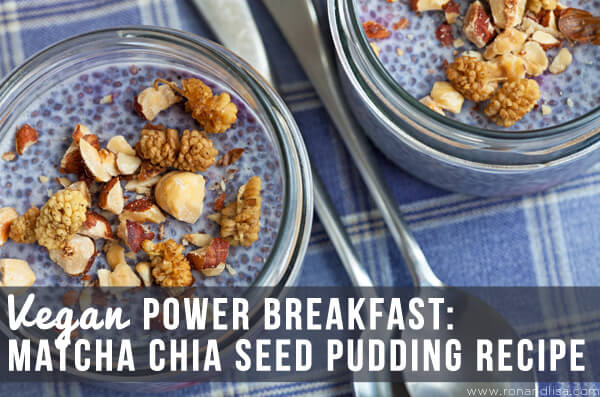 If you haven't tried chia seed pudding yet, you'll want to after learning about the healthy power packed into the mighty chia seed. Forget visions of cute pet-shaped plants (for now). Chia is part of the sage family (Salvia Hispanica) and is closely related to mint. It's is grown primarily for the nutritious seeds. Chia seeds are low in calorie, but high in fiber, protein, minerals and antioxidant nutrients; specifically calcium, phosphorus & magnesium. Chia seeds plump up into a pleasing gooey texture when soaked in water, tea or juice. Our Avanti Natural version of a chia pudding breakfast is easy to prepare in individual glasses or mason jars. You can whip up several jars at a time and let them chill 'em in the fridge until you're ready to eat. Chia pudding is isn't too sweet or too fatty. It also incorporates friendly probiotics to maintain optimal gut health.
The below recipe is open-ended and includes matcha. Traditionally used in the Japanese tea ceremony, matcha is becoming readily available in the US. It's a tasty, somewhat bitter form of green tea. The whole tea leaves are ground into a fine powder.
Adapt the below recipe your personal taste and incorporate seasonally available fruits. Remember, tomatoes and summer squashes are fruits too, so you don't have to reach for the sweeter fruits all the time.
Ingredients for Matcha Chia Pudding
In each glass or jar combine the following:
2 ½ T chia seeds
3 teaspoons favorite nutritional seeds, pepitas, hemp, flax, sesame
¼ cup fresh or frozen crushed fruit
¾ cup juice: OJ, grapefruit, pomegranate or pineapple, etc.
½ teaspoon apple cider vinegar
Pinch of sea salt
Juice and zest of half a citrus, lemon, lime, tangerine, Meyer lemon, etc.
½ teaspoon matcha
Optional Ingredients to add for Embellishment
½ teaspoon fresh ginger; use your microplane
1 small minced hot chili or chili flakes
½ teaspoon miso
Power herbs and spices; just a pinch of your favorites: cinnamon, cacao, reishi, nopales, pine bark, turmeric, sumac, mint, curry, garam masala, oregano or rosemary, etc.
Related Articles:
Guilt Free: Summer Fruit Tapioca Recipe (Vegan, Fat-Free & Gluten-Free)
Roasted Garlic Coconut Spread Recipe
Crispy Spiced Garbanzos Recipe & the Blue Zones Connection
Gluten-Free: Autumn Spice Cupcakes with Coconut Cream Frosting Recipe
Homemade Vegan Apple Butter Recipe
Aphrodisiac Salad Recipe & Sexy Fig Vegan Dressing
Sunrise Nori Wraps with Spicy Tahini Drizzle (Vegan & Gluten Free)
12 Fruit-Infused Water Recipes to Stay Healthy & Hydrated
CHEERS! A USDA Organic Cocktail Recipe for the Holidays
Instructions for Matcha Chia Pudding
1. Add your desired ingredients.
2. Stir once, cover and chill overnight.
3. The puddings are ready the next morning and will last for several days in the fridge.
Make up variations on a theme so that each morning you'll experience different flavors of fruit, juice & healing spices. Garnish with fresh berries or seeds; seeds offer a variety of protein and essential oils. This is a perfect breakfast to prepare ahead of time when you've got company visiting! Got a favorite flavor combination? Let us know in the comments below.