By guest blogger, chef Diana Stobo
Every fruit is enjoyable with chocolate, so try this with fresh organic kiwi, bananas, or raspberries—whatever you like. Sometimes I just like to dip my fingers in this luscious treat.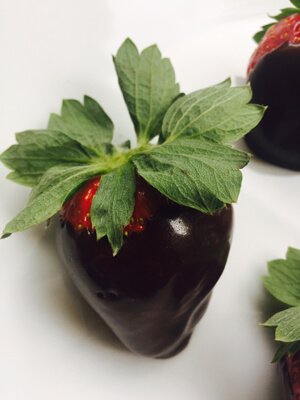 Ingredients
¼ cup raw cacao powder
¼ cup agave nectar
1 teaspoon vanilla extract
2 tablespoons coconut oil
Directions
1. Place the coconut oil jar in a hot bath to soften the oil.
2. Combine cacao, agave, and vanilla in small mixing bowl.
3. Add melted coconut oil and whisk together until creamy.
4. Place fruit on the tip of bamboo skewers and begin dipping.
5. Fondue may be stored in an airtight container, at room temperature, for up to 1 month.
WATCH NOW: How to Make Perfect Chocolate Covered Strawberries
Related Articles:
Guilt Free: Summer Fruit Tapioca Recipe (Vegan, Fat-Free & Gluten-Free)
Roasted Garlic Coconut Spread Recipe
Crispy Spiced Garbanzos Recipe & the Blue Zones Connection
Vegan Power Breakfast: Matcha Chia Seed Pudding Recipe
Gluten-Free: Autumn Spice Cupcakes with Coconut Cream Frosting Recipe
Homemade Vegan Apple Butter Recipe
Aphrodisiac Salad Recipe & Sexy Fig Vegan Dressing
Sunrise Nori Wraps with Spicy Tahini Drizzle (Vegan & Gluten Free)
12 Fruit-Infused Water Recipes to Stay Healthy & Hydrated
CHEERS! A USDA Organic Cocktail Recipe for the Holidays
Did You Know? Cacao has been said to create an uncontrollable state of bliss.
1. FUN FACT: Coconut oil is highly moisturizing and promotes elasticity in the skin.
2. NUTRITIONAL BENEFIT: Coconut oil increases metabolism and helps the body break up accumulated fat.
3. HOW TO SELECT: Raw virgin coconut oil