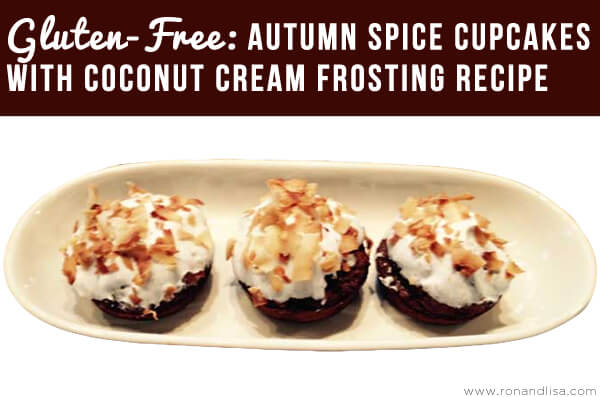 These cupcakes are delicious for any occasion during the autumn season, or enjoy for breakfast or as a light snack. They're so easy to make and provide a burst of flavor with each bite.
I have to admit that after I took this photo, I put more Coconut Cream on top and ate all three! These cupcakes are actually good for you. Gluten-free, nutritious sweetener and fiber; they're guilt-free food that tastes like a guilty treat. You can substitute the dairy and make them vegan if you prefer.
There are three parts to prepare. Then, combine them all together.
*All ingredients should be organic if obtainable.
Autumn Spice Cupcakes Recipe
Makes 12 cupcakes
6 tablespoons melted butter, ghee, or coconut oil
6 eggs (or egg substitute of choice)
2 tablespoons yakon syrup or molasses
2 teaspoons vanilla
1/2 cup coconut flour
1/2 teaspoon salt
1/2 teaspoon aluminum-free baking powder
2 teaspoons ginger
1 teaspoon cinnamon
1/2 teaspoon nutmeg
1/2 teaspoon allspice
1/2 teaspoon cloves
1. Preheat oven to 350 degrees F.
2. In a medium bowl, blend together the butter, eggs, sweetener, and vanilla.
3. In a small bowl, blend together the coconut flour, salt, baking powder, and spices.
4. Add the dry ingredients into the wet ingredients, and stir until thoroughly mixed. Scrape down the sides of the bowl with a spatula.
5. Divide the batter into the 12 cups of a standard muffin pan (about 2 tablespoons for each muffin. Use unbleached muffin papers or a silicone nonstick muffin pan.
6. Bake for about 25 minutes. Batter should be set up and firm.
Coconut Cream Frosting Recipe
I tried whipping coconut milk, but it didn't work. Instead, separate the coconut cream from the milk and whip it just like you would whip cream.
1. Get a can of Native Forest Classic Coconut Milk and place in the refrigerator overnight. Be sure to get the Classic -not the Light—since you need the cream.
2. In the morning, the cream will have hardened and you can separate it from the milk.
3. Just whip it up like whipped cream.
4. Add some vanilla if you want to; no need to add sweetener.
Toasted Coconut Recipe
Coconut comes in different sized flakes which are sold in most larger natural food stores. I used a more medium-sized flake instead of the tiny shreds.
1. Put 1/2 cup of flakes in a medium hot dry skillet and shake them around until they are toasty brown.
2. When you get the color you like, immediately pour them into a cool plate so they don't burn.
Instructions for Autumn Spice Cupcakes & Coconut Cream Frosting
When the cupcakes are cool, turn them upside down and dip the top in the coconut cream. Then sprinkle with toasted coconut and serve.
Related Articles:
Guilt Free: Summer Fruit Tapioca Recipe (Vegan, Fat-Free & Gluten-Free)
Roasted Garlic Coconut Spread Recipe
Crispy Spiced Garbanzos Recipe & the Blue Zones Connection
Vegan Power Breakfast: Matcha Chia Seed Pudding Recipe
Homemade Vegan Apple Butter Recipe
Aphrodisiac Salad Recipe & Sexy Fig Vegan Dressing
Sunrise Nori Wraps with Spicy Tahini Drizzle (Vegan & Gluten Free)
12 Fruit-Infused Water Recipes to Stay Healthy & Hydrated
CHEERS! A USDA Organic Cocktail Recipe for the Holidays
Optional: DIY Muffin Papers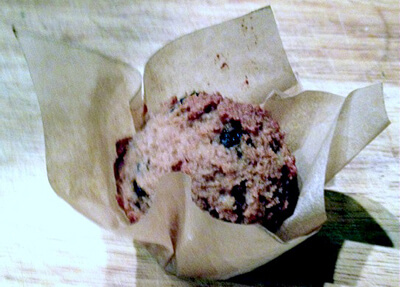 If you'd like to make your own unbleached muffin papers using parchment paper, you'll enjoy this super simple recipe. It's great for gift giving and adds a personal touch.
Guest blogger, Debra Lynn Dadd, has been a leading consumer advocate since 1984 when she wrote the first book on toxic chemicals in consumer products and safer alternatives. Since then, she's become the most prolific writer on the subject with seven more published books and the largest website on toxic free living on the internet, providing 100s of links to 1000s of safer products. Debra also hosts Toxic Free Talk Radio every weekday and writes a weekly food blog with delicious recipes using whole organic foods. Visit Debra HERE.