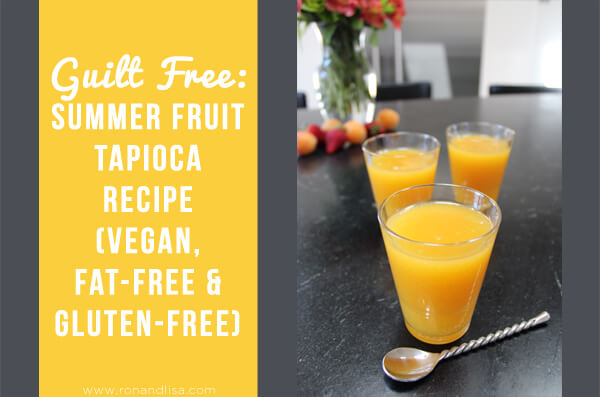 When you hear the word tapioca, what comes to mind? Old fashioned, sweet or custard? For me, images of my grandma surface. But, tapioca is not only tasty, it can be a wildly healthy dessert that's fat-free, vegan and gluten-free.
What is Tapioca?
Tapioca is the root starch of the cassava root. Originally cultivated in South America, tapioca has spread to all regions of the world. Most people associate tapioca with large round "pearls". But, tapioca comes in many other forms; small pearls, tapioca flour and granulated or instant tapioca – which is what I call for in the recipe below.
This recipe is something my mom made when I was a kid and I always loved the fresh, light quality it possesses. It never really occurred to me that other people might not eat their tapioca the way I do, but most people are pleasantly surprised when I serve this. People usually associate tapioca with milky custard; not fresh fruit flavor. It's important not to substitute larger pearl tapioca for the granulated. It would need to be cooked longer and the flavor would be ruined.
Ingredients Needed for Tapioca
2 ½ cups organic orange juice
1/3 cup organic sugar
1/3 cup granulated tapioca
pinch of salt
Related Articles:
Roasted Garlic Coconut Spread Recipe
Crispy Spiced Garbanzos Recipe & the Blue Zones Connection
Vegan Power Breakfast: Matcha Chia Seed Pudding Recipe
Gluten-Free: Autumn Spice Cupcakes with Coconut Cream Frosting Recipe
Homemade Vegan Apple Butter Recipe
Aphrodisiac Salad Recipe & Sexy Fig Vegan Dressing
Sunrise Nori Wraps with Spicy Tahini Drizzle (Vegan & Gluten Free)
12 Fruit-Infused Water Recipes to Stay Healthy & Hydrated
CHEERS! A USDA Organic Cocktail Recipe for the Holidays
Directions to Make Tapioca
1.   Place all ingredients in a medium saucepan.
2.   Whisk slightly and let sit for 10 minutes.
3.   Cook over high heat stirring frequently till it comes to a full boil.
4.   Reduce the heat to medium and let simmer for 5 minutes until it starts to thicken and the tapioca pieces become translucent.
5.   Remove from heat and let cool for about ten minutes.
6.   Spoon into serving dishes and chill until firm.
7.   Can be made the day ahead. Serves 2-4
You can substitute other fruit juices or blends. One of my personal favorites is pineapple juice. I also love black cherry juice (just make sure to adjust your sugar accordingly). If you are going to use a sweeter juice, then cut back some. Or, if you're going to use something like cranberry, you'll need to add more. If you're feeling creative you can even layer a couple of different flavors in one glass for a pretty look to match your party theme. Here's to a happy 4th of July!
Here is a good read about Veganism & The Environment.