By guest blogger, chef Diana Stobo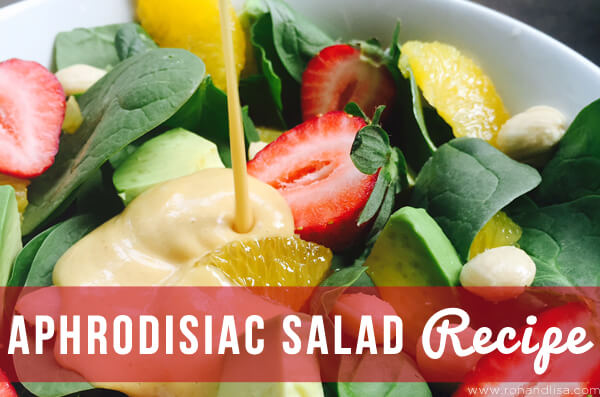 If you are feeling the love, this salad will make you feel it even more. When loving yourself, why not? Treat yourself and your sweetie this Valentine's Day to a meal that's not just delish, but nutrish! Renowned Raw Food Diet Chef and best selling author of "Get Naked Fast," Diana Stobo shares her secret to creating health, vibrance and beauty through food. We're thrilled to share her simple and delicious recipe with YOU. It's gluten-free, vegan, dairy-free and well, just plain good for you!
Ingredients:
1 head butter lettuce, frisee, or spinach
1 avocado, diced
1 orange cut into segments
5 strawberries, sliced
1/2 cup marcona almonds
Directions:
1. Place all ingredients in large salad bowl.
2. Toss with Sexy Fig Dressing.
Related Articles:
Guilt Free: Summer Fruit Tapioca Recipe (Vegan, Fat-Free & Gluten-Free)
Roasted Garlic Coconut Spread Recipe
Crispy Spiced Garbanzos Recipe & the Blue Zones Connection
Vegan Power Breakfast: Matcha Chia Seed Pudding Recipe
Gluten-Free: Autumn Spice Cupcakes with Coconut Cream Frosting Recipe
Homemade Vegan Apple Butter Recipe
Sunrise Nori Wraps with Spicy Tahini Drizzle (Vegan & Gluten Free)
12 Fruit-Infused Water Recipes to Stay Healthy & Hydrated
CHEERS! A USDA Organic Cocktail Recipe for the Holidays
Vegan Sexy Fig Dressing
¼ cup Udos oil (or flax seed oil)
¼ cup orange juice, freshly squeezed
2 calimyrna or kalamata figs, soaked in water for 1 hour (reserve water)
1 tablespoon apple cider vinegar
1/2 teaspoon sea salt
1. Place all ingredients in high-speed blender and blend for 60 seconds.
2. Add fig water for desired consistency.
This Valentine's Day, enjoy a passion for food and flavor without compromising taste; even if it's raw or vegan! We'd love to hear your feedback or see your pictures on Instagram if you chose to make this easy and oh-so healthy recipe!
P.S. Diana opened up an amazing property in mid 2015 called The Retreat Altos Del Monte in Costa Rica. The retreat features cooking schools, wellness and yoga programs and detox programs. What a perfect place for a healing getaway or corporate retreat!
Here is a good read about Veganism & The Environment.