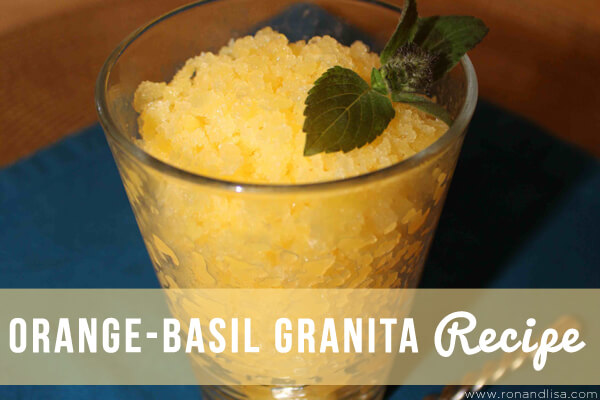 We're in the heat of summer and nothing screams heat relief more than cool, frozen desserts. Most people immediately think of ice cream, but there are plenty of healthier, more refreshing choices. The one I love the most is granita. Granita has the texture of shaved ice and can be made in countless flavor varieties. The best thing about it is you don't need any special equipment; just a freezer and a fork are all that's required to achieve its special texture. Another bonus is the granita base can be prepared a day or two in advance. The finished granita can also be made ahead of time, but don't pack it too firmly in your container; you don't want to ruin its fun, icy texture. Try this orange-basil version by itself – or – serve it with cookies and fresh fruit for a perfect summertime dessert. Bon Appétit!
Ingredients:
1/2 cup organic cane sugar
¾ cup filtered water
1/3 cup packed fresh basil leaves coarsely chopped, plus whole leaves for garnish
5 cups fresh organic orange juice
1/4 teaspoon pure vanilla extract
1/4 teaspoon coarse sea salt
Related Article:
Guilt Free: Summer Fruit Tapioca Recipe (Vegan, Fat-Free & Gluten-Free)
Roasted Garlic Coconut Spread Recipe
Crispy Spiced Garbanzos Recipe & the Blue Zones Connection
Vegan Power Breakfast: Matcha Chia Seed Pudding Recipe
Gluten-Free: Autumn Spice Cupcakes with Coconut Cream Frosting Recipe
Homemade Vegan Apple Butter Recipe
Aphrodisiac Salad Recipe & Sexy Fig Vegan Dressing
Sunrise Nori Wraps with Spicy Tahini Drizzle (Vegan & Gluten Free)
12 Fruit-Infused Water Recipes to Stay Healthy & Hydrated
CHEERS! A USDA Organic Cocktail Recipe for the Holidays
Directions:
1.) Bring the sugar and water to a simmer in a small saucepan over medium-low heat. Cook and stir until the sugar has dissolved. Remove from heat. Stir in basil. Let syrup stand 30 minutes.
2.) Stir together the orange juice, vanilla, and salt in a medium bowl. Strain the basil out of the syrup and add to the orange juice mixture. You can make this the day before and refrigerate overnight.
3.) Transfer mixture to a 9-by-13-inch shallow dish. Chill in freezer until edges are frozen, about 2 hours. Remove from freezer; scrape with fork tines or flat spatula scraping and pulling from edges. Return to freezer. Repeat process every 30 minutes or so until mixture is the texture of shaved ice, about 5 hours. Spoon into serving bowls, and garnish with basil.