By Chef Mark Cleveland of Avanti Natural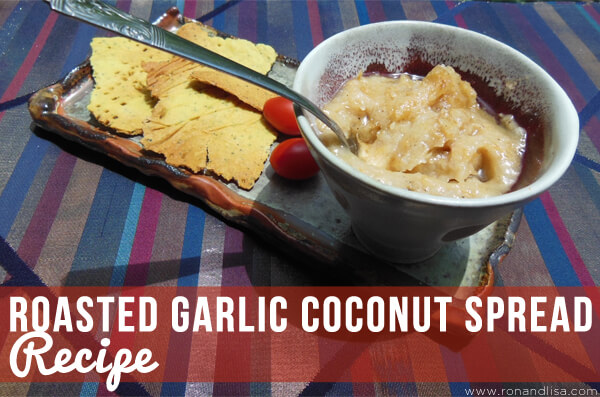 Photo: Avanti roasted garlic coconut spread served with gluten-free garbanzo golden spice crackers and organic cherry tomatoes.
There's nothing like the creamy bite of roasted garlic to set the tone for summer fare. Just in time for BBQ's, picnics and garden parties, Avanti roasted garlic coconut spread is a perfect dish to try in your kitchen. Full of flavor, it's much lighter than butter or mayo, but loaded with summertime umami (savory) tongue-tinglers. The roasted garlic coconut spread is easy to prepare and requires very few ingredients. If unexpected guest drop by, you can whip up a batch faster than it takes to reapply sunscreen.
Ingredients for Roasted Garlic Coconut Spread
| | | | |
| --- | --- | --- | --- |
| 1 or 2 | Heads | Roasted garlic | About 1/3 to ½ cup roasted garlic cloves |
| 1/3 to ½ | Cup | Organic coconut oil | |
| 1 | Tablespoon | Marsala | Dry or sweet, optional |
| 1/8 | Teaspoon | Coarse sea salt | |
| 1/8 | Teaspoon | Black pepper | |
Instructions for Roasted Garlic Coconut Spread
Use equal parts of roasted garlic and organic coconut oil. One head of roasted garlic, when squeezed into a small mixing bowl, is about 1/3 to ½ cup garlic cloves.
Add about a tablespoon of dry or sweet Marsala as you wish, and salt and pepper to taste (I prefer about a 1/8 of a teaspoon of each). Use a coarse sea salt; black or red Hawaiian is superb as the large grains help to emulsify the blend. Perfect for entertaining, Marsala is the Pantone color of 2015, so it's extra stylish to cook with this year. But, any dry or cream sherry, port or Madeira would be fine. If you'd rather forgo the booze, substitute a great brewed coffee or dark tea such as black currant, Pu-erh, Darjeeling or lychee. Citrus juice would give it a nice zing, especially lime or grapefruit juice.
Mash the garlic cloves into the coconut oil w/ a spoon, stir well and spoon into a serving dish.
Chill to firm up in the fridge.
Related Articles:
Guilt Free: Summer Fruit Tapioca Recipe (Vegan, Fat-Free & Gluten-Free)
Crispy Spiced Garbanzos Recipe & the Blue Zones Connection
Vegan Power Breakfast: Matcha Chia Seed Pudding Recipe
Gluten-Free: Autumn Spice Cupcakes with Coconut Cream Frosting Recipe
Homemade Vegan Apple Butter Recipe
Aphrodisiac Salad Recipe & Sexy Fig Vegan Dressing
Sunrise Nori Wraps with Spicy Tahini Drizzle (Vegan & Gluten Free)
12 Fruit-Infused Water Recipes to Stay Healthy & Hydrated
CHEERS! A USDA Organic Cocktail Recipe for the Holidays
How to Serve Roasted Garlic Coconut Spread
This flavor powerhouse is ready to embellish your taste buds; it's fantastic on everything fresh off the grill. Pair it also with:
yams
all potatoes
everything hot and green (including broccoli, Brussels sprouts, kale, green beans, peppers, etc)
organic brown rice & quinoa
use it instead of butter for zesty organic tofu or egg scrambles
stir into cooked beans
slathered on corn on the cob
You can find all sorts of ways to roast garlic online –or- you can use this link: Avanti roasted garlic. Also, look for photos & how-to's for great party-ready serving suggestions using Avanti Roasted Garlic Spread.
At Avanti Natural, we believe that you don't have to sacrifice taste to eat healthy. You can Eat Well & Live Well. Follow us on social media to see what Avanti is up to now. We are Whole Foods Experts. Post photos of your versions of Avanti Natural recipes on our Facebook, Pinterest, Twitter, YouTube and Instagram pages. We're excited to see and share your culinary creativity!