With the holidays approaching, it can be difficult to find a balance between enjoying all the delicious foods and keeping up with the celebrations while maintaining a wholesome body. Certain tequilas are packed with unnecessary chemicals and additives that do nothing but harm to your body. El Consuelo Tequila, on the other hand, provides tequila-lovers with a guilt-free experience!
USDA Certified Organic, Kosher & Gluten-Free Tequila
The three unique varieties of El Consuelo – un-aged Blanco, Reposado, and Añejo – are all USDA Certified Organic as well being kosher and gluten-free. Made to be chemical and additive free straight from the farms of Tequila, Mexico, El Consuelo not only gives people with dietary restrictions the chance to enjoy unique tequila, but also features a smooth and flavorful taste. It's created with USDA certified blue weber agaves resulting in superior Tequila.
Reposado Aloe Margarita Recipe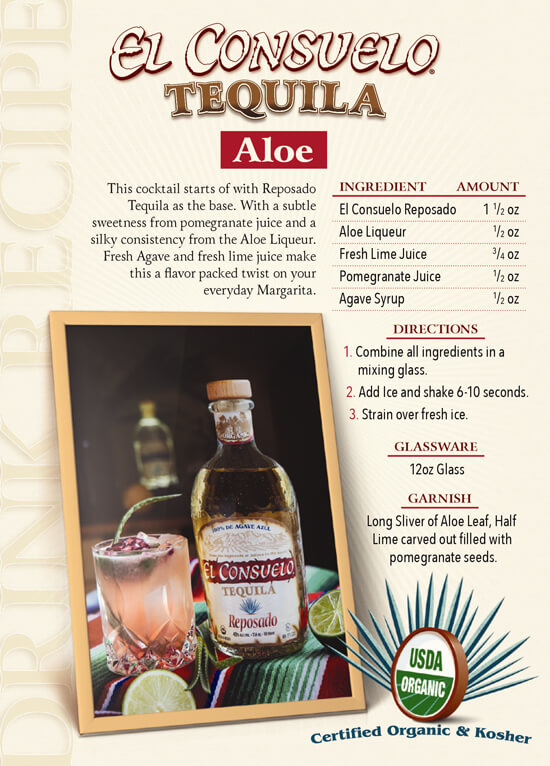 Related Articles:
Guilt Free: Summer Fruit Tapioca Recipe (Vegan, Fat-Free & Gluten-Free)
Roasted Garlic Coconut Spread Recipe
Crispy Spiced Garbanzos Recipe & the Blue Zones Connection
Vegan Power Breakfast: Matcha Chia Seed Pudding Recipe
Gluten-Free: Autumn Spice Cupcakes with Coconut Cream Frosting Recipe
Homemade Vegan Apple Butter Recipe
Aphrodisiac Salad Recipe & Sexy Fig Vegan Dressing
Sunrise Nori Wraps with Spicy Tahini Drizzle (Vegan & Gluten Free)
12 Fruit-Infused Water Recipes to Stay Healthy & Hydrated
A Sustainable Spirit
El Consuelo is also environmentally aware within the regions that their tequila is produced. It's produced with social consciousness to support the Mexican farmers and the communities in which they live. They use practices such as taking the time for natural fermentation rather than adding heat as well as using habanero-peppered water to ward off insects rather than toxic pesticides to ensure the best quality in El Consuelo Tequilas. Made only by the hands of devoted farmers from family-owned distilleries, El Consuelo truly honors the distinguished methods used by generations of Mexican farmers.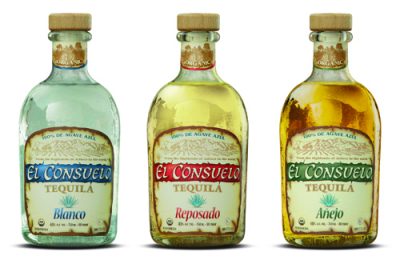 Whether El Consuelo is enjoyed on its own or incorporated into your favorite tequila cocktail recipe, a healthier and guilt-free experience is in store. It's available in NY, NJ, CA & FL and nationwide online. Stay tuned…the team behind El Consuelo is currently developing a Rum, a Vodka and a Gin to be launched in early Fall of 2016.