By Carol Cannon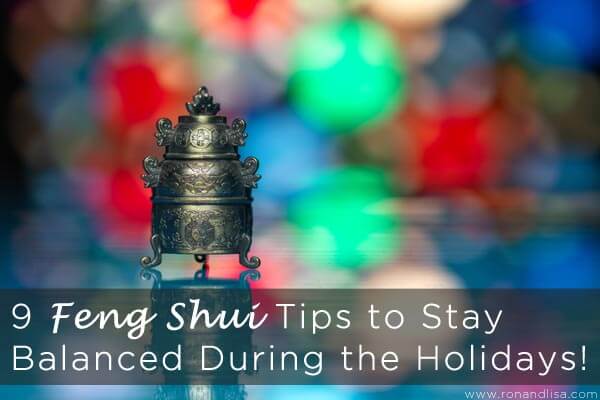 The holidays are here! Daily life can become full of increased activities and seasonal commitments and the universal messages of peace, sharing and gratitude can easily get lost in the entire shuffle. You can, however, use the ancient art of Feng Shui to encourage staying in balance throughout not just the holidays, but all of life.
Follow these 9 easy tips for gliding through the holidays!
1. Lights: Holiday décor can take on a sense of overkill and wasted energy. Apply moderate principals when placing your annual pieces. A well lit approach to your front door with a simple holiday figure can be Zen and elegant. Incorporating a timer so the lights go on and off at predetermined times saves energy and ensures responsibility for this task!
2. Sound: What is a holiday without the traditional sounds? Sometimes, they feel like they've reached a level of overkill! Soothing sounds of nature intermixed with holiday cheer can keep you connected to the earth; even if you don't have time to escape outdoors.
3. Life Force:  Many observe the tradition of a live Christmas tree. If this is your choice, seek out a vendor that practices sustainable/organic farming. Be sure to properly recycle it after the holidays, too.
4. Something that Moves: Keeping the ch'i circulating is healthy for you in your home. A chime outside your front door will help call in auspicious energy!
5. Fragrance: Every holiday has its associated foods and aromas. Cook up an organic fare and bring the positive sense of smell into your home.
6. Color:  There are many colors that symbolize happiness at this time of year. Choose your favorite – or incorporate the colors of the rainbow – and notice how color affects your mood in a positive way!
7. Touch: Research has indicated that 8 hugs a day contribute to increased happiness. They are especially nurturing at this time of year. You can hug your family, your friends, your pets –or- someone in need. Give a hug, and you'll receive one in return!
8. Sacred Objects: There are a variety of spiritual roots that people turn to during the holidays. Choosing a sacred object to either display, or carry with you, will help to keep you connected to the center of the season.
9. Intuition:  Enjoy and act on your own ideas! Everyone has a sense of intuition, but not all act on it. Start your day with an emptying of the mind through meditation or prayer, and the intuitive channels will begin to pour in. If it feels right, do it!
Happy Holidays!
Carol Cannon, a graduate of the New York School of Feng Shui has been a Feng Shui Practitioner since 1993. She is also certified as a BBEC (Building Biologie™ Environmental Consultant). A resident of Emmaus, PA, Carol's passion is to help people find peace and joy in their lives. Visit Carol HERE.