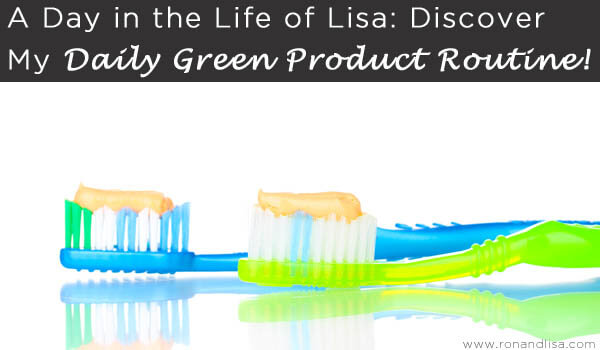 Per a request from readers who have repeatedly asked what products I use throughout my daily regimen, I thought it would be fun to have you, our fabulous community join me for a typical day as I channel my inner Mister Rogers.  I'll point out each product I use and approve (don't worry, no shoe awkward singing or shoe tying will occur).
A shocking Environmental Working Group report revealed that women use 12 cosmetic products with 168 unique ingredients each day (men use 6 products with an average of 85 ingredients)! Since one size doesn't fit all, I'll include a few personal care alternatives that I love (even if I didn't use them on this particular day, per se). So here we goooo.
MOUTH
Upon waking, I do what most peeps do – brush my pearly whites. My recent toothpaste of choice was Trader Joe's Antiplaque Toothpaste with Fennel, Propolis & Myrrh ($5.99). Why?  I like what it doesn't contain: no fluoride, no artificial sweeteners, no sodium laurel sulfate (SLS), or propylene glycol. And, it uses xylitol to aid in the fight against plaque buildup. Ohhhh, I love black licorice, so this flavor was my preference over Peppermint, but I recently discovered this brand contains contain carrageenan (exposure to carrageenan causes gastrointestinal inflammation, ulcerations, lesions, and even colon cancer in laboratory animals). Turns out Tom's of Maine ($5.99) contains this also.  Since we adhere to the precautionary principle, we advise avoiding carrageenan as does the Cornucopia Institute based on numerous scientific studies. If you still choose Tom's brand, we advise only the SLS + fluoride-free versions. For those who love DIY recipes, you could make the healthiest version for a fraction of the cost! For the rest of us busy folks, Dr. Bronner's All-One Toothpaste (my new fave) in Peppermint, Cinnamon, or Anise. Or, for a clay-based, try REDMOND's Earthpaste which boasts just five ingredients: water, Redmond clay, real salt, essential oils, and xylitol. Choose from Lemon Twist, Spearmint, Wintergreen, Peppermint, or Cinnamon.

Neem toothpaste is good too, but read the ingredients label for each brand and be sure you are not getting 'neem-washed' with other sneaky additives in the mix. For mouthwash, I prefer the Healthy Mouth® Tartar Control Cinnamon Clove Mouthwash by Jason® which contains zero alcohol or saccharin. It uses tea tree oil – an antimicrobial and antiseptic agent – to defend against sugar acids and acid-forming bacteria. I also love the Hello Activated Charcoal Extra Freshening Mouthwash (just steer clear of charcoal-based toothpaste as they can harm your tooth enamel over time).

FACE
I exfoliate with Arcona Golden Grain Gommage every other day.  This stuff is amazeballs with a blend of fruit enzymes and pollutant-binding volcanic minerals. It brightens, clarifies, and soothes the skin with essential fatty acids, oatmeal, and lemon extracts – pure yumminess ($34.00). For days I need deep exfoliation I can't live without Facial Lounge's Brightening Exfoliating Pads ($89.00) that remove dead skin cells, blackheads, congestion, fine lines, wrinkles, enlarged pores, and uneven skin texture (is it just me – or is there a theme here?).
For a daily cleanser, I use Juice Beauty Stem Cellular 2-in-1 Cleanser ($34.00), specially formulated for those concerned with fine lines and wrinkles,(not that any of us need that…wink, wink). It's great for sensitive + dehydrated skin, as well as for removing make-up. This is sometimes followed by the Dessert Mist from Arcona to protect against pollution, weather, free radicals, and environmental damage while reinforcing daily hydration ($35.00). I am addicted to this smell.
The last application is my moisturizer. I have a few favorites including Juice Beauty's GREEN APPLE Age Defy Moisturizer ($46.80), Facial Lounge's, Feather-Light Miracle Moisturizer ($69.00), or the Epilynx Starter Kit for normal skin which is a steal at only $49.00 for this clean beauty bundle that's gluten-free, allergen-free, cruelty-free and vegan.
Before you invest too much, I recommend starting with sample sizes or travel kits.  These usually offer everything you need to get started based on your specific skin type!
DEODORANT
On days I hit the Peloton, I use some of my favorite deodorants (not to be confused with antiperspirants which is a big no-no). Currently, I use the CRYSTAL™ Mineral Deodorant Spray Body Deodorant. It feels cool going on since it's a spray (they offer stick and roll-ons as well). I love their natural fragrances made with essential oils and extracts including Pomegranate, Vanilla Jasmine, Lavender & White Tea, Chamomile & Green Tea, Unscented and more.  Plus, they are aluminum-, chloride-, phthalate, artificial fragrance-, cruelty- and paraben-free, and are vegan.

My other deodorant faves include Erbaviva Lemon Sage Organic Deodorant 3.5 oz spray ($23.40); these also come in a smaller 2 oz size which is perfect for your purse, travel, or gym bag. And, EO's Organic Deodorant Spray which is aluminum-free, can contain no propylene glycol, no phthalates, no parabens, and no synthetic fragrance or dye. This brand is also Certified organic, vegan and cruelty-free, GMO-free, gluten-free, polysorbate free, and disodium EDTA free.

Or, for you DIYers, here's a healthy, homemade deodorant recipe.

BODY
After my workout, I hit the shower.  For my hair (but, not daily), I currently use MAX GREEN ALCHEMY'S Scalp Rescue Shampoo ($20.70) or Innersense Organic Beauty. I suggest their Natural Hydrating Travel Hair Trio so you can try all three of their nontoxic, cruelty-free hair products including the Hydrating Cream Hairbath, Hydrating Cream Conditioner, + Sweet Spirit Leave-In Conditioner for just $21.95.

Next, it's time to scrub-a-dub. I love the EO Shower Gel Body Wash in Orange Blossom Vanilla. Their shower gels are made with organic ingredients and are synthetic fragrance-, cruelty- and paraben-free, and are Certified Gluten-Free.

To shave those annoying stubbles, I use Trader Joe's Honey Mango Cream Shave ($3.49).  If you don't currently use a cream for shaving, it takes a little getting used to (but so worth it).  This one is paraben-free, cruelty-free, and vegetarian.  Now that I smell like a bountiful basket of fruits and vegetables, I really don't need perfume or scented deodorant!  But, when I'm heading out for a meeting or date night with the hubs, I have my absolute favorite eight nontoxic perfume favorites for myself and nine nontoxic cologne picks for Ron. Want to snag the lists? CLICK HERE to download your free guide, The Stinky Truth: A Girl's Guide to Trashing Synthetic Fragrances & Reclaiming Your Health.
*Bonus for new moms – look for products with pure tangerine essential oil which is known to reduce stretch marks and fluid retention (ahh, the joys of aging)!
Phew, I didn't realize how many products I use 'till writing this post – and we haven't even gotten to my makeup, sunscreen, or bedtime routine!  So, this is clearly going to require a Part 2 which I'm thrilled to share with you. Plus, I'm gonna reveal a bonus: something I always get asked.  You'll discover my #1 choice for hair color in Part 3 (yep, the cat is outta the bag)!  Yes, I do color…but, with a conscience!
In the meantime, let us know your favorite product(s) below.  New natural, healthy and nontoxic products emerge and existing products evolve daily, so bookmark this as a reference to return to and contribute to.  We can't include every brand in this post – that would require an entire book (oh, right…we did that already in Just GREEN It! Simple Swaps to Save the Planet + Your Health).
Remember, we are all on our own journey toward health and we each have different sensitivities and preferences, so please be respectful of all opinions. There's only one person in the (whole) world that's like you, and that's you. ~Mister Rogers
Related Articles:
Shhhh! The Fragrance Industry: SECRETS Revealed
Frizz Free Can Be Flat-Out Dangerous!
The Most Dangerous Chemicals in Your Beauty Products
A Day in the Life of Lisa: My Green Product Routine – Part II
A Day in the Life of Lisa: My GREEN Product Routine – Part III
DIY Peppermint Lip Balm Recipe
7 Nontoxic Perfume & Fragrance Alternatives
Pinkwashing: A Growing Concern
PARABENS: Hidden Health Hazards in Your Hygiene Routine
DEODORANT DANGERS: Ingredients to Lose & Those to Choose