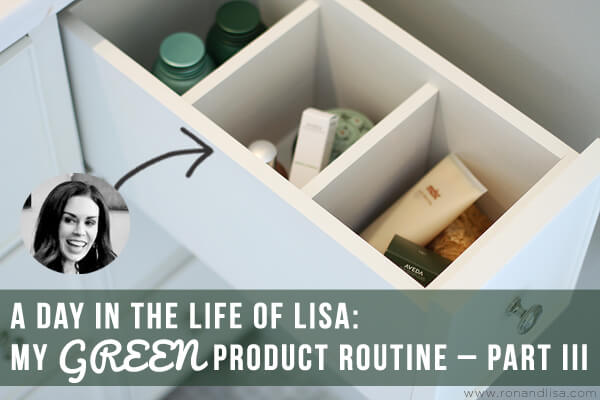 Photo credit: Nest Design Group
Hi ho, hi ho…it's off to bed I go.  Phew, have you been following me through Part I and Part II of this series?  If not, you'll wanna catch up by reading the first two now.  This has been a bit eye-opening in terms of how many products I use in a single day!  Suddenly, it becomes crystal clear how the average woman can easily be applying 515 chemicals daily to her skin if not cognizant of her choices.
Speaking of not being aware – for those of you who think just because a product is on TV, in a magazine ad or used by a celebrity, then it must be safe – cut that out right now!  The ingredients will tell the story; not the price, where it's sold or who is using it.  Period. Currently, there is soo much crazy hype about this new product on the market called NeriumAD. A relative inquired about it because her neighbor was raving, "It's going to be on The View!"  So, I did some digging and it wasn't pretty. Apparently, I wasn't the only one who had red flag alerts with all of the hype. Apparently, Nerium oleander is 'an evergreen shrub or small tree in the dogbane family Apocynaceae, toxic in all its parts' (hmmm).  As always, the concerns lie in the whole enchilada of ingredients. So, I created a toxicity report based on the ingredients myself (thank you amazing scientists at Environmental Working Group!) and you can view the report and its toxicity score of 5 HERE. This is considered moderately hazardous, however the Skin Deep Database wasn't able to identify half of the ingredients (including the Nerium Oleander leaf extract), so chances are the score is actually higher with full transparency.  With ingredients like 'parfum' ranked an 8 and Sodium Borate (borax) linked to developmental/reproductive toxicity and organ system toxicity (non-reproductive) – personally, it's enough to make me steer very clear of this stuff.
O.k. – Now you know which anti-aging night cream I don't use (and why).  Now, back to catching some ZZzzzZZzz's and the rest of my daily routine (now I'm really tired):
FACE
Cleanser – I alternate between a few including Arcona's Toner Tea Bar and Arcona's White Tea Purifying Cleanser (both antioxidant facial cleansers). I have been looking into trying the RE9 Advanced Smoothing Facial Cleanser by Arbonne, but I haven't made up my mind just yet. UPDATE: My recent fave is the Purifying Rice Face Wash from PUR attitude.  It's a soap-free cleanser with purifying rice beads that don't disrupt your skins natural pH.  Watch HERE to learn more.
Arcona Gentle Solution (alternating with Magic White Ice – see Part I) – This repairs sun damage, resurfaces skin and combats free radical damage with an antioxidant complex, algae, amino acids and chlorophyll while you sleep (nice!).
Mudpot Natural Mud Mask (weekly) – LOVE this stuff!! It's comprised of 100% organic, mineral-rich illite clay. Unlike chemical-heavy products that can damage healthy tissues and beneficial bacteria, illite clay works with the body to restore and balance skin in a natural way.
EYES
Arcona Eye Serum – This firming complex fights signs of aging, reduces puffiness and hydrates delicate eye area. It also moisturizes, retexturizes and alleviates fine lines and reduces puffiness and environmental damage with willowherb and organic coffee extracts.
LIPS
DIY – Peppermint Lip Balm. I love this recipe from our regular contributor, The Dabblist. With a mere 4 ingredients (none of which contain byproducts from the oil refining process), it requires about an hour to create and – wala!  You are all set.
SUN
There are several I currently use including: Ava Anderson Sun  + Raw Elements USA but, my absolute favorite is Goddess Garden. It is top notch, comprised of 92% certified organic ingredients and comes in a continuous spray which is so easy to apply!
Related Articles:
Shhhh! The Fragrance Industry: SECRETS Revealed
Frizz Free Can Be Flat-Out Dangerous!
A Day in the Life of Lisa: Discover My Daily Green Product Routine!
The Most Dangerous Chemicals in Your Beauty Products
A Day in the Life of Lisa: My Green Product Routine – Part II
DIY Peppermint Lip Balm Recipe
7 Nontoxic Perfume & Fragrance Alternatives
Pinkwashing: A Growing Concern
PARABENS: Hidden Health Hazards in Your Hygiene Routine
DEODORANT DANGERS: Ingredients to Lose & Those to Choose
HAIR
*Bonus* As promised, at the start of the series I said I would reveal the hair color I use and love.  It is a product from Italy called Davines.  I adore numerous things about this brand.  One, they are family-owned and pride themselves on using high-grade, natural ingredients drawn from a wealth of herbs, flowers and fruits with a respect for the environment while honoring sustainability. They use zero impact products by offsetting carbon emissions and reducing plastic waste.
"By creating beauty sustainably, we encourage people to take care of themselves, of the environment in which they live & work, of the things they love." ~Davines
Their Finest Pigments is Davines' direct color line; formulated with up to 98% natural derived ingredients without ammonia and does not require an activator. Davines' Authentic Formulas can be used indifferently on face, hair and body.  These formulas contain from 98 to 100% natural origin ingredients and are free of SLS, SLES, sulphates, added parabens, artificial colouring, silicon, PEG and ethoxylates. All Authentic products are enriched with several organic farming active ingredients including: organic Sesame seed Oil, organic Jojoba Oil, organic Sunflower seed Oil and organic Shea Butter.  All formulas contain organic Safflower Oil, rich in vitamins with its precious regenerating, anti-oxidising properties.
Davines isn't 100% perfect, but I can attest it works better than henna hair dye (for me) with far less chemicals than traditional, professional lines found in the majority of salons across the country.  Also, I don't advise use of all of their lines (just those referenced above). Another suggestion, which I personally haven't tried yet, is Organic Color System – the world's first professional-only, ammonia-free, permanent hair color system that uses 100% certified organic ingredients. Sounds amazeballs and I look forward to hearing feedback from anyone who has used it below in the comments section!
Lastly, many companies are reformulating their products to remove DMDM Hydantoin, which releases cancer-causing formaldehyde, and four parabens linked to endocrine disruption. Revlon and L'Oreal are sticking with their formulations and leaving customers at risk. It's time Revlon and L'Oreal remove dangerous ingredients from their products. Your voice matters. Please help by taking action HERE.