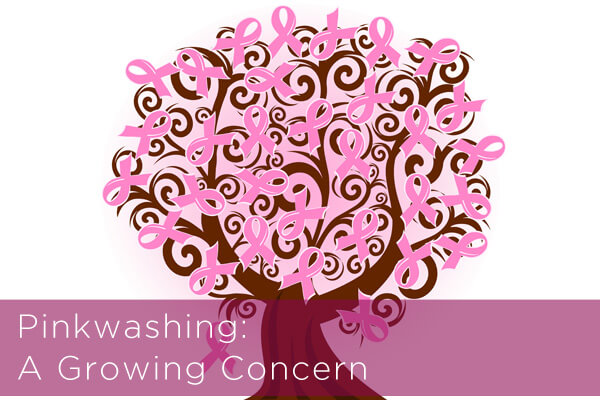 In case the plastering of pink-ribbon adorned products was not enough make you "aware" that that October is National Breast Cancer Awareness Month, we felt it was fitting to remind you.  But, is there anyone left who needs reminding?  Ron and I have been indirectly affected by breast cancer, which today, affects 1 in 8 women.  In the past several years, we have witnessed three family members near and dear to us, receive a diagnosis of this nasty disease. According to the American Cancer Society, breast cancer is the most common cancer among women in the United States, other than skin cancer. It is the second leading cause of cancer death in women.
I think we can all agree that the issue of finding a cure (and more importantly preventing breast cancer in the first place) is of upmost importance.  It is quite apparent that, by now, we are all…very AWARE.  But, is the plethora of pink products doing anything to find a cure?  Introducing Pinkwashing (verb): A term used to describe companies that position themselves as leaders in the fight against breast cancer while engaging in practices that may be contributing to rising rates of the disease (a phrase coined by Breast Cancer Action).  The Campaign for Safe Cosmetics has repeatedly asked Avon, Revlon and Estee Lauder – the three largest users of the pink ribbon in the cosmetics industry – to sign the Compact for Safe Cosmetics; a pledge to remove chemicals linked to cancer, birth defects, learning disabilities and other harmful health impacts from their products.  The companies have been unwilling to make this public commitment to eliminate carcinogens and other chemicals of concern from their products.
The truth is that some chemicals in cosmetics — including those marketed by pink-ribbon cosmetics companies — might actually be linked to breast cancer. WATCH this great video, Pinkwashing and Cosmetics, below to learn more:
Do we really need pink colored products – many of which contain carcinogens – marketed to us as being healthy?  The concept that you can raise money for breast cancer research by purchasing a product with cancer causing ingredients is well – insane. When only 1 in 10 cases of breast cancer are linked to family history, and science implicates our environment in rising rates of the disease, it is time to ask ourselves hard questions about the toxic chemicals we're exposed to daily.  Isn't it time we move from 'awareness' to prevention? You can view our past posts to avoid chemicals linked to breast cancer HERE.
Related Articles:
Shhhh! The Fragrance Industry: SECRETS Revealed
Frizz Free Can Be Flat-Out Dangerous!
A Day in the Life of Lisa: Discover My Daily Green Product Routine!
The Most Dangerous Chemicals in Your Beauty Products
A Day in the Life of Lisa: My Green Product Routine – Part II
A Day in the Life of Lisa: My GREEN Product Routine – Part III
DIY Peppermint Lip Balm Recipe
7 Nontoxic Perfume & Fragrance Alternatives
PARABENS: Hidden Health Hazards in Your Hygiene Routine
DEODORANT DANGERS: Ingredients to Lose & Those to Choose
You do have power to make healthy choices. You do have purchasing power to promote products that are non-toxic, organic, natural and healthy.  This October, you do have the power to think – before you pink!