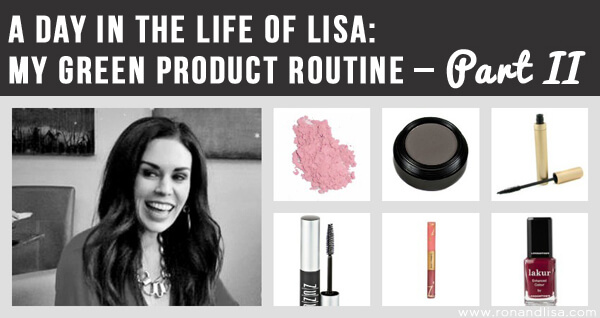 Did you catch the first part of this post? If not, you'll want to read it HERE. After all, you wouldn't watch Bridget Jones's Diary 2 without first watching part one, now would you?  Like Bridget Jones, many of us gals have fallen for a bad boy (or two, or three?).  So, dating is kinda like selecting personal care products.  We must be careful not to be wooed by Hugh Grant-ish exterior appeal or slick, sweet-talking marketing terms that prove meaningless when verified against the ingredients label (unless, of course, you want to keep a diary of your broken out, rashy, zitty, oily, dehydrated, toxic skin – blimey!).
I, like Bridget, had (skin) troubles in my college years when using the magical 3-step, over-hyped department store brand proven to make my skin glow (ha!). The only thing glowing was my humiliation. So much for the dramatically different moisturizer. But, I smartened up eventually.  I've learned a TON since then about which product ingredients to lose and which ones to chose. In picking up where we left off in the prior post (after my shower), join me below for my makeup routine. Remember, there are a lot of product lines that have individual items within the brand that rate entirely differently from one another in the EWG Skin Deep Database; it isn't always a one stop shop when it comes to the healthiest personal care products.
MAKEUP
Break up with your makeup. Yep, you heard me right. Chances are you have a chemical lab inside your makeup bag. The average woman wears 515 chemicals each day (Tweet this)! There are connections to the chemicals in cosmetics to many health problems including breast cancer.  Good news. There are a ton of good, natural and organic companies, so here are a few I like based on toxicity levels, convenience and price:
Mascara: ZuZu Luxe Mascara –or- Jane Iredale PureLash Mascara: free of lacquers, shellac and petroleum based ingredients (vegan/gluten, cruelty free)
Eye Shadow: Gabriele Eye Shadow . Vegan and gluten free; 100% natural ingredients; non-allergenic and fragrance-free, free of mineral oil + talc
Eye Liner: Gabriele Eye Liner – Vegan and gluten free; 100% natural ingredients; non-allergenic and fragrance-free: enriched with natural plant waxes
Pressed Powder: Jane Iredale PureMatte Finish Powder with no oil, talc, FD&C dyes or synthetic preservatives/parabens (vegan/gluten, cruelty free) – or – make your own with this DIY recipe!
Lip color & gloss: Jane Iredale Lip Fixation – Vegan/gluten, cruelty free. Or, make your own with this DIY recipe
Blush: Rejuva Minerals Soft Rose Blush – No toxins, nanoparticles or GMO's. Vegan/gluten-free
Tools: EcoTools® are 100% cruelty-free, and have handles made of bamboo and recycled aluminum ferrules
Nail Polish: New favorite is LONDONTOWN.  Their polishes are Vegan, gluten-free and cruelty-free offer the "5-free," which are:

Formaldehyde-free
Toluene-free
DBP-free
Formaldehyde resin-free
Camphor-free
*Note: Find more non-toxic nail options HERE>
Hairspray: Arcona Essential Nutrients Hair Finish Holding Spray – Alcohol free; proprietary blend of essential oils and botanical to protect from the sun's damaging UVA/UVB rays.
Makeup Setter + rehydrator: Julie Hewett Pure Persian Cucumber Extract Toner Spray (a must have for plane trips!). It consists of pure cucumber extract. Nothing else!
This is in no way, shape or form a comprehensive list of healthy makeup options; rather a peek into what I currently use.  Other good brands include RMS Beauty, a pure and organic color cosmetics line with mineral color; Josie Maran; and EcoGlow Minerals. Got a favorite brand or homemade recipe?  Let us know below in the comments section.
Like finding a mate, your personal care products are just that – personal.  Finding a product rated a 0-2 in hazard score (Mr. Darcy?) to replace your current 5-7 rating (Daniel Cleaver?) is a step in the right direction.  It's all about making progress towards healthier choices – even if every item isn't 100% perfect.  The more you can reduce you own body burden, the better you will feel! You'll want to read the last Part III in this series HERE. Finally, if you have not already seen The Story of Cosmetics, WATCH NOW:
Related Articles:
Shhhh! The Fragrance Industry: SECRETS Revealed
Frizz Free Can Be Flat-Out Dangerous!
A Day in the Life of Lisa: Discover My Daily Green Product Routine!
The Most Dangerous Chemicals in Your Beauty Products
A Day in the Life of Lisa: My GREEN Product Routine – Part III
DIY Peppermint Lip Balm Recipe
7 Nontoxic Perfume & Fragrance Alternatives
Pinkwashing: A Growing Concern
PARABENS: Hidden Health Hazards in Your Hygiene Routine
DEODORANT DANGERS: Ingredients to Lose & Those to Choose