By Ava Anderson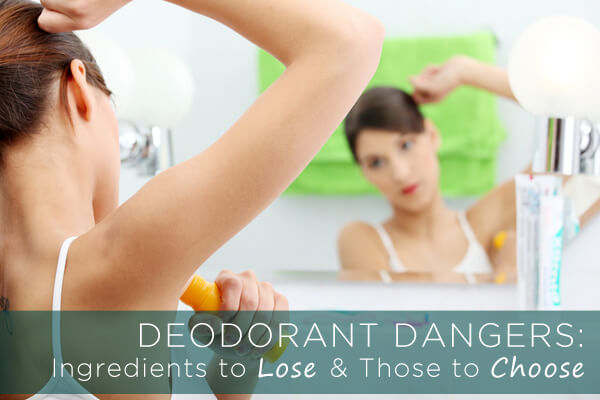 Want B.O.? Heck no. We all want to smell good. But, more than likely, your deodorant really stinks!
It can be extremely confusing when you are instructed to "avoid this," "do that" or "never-ever use this or that!" What products, you may be asking, Am I supposed to use and trust?  Similar to our recent articles where we explain what to avoid in everyday personal care items, we are revealing the skinny on deodorant and what makes so many name deodorant brands well, STINK!
Related: Top six natural deodorants
Deodorant is applied daily (if not more) directly to one of the body's most sensitive and porous areas – the armpit.  Whatever you apply to your armpit (similar to your head and groin) is absorbed through the skin and into the bloodstream.  Typical brand-name deodorants contain a stew of toxic chemicals such as aluminum, propylene glycol, parabens, and triclosan.
When choosing a deodorant, be sure to read the labels.  Yup, you've heard this from me before!  Look for all-natural and organic ingredients.  If you're unsure about an ingredient, look it up!  Although, if you've been down this path before, you are probably aware that it's impossible to find an organic deodorant that really works (HINT – we've got one below that truly does)!
WHAT TO LOSE IN A DEODORANT?
Aluminum – is a metal, which is used in antiperspirants to help block sweat from escaping the pores. Aluminum has been linked to breast cancer in women and has also been linked to an increased risk of Alzheimer's disease. Always choose the best Aluminum-free deodorant to minimize the risk to your health.
Parabens – are suspected of disrupting the body's delicate hormonal balance. This can lead to things including early puberty in children and an increased risk of hormonal cancers – including breast cancer. Exposure has also been linked to birth defects and organ toxicity.
Propylene Glycol – is a petroleum-based chemical that is used to soften cosmetic products. In large quantities, studies have shown that it can cause damage to the central nervous system, liver, and heart. It is found in many products and many processed foods.
Fragrance – can legally hide hundreds of chemicals. One of these is phthalates (THAL ates), which have been linked to a variety of health issues. High phthalate blood and urine levels in women of childbearing age have been linked to a higher risk of birth defects. This suggests that phthalates may disrupt hormone receptors as well as increase the likelihood of cell mutation.
Triclosan – is classified as a pesticide by the FDA and a probable carcinogen by the EPA. Enough said.
BHT – (Butylated Hydroxytoluene) in addition to causing hyperactivity in children, BHT in deodorant (and BHA) are considered carcinogens by the US Department of Health and Human Services.  The Skin Deep site rates BHT as having a "high toxic hazard" and says it has been shown to be linked to cancer, developmental toxicity, allergies, neurotoxicity, endocrine disruption, biochemical or cellular level change.
As noted in the SF Gate, "Chemicals such as Methylparaben and BPA mimic or interfere with the body's endocrine or hormonal systems."
What is BHT in a Deodorant?
BHT stands for butylated hydroxytoluene, an antioxidant that can be found in many deodorants.
Related Articles:
Shhhh! The Fragrance Industry: SECRETS Revealed
Frizz Free Can Be Flat-Out Dangerous!
A Day in the Life of Lisa: Discover My Daily Green Product Routine!
The Most Dangerous Chemicals in Your Beauty Products
A Day in the Life of Lisa: My Green Product Routine – Part II
A Day in the Life of Lisa: My GREEN Product Routine – Part III
DIY Peppermint Lip Balm Recipe
7 Nontoxic Perfume & Fragrance Alternatives
Pinkwashing: A Growing Concern
PARABENS: Hidden Health Hazards in Your Hygiene Routine
WHAT TO CHOOSE
IN A DEODORANT?
Come over to the sweet-smelling side!  After several years of extensive testing and research, I'm thrilled to share that we have just launched Ava Organic Deodorant; formulated with certified organic ingredients and no harmful chemicals.  Best of all, it REALLY, REALLY WORKS!
Ava Organic Deodorant Ingredients:  It is an all-natural deodorant containing organic coconut oil, organic beeswax, organic shea butter, organic cocoa butter, aluminum-free baking soda, organic arrowroot powder, organic tea tree oil, and organic peppermint oil.
At Ava Anderson we are all about prevention because we are "aware" already of the toxins and dangers that exist in most products!  Hence, October was the perfect month to launch this fantastic product for men, women, and teens. The deodorant brand, Ava Organic Deodorant is the best deodorant without Aluminum available in the market.
WHERE CAN I BUY Ava Anderson Non-Toxic Deodorant? Ava Anderson Non Toxic products can be purchased via a consultant or online HERE!