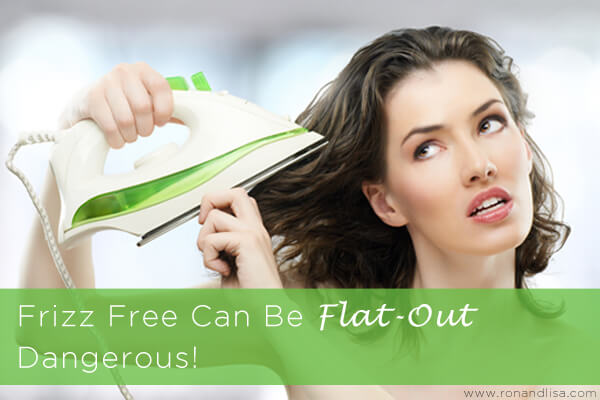 I have been battling hair frizz frustrations for years now with the help of blow dryers, straighteners, curlers and products…lots of products.  And, although I have heard all of the miraculous stories about the Brazilian Blowout I, personally, have never been tempted to undergo this treatment.  Here is why:
1.) It is Carcinogenic – The straightening process releases a chemical concoction loaded with formaldehyde; a known human carcinogen. Formaldehyde is especially hazardous when it reverts to its natural state, a gas, and is inhaled. Combined with a hot blow dryer and a 450-degree flatiron, you can bet your $400 bottom dollar that you are breathing in formaldehyde (as is the stylist and everyone else in the salon).  Frankly, this doesn't seem worth the risk to me!
2.) Manufacturers Fib – The Environmental Working Group's (EWG) study of 45 manufacturers of hair-straightening products found that 15 of these 16 companies claim to contain little to no formaldehyde.  However, tests reveal their products contain substantial amounts; in many cases, 8% to 20% or more of the formulation!  These include the Brazilian Blowout, Cadiveu and other top name brands.
3.) Salons Fib, Too – Either overtly or inadvertently, salons are telling clients it is safe, but it is not.  The salons' claims usually mimic the manufacturers' own misstatements about the safety of the product. Only 3 of Elle Magazine's 41 top-rated salons surveyed by EWG refuse to offer hair-straightening services because of health dangers.  Nine salons claimed they used products free or nearly free of toxic chemicals, yet test results show the products are loaded with formaldehyde (EWG). If you do opt for a Keratin type, hair-smoothing process that promises to last longer than six-eight weeks – chances are you will be exposed to significant amounts of formaldehyde.
What's a Frustrated, Frizzy-Haired Female to Do?  A good argan oil, hair treatment will do a fantastic job, but with a hidden price.  Watch out, because there is more fizz-fibbing going on here as well.  Take those bright turquoise bottles of Moroccanoil® lining the shelves in almost every salon for instance. Did you know that this best-selling natural argan oil hair treatment is comprised of only 5% (non organic) argan oil paired a plethora of toxic chemicals to accompany it? Keeping in mind that up to 100% of what we put on our scalp, underarm and groin area reach the bloodstream rather quickly, I hope you will be an Ava label reader too, and choose not to expose yourself to ingredients like these:  
Moroccanoil® Ingredients (NOTE: click on links below to find the toxicity hazard rating provided by EWG.  Prepare yourself…it ain't pretty!):
argania spinoza kernel oil (argan oil)

linum usitatissimum (linseed) extract

D&C yellow-11
Learn more HERE!
Related Articles:
Shhhh! The Fragrance Industry: SECRETS Revealed
A Day in the Life of Lisa: Discover My Daily Green Product Routine!
The Most Dangerous Chemicals in Your Beauty Products
A Day in the Life of Lisa: My Green Product Routine – Part II
A Day in the Life of Lisa: My GREEN Product Routine – Part III
DIY Peppermint Lip Balm Recipe
7 Nontoxic Perfume & Fragrance Alternatives
Pinkwashing: A Growing Concern
PARABENS: Hidden Health Hazards in Your Hygiene Routine
DEODORANT DANGERS: Ingredients to Lose & Those to Choose
So Here is Our Solution: Sometimes, especially in a tropical or humid environment, you've just got  to go with the natural curl and work it to your advantage!   For all those other times you prefer to tame the beast while achieving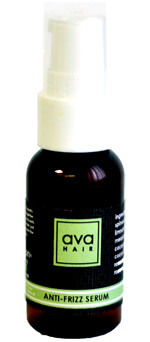 smooth as silk hair, we have created the perfect solution.  I am proud to say that our formulators have finally cracked the frizz problem.  We recently launched the Ava Anti Frizz Organic Argan Oil to rave reviews and ingredients we are thrilled to put our name behind.  In fact, I'll proudly list them with full disclosure for you here: 
Ingredients: argania spinosa (organic argan) oil, limnanthes alba (organic meadowfoam) seed oil, cocos nucifera (organic coconut) oil, aniba rosaeodora (organic rosewood) oil. 
I founded Ava Anderson Non Toxic as a vehicle to: share this information with as many American families as possible; to create a paradigm shift on products in the U.S. through education; and to show that quality performing products can be made safely by offering a high performing alternatives (without harmful chemicals for humans and the planet). All of this while incorporating loads of organic botanical ingredients instead. Remember, when it comes to taming your mane, it doesn't (and shouldn't) have to be…hairy business!