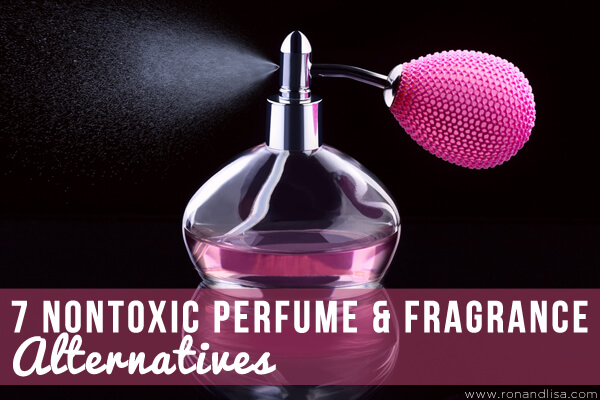 Let's face it – synthetic perfume and fragrance… STINK! When you discover the sinister chemicals lurking behind these words, you'll realize they should more appropriately be named Eau de Nausea or Toxic Toilette! The EPA found the following health problems associated with synthetic fragrance exposure: asthma, fatigue, eye irritation, sinusitis, skin problems, kidney and liver damage, immune system damage, nausea, blood pressure change (drop or rise), cancer, and even death due to respiratory failure. More than 95% of the chemicals used in fragrances are neurotoxic and derived from petroleum (um, ew!). These have been known to be harmful to the brain and nervous system. The term "fragrance," "fragrance oil," "perfume oil," or "parfum" may be masking the presence of phthalates which are often used to disperse fragrance in perfumes (read: Shhhh! The Fragrance Industry: SECRETS Revealed).
Environmental Working Group (EWG) researchers found more than 75% of products with the ingredient "fragrance" contained phthalates (THAL ates) which have been shown to reduce sperm counts, linked to thyroid and reproductive disorders, liver and breast cancer. These may be listed as DBP (di-n-butyl phthalate) or DEP (diethyl phthalate) on the ingredients label.
So, what's a stinky gal to do? Go au naturel of course! Thanks to these seven brands who know that you really can have it all by using the power of plants; sans the nasty chemicals.
7 Nontoxic Fragrance and Perfume Alternatives

1.) Zorica of Malibu – Try the Vera Essence – an essential oil-based perfume. Lovingly handcrafted with certified 100% pure steam distilled Bulgarian Rose Otto and other high grade steam distilled pure essential oils (steam distilled is the purest way to extract oil from the flower). Chemical Free. Toxin Free. Petrochemicals Free. Solvent Free. Alcohol Free. Gluten Free. Vegan. No animal testing. Environment Friendly. Or, try or the Gratitude Pure Perfume. It's an allergen free, 100% pure perfume oil. Price: $50.00-$56.00
2.) Taken – Available in roll on or spray. Ingredients: Essential vanilla, French vanilla, mango, peach, bergamot, jasmine, muget, patchouli and chocolate. Price $75.00-$95.00
3.) Solay Wellness Inc. – LOVE these natural and nontoxic perfumes! OMG – with names and scents like Wisdom, Grace, Wealth, Let Go, Joy, and Love all made from essential oils‬. Each scent is created with infused crystals for healing and has Himalayan salt at the bottom of each formula for grounding & healing! BONUS: They're all handmade, vegan, organic and cruelty-free. Price: $18.00-$36.00
4.) Pure Natural Diva Botanicals – 100% natural. Over 85% organic ingredients. Hand blended. Grab a sample quartet set for only $16.00 to try them out first. Price: $40.00 – $1,250.00
5.) Golden Path Alchemy – A holistic and handcrafted apothecary using certified organic ingredients that are hand grown in California. They are 100% natural, vegan and cruelty-free. Try the Healing Alchemyst, the Sacred Space Alchemyst or the Clarity Alchemyst. Price: $28.00
6.) Organic Glam Orange Blossom – Ingredients: Aqua (Water), Neroli (Citrus Aurantum), Rye Alcohol*, Citrus Reticulata Peel Oil (Tangerine), Citrus Nobilis Oil (Mandarin), Sweet Orange (Citrus Aurantium Dulcis)*. Price: $249.00
Related Articles:
Shhhh! The Fragrance Industry: SECRETS Revealed
Frizz Free Can Be Flat-Out Dangerous!
A Day in the Life of Lisa: Discover My Daily Green Product Routine!
The Most Dangerous Chemicals in Your Beauty Products
A Day in the Life of Lisa: My Green Product Routine – Part II
A Day in the Life of Lisa: My GREEN Product Routine – Part III
DIY Peppermint Lip Balm Recipe
Pinkwashing: A Growing Concern
PARABENS: Hidden Health Hazards in Your Hygiene Routine
DEODORANT DANGERS: Ingredients to Lose & Those to Choose
7.) Trilium Organics – 100% USDA Certified Organic Perfume. No synthetic fragrances here, just pure organic essential oils in an organic jojoba oil base.Price: $20.00 per roll on (or, try a sample for just $2.00)!
Save
Listen now for a full recap as featured on The Green Divas Radio Show: