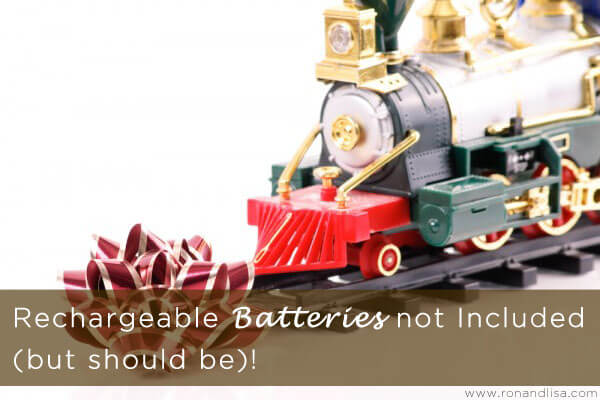 'Twill be the night before Christmas as a plethora of Santa's scramble the stores for last minute batteries; assuring holiday gifts and electronic gadgets operate without a hitch on the morning of December 25th. Although many people still use disposable batteries regularly, there are many who are now switching to rechargeable batteries. For those of you who merely take into account the cost factor and choose to purchase disposable batteries over their rechargeable counterparts, we'd like to share with you some of the many benefits of using rechargeable batteries.
Firstly, you should be aware of the chemical content of batteries. The core chemicals of disposable batteries include cadmium, mercury, and lead. These are highly toxic substances and when exposed to via soil, air or water, they can cause severe problems such as cancer, birth defects and damage to kidneys. Most rechargeable batteries, however, are made of Ni-MH. This allows them to be recharged several times, so the need of purchasing more number of batteries is reduced drastically. Also, after the life of the rechargeable batteries is reduced, they should be dropped off at city household hazardous waste drop-off centers where they are recycled. Rechargeable batteries can be a boon for the environment if they are recycled and not disposed into landfills or incinerated.
Did You Know? When batteries end up in the landfill, toxic heavy metals can contaminate water supplies. Using rechargeable batteries reduces the number of batteries going to the landfill.
Secondly, let's look at the cost factor. Rechargeable batteries can be usually recharged hundreds of times before they die. So, this means that, although the price of rechargeable batteries has a much higher upfront compared to those of the disposable batteries, you'll earn your initial return on investment back and save money long term. One factor that has kept the sale of rechargeable batteries low was the time it takes to recharge these batteries fully. However, over the years, advancements in technologies have resulted in reducing the recharge time for these batteries. No longer do you need to charge these rechargeable batteries for a full day. Some of the battery chargers available nowadays can recharge the batteries in thirty minutes to an hour. This provides you the convenience of getting fully charged batteries quickly, allowing you to make the battery-run devices work with little downtime.
Thirdly, one of the best features of rechargeable batteries is their ability to work at constant voltage. Disposable batteries provide optimum voltage initially, but as time passes, their voltage reduces. This causes more wear and tear of the components; ultimately reducing the life of the devices. With rechargeable batteries, their voltage stability improves the overall performance of the devices. This is especially applicable in case of digital cameras. With rechargeable batteries, you can take a greater number of pictures compared to most disposable batteries. This is because rechargeable batteries can handle high drain applications quite effectively.
Finally, similar to any other product you buy in the marketplace; rechargeable batteries also have pros and cons. As we have already discussed the positives attributes of these batteries, let's take a quick look at their negatives. Apart from their high initial cost, another issue with rechargeable batteries is their low shelf life. Some of these batteries also come with misleading terms like "heavy duty" and "quick chargers," when the actual performance might be a far cry from these terms.
Related Article:
Phantom of the Home: 7 Tips to Reduce Your Load & Increase Savings
3 Secrets to Save Money While Greening Your Home
Ron & Lisa on Green Is Good Radio: We Are Living in Toxic Homes!
Don't Fret! 6 Easy Ways to Go Green at Home
How to Properly Plan a GREEN Home Remodel
Soak up the Sun in One of These 5 Unique Sunrooms
Sustainable Style: 5 Eco-Friendly Tips to Decorate Your Home
How To Transform A Room Into An Office
How To Remove Scratches from Your Floors
Garage Rehab: 4 Simple Steps to Detox Your Garage
How to Quit Your Soda Addiction
Overall, there is no doubt that rechargeable batteries are a better choice than disposable batteries, but try sticking with the brands that have already proven their reliability and performance over the years, such as those recommend in Just GREEN It!  Simple Swaps to Save the Planet and Your Health. This year by opting for rechargeable batteries, you'll not only enjoy your Ho, ho, ho, but will help the environment and save some dough, dough, dough!