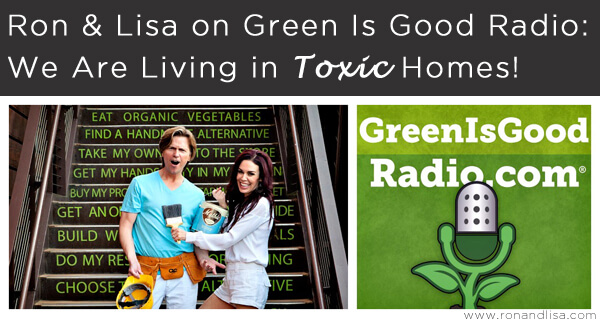 We love our friends at Green is Good Radio and were thrilled to be back on their show last week with host John Shegerian of Electronic Recyclers International!  If you are not (yet) familiar, this show airs on America's Talk Channel 244 on SiriusXM Satellite Radio and is broadcasted on over 170 XM Satellite radio and FM Radio Stations!
We returned to discuss how so many of us are living in toxic homes, creating all sorts of health concerns, from sinus issues to cancers. As you know, we have made it our life's mission to teach others how to live without toxic chemicals, use low- or no-VOC paints, avoid flame retardants and so much more.
"Every single product you bring into your home is having an effect on you and your well being," Lisa says. "On average, there are 500 chemicals in a home. People don't realize that because we can't see, smell [or] taste these chemicals, but that doesn't mean they are not there."
If you missed it, the show is posted on iTunes and on the Green Is Good Radio website. Or, click below to listen to the live podcast now to find out what you can do now to make your home healthier:

*BONUS:  The great peeps at 1.800.Recycling.com have created a FREE mobile app for iPhone or Android to help you locate a recycling center near you.  This is such a fantastic resource for those hard to recycle items such as electronics and hazardous waste.  As always, be green + be healthy!