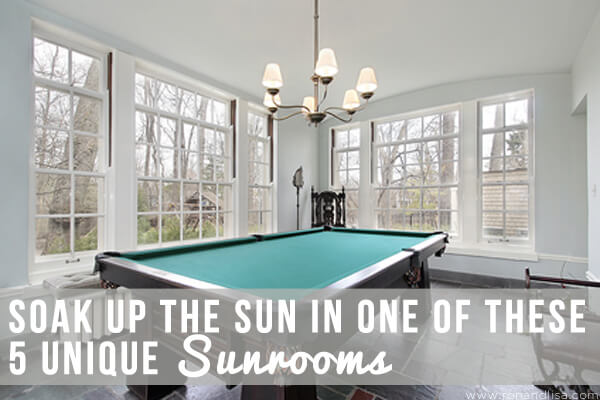 Sunrooms are as versatile as they are beautiful, and adding one to your home is a great investment. Gone are the days of the one-size-fits-all glassed-in patio—today's sunroom can be tailored to fit your lifestyle and hobbies. If you're considering adding a sunroom to your home, make it your own personal library, a playroom for your children or even a spa retreat. Here's how to turn your sunroom into your perfect haven:
The Greenhouse Effect
If you love tending to plants and flowers, consider adding a sunroom that serves as an indoor garden. Fit the space with multiple shelving units for your leafy inhabitants and talk to your contractor about adding running water to make watering easier. Add curtains or blinds to keep the light and temperature under control, and consider furnishing it with natural and sustainable furniture to complete the look. Check out this Pinterest board for more greenhouse/sunroom decorating ideas.
Library
Bookworms and lit geeks love the idea of having their own personal library. Install bookshelves, place comfortable seating throughout the room (think bean bag chairs, recliners and loveseats) and hang fun art on the walls. Make sure to protect these items from the sun's UV rays, because they cause fading. Champion Home Exteriors offers sunrooms with special glass that improves energy efficiency and offers UV protection.
The Man Un-Cave
If the man of the house has been asking for a space to call his own, do it with a sunroom—it offers privacy from the rest of the household but a view of the outside world, a definite step up from the basement man cave. Add a mini-fridge, a pool table and a large flat-screen TV, and include items that represent his personal interests, such as a trophy case, putting green or workbench.
Photo by Londonguy78 via Wikimedia Commons
Playroom
An indoor recreational area with access to the sun creates a healthy, secure place for your kids to play. When adding a sunroom/playroom, keep your children's hobbies and preferences in mind. If you go with hard surfaced flooring, strategically place natural fibered area rugs to soften their inevitable falls. You'll also want to include plenty of storage space to organize toys. A great idea is to use these storage spaces as seating for adults, like in this I Heart Organizing tutorial.
Related Articles:
Rechargeable Batteries not Included (but should be)!
Phantom of the Home: 7 Tips to Reduce Your Load & Increase Savings
3 Secrets to Save Money While Greening Your Home
Ron & Lisa on Green Is Good Radio: We Are Living in Toxic Homes!
Don't Fret! 6 Easy Ways to Go Green at Home
How to Properly Plan a GREEN Home Remodel
Sustainable Style: 5 Eco-Friendly Tips to Decorate Your Home
How To Transform A Room Into An Office
How To Remove Scratches from Your Floors
Garage Rehab: 4 Simple Steps to Detox Your Garage
How to Quit Your Soda Addiction
Spa Retreat
A hot tub in a sunroom? Yes, it can be done. Make sure you tell your contractor about your plans, so he can plan for at least three feet of perimeter space around the hot tub. Install blinds for privacy, or for a more natural solution, plant evergreen trees or shrubs along the outside of your sunroom. Add to the spa atmosphere with unscented or 100% essential oil scented candles, healing stones, earthy shades and a minimalist design.